When talking of inflatable paddle boards – Red Paddle Co must be one of the few iSUP brands to manufacture their boards in their own private facility.
Their range of boards is large, aimed at the premium market that values quality over anything else.
Red Paddle Co have covered 9 disciplines with over 15 sizes in total. You'll also find high-quality accessories on their bundles.
Offices & teams in 50 countries all across the world
Premium, high-end inflatable boards only
It takes 72h to make one board (10x longer than the average iSUP)
All Red Paddle Co boards are made in their own private facility
Innovative materials & cutting-edge technology
Quality processing and testing + a 5-year warranty
They once drove over one of their boards with a 22-ton digger – and it stayed damaged-free.
Tech specialists from the UK
Red Paddle Co has completely removed the human factor in traditional double layer application, and they also promise their boards to stay without wrinkles and blemishes. Their somewhat simple-looking boards have actually an industry-leading cosmetic finish that not only looks cleaner but also feels much smoother to the touch.
Inflatable Paddle Boards / Gear / Apparel & Changing
Instagram – @RedPaddleCo
Facebook – @Redpaddle
YouTube – @Red Paddle Co
Website – red-equipment.us/
---
Take a look at their selection to get a better overview of the selection.
Inflatable Paddle Boards Only

Red Paddle Co

All-around
Touring
Racing
Ride MSL
Compact
Sport
Voyager
Tandem
Elite
Dragon
10'6″
9'6″
11'0″
12'0″
15'0″
12'6″ x 28″
22′
9'8″
11′
11'3″
12'6″
14'0″ x 27″
10'8″
12′
12'6″
13'2″
Multi-person
Kids
Surf
Yoga
Windsurf
Whitewater
Tandem MSL
Ride XL
Dragon MSL
Snapper
Whip
Active MSL
Windsurf MSL
Wild
15'0″
17'0″
22'0″
9'4″
8'10"
10'8″
10'7″
11'0″
What they don't have are – fishing and kayak SUPs.
All-around iSUPs
---
Ride MSL / Compact / Sport
↓
Ride MSL
MSRP: from $1,299
The Ride series is designed as a beginner's all-around paddle board. It has a forgiving and casual outline and a twin-fin set-up, grab handles on the front and back (horizontal & vertical) plus obviously the well-spoked finish. Available in the most-used lengths, what sets Red apart from others in this category is that their boards are not as thick at 6″, but that's because their boards are made by using different, more advanced technologies.
As already most people can't tell the difference between a rigid or a solid board – The Ride MSL is there to confuse us even more (in a good way) as it's got the dimensions of a solid paddle board.
Although slightly more expensive than the average – you'll get a premium bundle at every department – carry bag, paddle, and obviously the board itself.
9'8″ x 31″ x 4″ (Kids')
Volume – 186L
Capacity – 210lbs
Weight – 21.4lbs
10'6″ x 32″ x 4.7″
Volume – 134L
Capacity – 240lbs+
Weight – 22lbs
10'8″ x 34″ x 4.7″
Volume – 270L
Capacity – 240lbs+
Weight – 23lbs
Compact MSL
MSRP: $2,000
Best for beginner touring enthusiasts, the Compact MSL is a premium series of twin-fin touring SUPs available in three different sizes. Red claims the 9'6″ to be one of the most compact boards on the planet – 56cm (H) x 42cm x (W) x 32cm (H) which is basically the size of a carry-on bag.
The MSL series is one of the best-looking, space-saving stiff & durable iSUP technologies on the market. The Compact series also comes with a 5-piece paddle – to save even more space.
The compact is a slight upgrade from the Ride to be ridden in more demanding conditions with extra gear.
9'6″ x 32″ x 4.7″
Volume – 222L
Capacity – 210lbs
Weight – 16lbs
9'8″ x 31″ x 4″
Capacity – 240lbs
12'0″ x 32″ x 4.7″
Volume – 302L
Capacity – 240lbs
Touring iSUPs
---
Sport / Voyager
↓
Sport
MSRP: from $1,549
Touring boards are one of the most popular types among technical SUP brands, and Red Paddle Company is no exception here. The Sport-touring SUP is designed for performance-based paddlers, more suitable for athletes rather than recreational tourers. Available in three lengths, these boards must be one of the fastest touring boards due to their narrow and pointy design.
When it comes to touring – hauling extra is an essential factor and here's also what Red has done differently – they use a 6-point bungee system for easy & secure storing with integrated bungee cords. While others use a criss-cross pattern, Red's bungee cords run diagonally. They have also gone for the vertical grab handle on the nose which is a great innovation and another sign that they pay attention to small details.
As a (high) standard for Red paddle boards – you'll get a high-tech board that looks as good as it rides.
11'0″ x 30″ x 4.7″
Volume – 234L
Capacity – 210lbs
Weight – 21.3lbs
11'3″ x 32″ x 4.7″
Volume – 258L
Capacity – 240lbs
Weight – 25lbs
12'6″ x 30″ x 5.9″
Volume – 330L
Capacity – 240lbs
Weight – 26lbs
Voyager
MSRP: from $1,649
For progressive paddlers, the Voyager is a slightly stretched version of the Sport series. Longer, and thicker – the Voyager is a lightweight yet ultra-durable and good-looking paddle board for open ocean and long-distance paddling. Compared to the Sport, Voyager has extra bungee attachments on the rear, and they run on a twin-fin set-up instead of a single fin.
Do you need that extra length and extra room? Well yeah if you are fit and would like to go for extreme exploration trips!
12'0″ x 28″ x 4.7″
Volume – 285L
Weight – 27lbs
Capacity – 210lbs
12'6″ x 32″ x 5.9″
Volume – 361L
Weight – 30.3lbs
Capacity – 240lbs
13'2″ x 30″ x 5.9″
Volume – 347L
Weight – 30lbs
Capacity – 240lbs
Tandem
MSRP: $1,749
At almost twice as much volume as the previous two models – the Tandem can carry much more than the 240lbs stated at their website. Comes with two cruiser tough paddles, the Tandem can be used for 2-person racing or 2-person adventure trips. At 723L and 8″ thick – there aren't too many well-made two-person touring SUPs on the market with such performance.
At 34″ wide with two sets of bungee cords – this is a heavy-duty exploration vessel for sure!
15'0″ x 34″ x 8″
Volume – 723L
Capacity – 240lbs+
Weight – 41.5lbs
Racing iSUPs
---
Elite / Dragon
↓
Elite
MSRP: $1,699 – $1,799
Once a paddle board brand starts making race boards – you know they are serious about it. The Elite series features two boards for performance paddling with foot-holds for better grip on those powerful strokes. As the brand uses one of the leading manufacturing processes to make their boards – the Elite is packed with all the big and small details – inside out.
12'6″ x 29″
Capacity – 240lbs
14'0″ x 27″
Capacity – 240lbs
Dragon
MSRP: $2,699
The 22′ Dragon fits up to 4 people on board to break the records at your local waters. Eight handles, race fin, and profiled nose and slim body – this board is designed to do one thing and do it well. Comes with four valves to inflate this beast, there's also an accessory mount on the nose to navigate your route on the GPS.
Tec-air technology is used among other industry-leading standards, the rocket-like Dragon is one of the best 4-person race boards on the market.
Multi-person iSUPs
---
Ride XL / Tandem MSL / Dragon MSL
↓
Ride XL MSL
MSRP: $3,399
Unlike most other sports out there, paddleboarding is meant to be as fun as demanding it is, and this is where the 17'0″ x 60″ inflatable dock/SUP comes into play. Made for the Tec-Air technology, this massive yet performance-based board fits up to 8 persons on board, there aren't too many high-tech boards for island-hopping like the Ride XL MSL.
It is also the brands most expensive board available. Read more.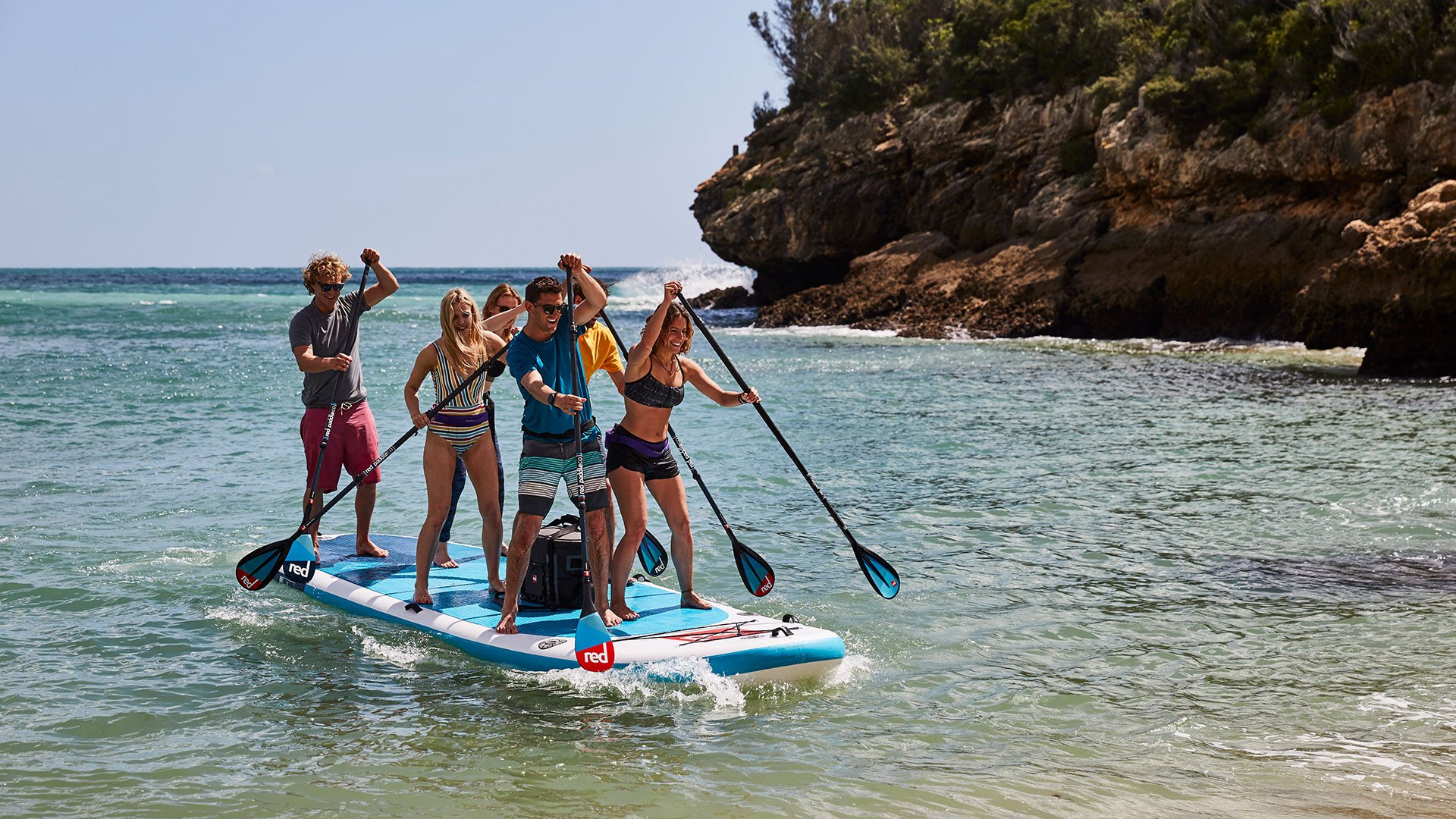 Tandem MSL
MSRP: $2,199
For relaxed cruising and touring, the MSL technology Tandem comes with a super high-tech and compact Titan II double chamber SUP pump. To keep the board stable on its route, it is equipped with 2x 9″ touring fins which can take the uneven sea with ease.
Definitely worth as consideration as there aren't too many good-quality two-person SUPs on the market.
15'0″ x 34″ x 8″
Volume – 723L
Weight – 41.5lbs
Kids' iSUPs
---
Snapper
↓
Snapper
MSRP: $1,149
Ideal for all-around cruising, the 9'4″ snapper is a perfect choice for kids and young paddlers. Outline on the Snapper is very forgiving while having the capability to try some more demanding waters as well. Weighing in at just under 22lbs – there isn't anything to add or remove about this awesome twin-fin youth's SUP.
The board also comes with a small paddle, a high-performance hand pump, and a carry bag with roller wheels valued at $249.
9'4″ x 27″ x 4″
Volume – 151L
Capacity – 130lbs
Weight – 18lbs
Surf iSUPs
---
Whip
↓
Whip
MSRP: $1,299
An inflatable surfboard by Red Equpment Co – that's awesome news for recreational and advanced surfers alike. The Whip definitely deserves its name as it can be whipped around in various surf conditions. The reversed teardrop design and single fin make it an ideal board to glide on some small yet clean waves. The deck on the Whip is super comfy, durable and minimalistic.
As the board is designed to ride waves – there aren't any bungee cords or extra grab handles on the deck as well. As unbiased as we'd have to stay – we must admit that the Whip is definitely one of the best inflatable surf paddleboards out there simply because it's made by Red! There isn't anything to add or remove about this board to make it more complete.
8'10" x 29″ x 4"
Volume – 157L
Capacity – 210lbs
Weight – 17lbs (7.7kg)
Yoga iSUPs
---
Active MSL
Active
MSRP: $1,499
Here's one of the most relaxed boards by Red – the Active in an MSL technology. Comes with a carry bag valued at $289, and a super durable, compact, and effective dual-chamber hand-pump, the twin-fin Active yoga board is a piece of art. As the average yoga paddleboards are 34″ wide, the Active is slightly longer at 10'8″. That being said – it is one of the few yoga boards with such good stability on the water.
You'll also find four grab handles for convenient transportation, and no center grab handle to disturb your practices. While most yoga boards are quite basic, we got to love the fact that the Red has made this board by using the MSL technology on top of their already-awesome features and quality. Take a closer look at the images provided at their website to see the attention to detail!
10'8″ x 34″ x 5.9″
Volume – 333L
Capacity – 240lbs
Weight – 24lbs
Windsurf iSUPs
---
Windsurf MSL
↓
Windsurf
MSRP: $1,749
An inflatable windsurf paddle board by Red, what's there not to like about this board when the brand gives a 5-year warranty on their other boards as well?
While the solid boards have a better glide, it's actually a slight benefit to having more 'play' in the choppy waters. As windsurfing is performed by the push of wind (air) the inflated board blends well into this discipline and it is not a new thing either!
This board uses a Sure-Fin dagger system (An extra-large windsurf fin) to improve tracking by carrying the stress from the fin through the center of the board for better lateral control. There's also a diamond-cut deck pad for increased grip and feel. This doesn't seem much – but it actually does all the necessary work for awesome windsurfing.
If the wind drops – simply grab your paddle and go paddleboarding – the dimensions on this board make it a highly capable all-rounder with a spec and performance of a solid board.
10'7″ x 33″ x 4.7″
Volume – 257L
Weight – 23,3lbs
Capacity – 240lbs
Whitewater iSUPs
---
Wild
↓
Wild
MSRP: $1,549
'A nippy board' as they say – the Wild is worth mentioning among other whitewater-specific inflatable SUP brands for several reasons. #1 – it's made by Red Equipment Co likes to dwell into details and produce high-quality products, and as #2 – among all the possible types of whitewater SUPs to make – they've created one that allows beginner paddlers to get the taste of whitewater paddling.
Comes with a 5-year warranty, a premium carry bag, and a US-fin box to change settings between flatwater/whitewater (Single or twin-fin). The dimensions of the Wild make it a great all-rounder or a touring board – but due to its pronounced rocker – it fits best for demanding waters with a flow. Five grab-handles and diagonal bungee cords – the Wild truly deserves its name.
11'0″ x 34″ x 5.9″
Max capacity – 210lbs
Volume – 295L
Weight – 27.7lbs
To answer your questions – head over to their FAQ section.
---
Includes accessories
All Red inflatable SUP bundles come with high-quality accessories, and so is with the carry bag. This often-overlooked accessory actually plays a big role in longevity, as that's the main goal of making a paddle board – to last a long time!
All bundles come with the paddle(s), and a dual-chamber pump with a pressure gauge.
Gear
---
To make the sport even more convenient, have a look at their accessories that can be bought as an extra:
Waterproof backpack
Waterproof duffel bag
Waterproof SUP deck bag
Waterproof soft cooler bag
Waterproof roll-top dry bag
Waterproof roll-top dry bag
Waterproof dry-pouch
Insulated cooler bag
Microfiber towel
Compact backpack (With 9'6″ and 11'0 Compact series)
Compact Backpack (With 12'0″ Compact series)


COVERS

Cargo net
Protective SUP paddle blade cover
UV board cover/jacket
Travel paddle bag


LEASHES

8ft coiled leash
10ft surf leash


VALVES

Silent Air Remover
Schrader Valve Adapter
Multi-pump adaptor


VARIOUS

Camera mount
Dog Buoyancy aid
Shoulder carry strap
Combination lock for a paddle board
Quick-release waist-belt


HYDRATION

Insulated stainless steel water bottle (26oz)
Insulated stainless steel travel cup (568ml – a pint)
---
Read next
I created Nulltuul to share my experience, research and analysis with other surf enthusiasts out there. If I'm not surfing on my travels - I like to photograph waves, surfers, and the surf lifestyle in general.