Down below you'll get a quick look into one of the must-know SUP brands that have successfully managed to put out a unique set of inflatable paddle boards on the premium market.
More known by their rigid paddle boards, Pau Hana is tackling the inflatable SUP market with a large number of specific-use SUPs for intermediate to expert user.
Pau Hana 8 inflatable paddle boards cover only 30% of their whole SUP range.
---
MENU
I. About Pau Hana
II. The 8 Inflatable Paddle Boards
+ Comparison chart
III. Pau Hana Accessories
IV. Conclusions
FAQ + Rating
↓
I

. About Pau Hana
---
What is the meaning of Pau Hana?
"The time after work" / "Finished Working" in Hawaiian.
Mid-to-high end boards
Not to say their boards aren't beginner-friendly, but it is the quality and engineering that's put into making one, and the limited choice for selected activities which are designed for someone who knows what they pay for. For example, they have an inflatable SUP for digital nomads! Yes, you heard it – the brand is always a few steps ahead of the competition and it was rather interesting to look into the details of each board.
They are also one of the only brands to pull off such ideas like:
The visor on a SUP board.
The Kayak Paddle extension on a SUP paddle.
SUP with a boat engine dock.
Click on the image above to see more!
Pau Hana on Social media
+ Snapchat, Twitter & Pinterest
Pau Hana SUP creations
SeaMount® System
Lotus Yoga Ring
Ricochet™
Pau Hana paddle boards range
↑
→ Made of only the highest grade of materials ←
↓
→ Cutting-edge technology ←
↑
→ One of the highest quality limits in the paddle board industry with numerous tests ←
↓
---
And here's their mastery
---
II

. Pau Hana Inflatable Paddle Boards Review

MODEL
Big EZ Hawaiian Air
Endurance Air
SOLO SUP Backcountry
Oahu Nui Giant
Bimini Skiff
Calypso All-Around
Moon Mist TPU
Diablo Air
PURPOSE
All-around
Touring'
Adventure
Multi-person
Multi-person
Kayak/SUP
Yoga
White water
LENGTH
11'0″
12'0″
10'10"
15'0″
15'0″
11'6″
10'0″
9'6″
WIDTH
32″
30″
30″
8″
6″
34″
32″
36″
THICKNESS
6″
6″
6″
4.5″
8″
6″
6″
5″
VOLUME
240L
250L
240L
1052L
1563L
236L
220L
240L
CAPACITY
338lbs
263lbs
215lbs
Up to 6-8ppl
A lot!
338lbs
260lbs
317lbs
BOARD WEIGHT
22lbs
24lbs
14.8lbs
59lbs
71lbs
24lbs
14lbs
22lbs
MSRP
$999
$1,249
$1,249
$1,699
$2,599
$1,249
$1,299
n/a
Big EZ 11'0″
---
A highly capable allrounder
Ideal top-end inflatable SUP for all-around purposes, the Big EZ is a premium board for yoga and even some whitewater rides on running rivers. Pau Hana claims this board to be suitable for surfing as well which increases its superb versatility. The package comes with a 9″ fin and 10″ coiled leash, hand pump, 3-piece paddle, and a repair kit – all made of above-average quality.
Marine-grade PVC.
Lightweight gear bag on wheels.
Weight – 50lb for the whole package.
Aimed for the high-end market – the Big EZ is a perfect family SUP board that has quite the basic outline for a wide variety of uses. At just under $1,000, you can definitely count on money on such a prestigious SUP-specific brand.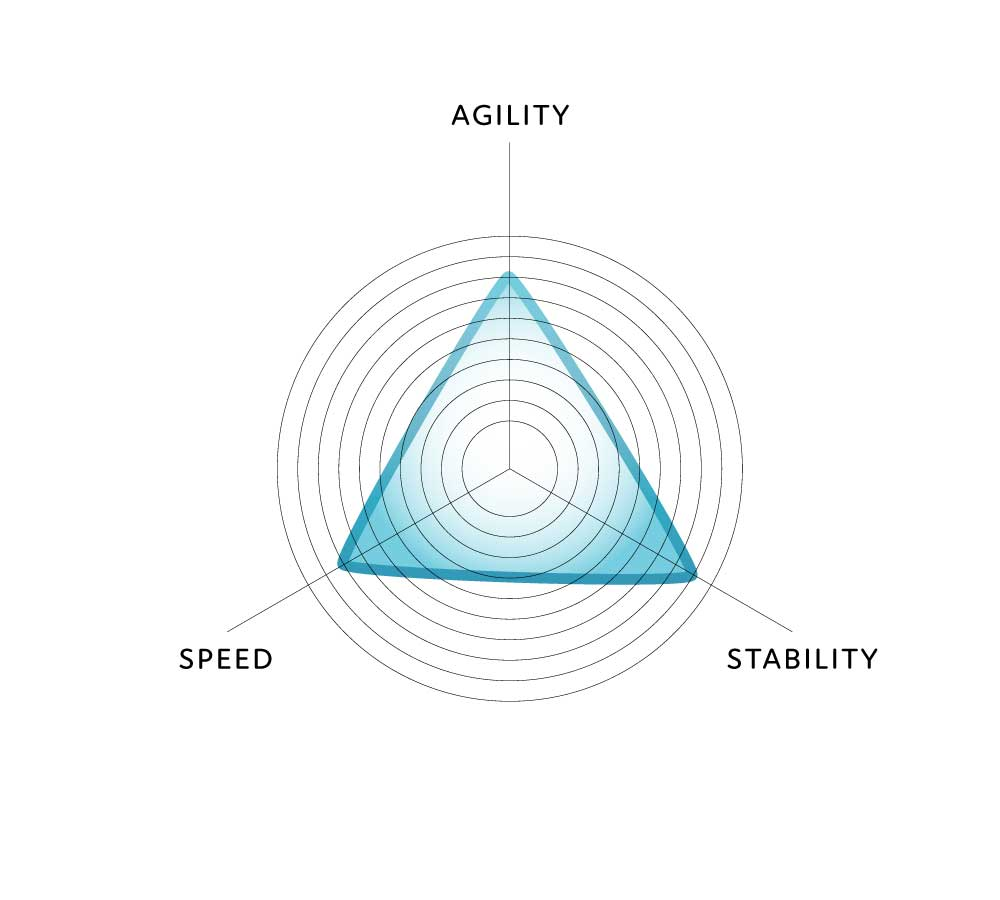 Endurance Air Touring 12'0″
---
Long-distance touring board
Premium inflatable touring board, the Endurance is made with the accessibility to take in on a plane with you to explore some foreign continents. Made of two layers of PVC, lined with a woven cloth that's attached to thousands of points where a fiber connects the top and the bottom of the board. Drop-Stitch core for added structure for extra rigidity – it performs according to its technical description.
SeaMount® accessories compatible
23 D-ring loops
5mm EVA deck pad
Neoprene handle
Double-layer PVC rails
Endurance paddle boards are best suited for anyone who's looking for a more performance-based and long-distance paddling instead of just cruising by the lake. You can use one for touring, camping, fishing even racing, and it glides well through messy conditions and whitewater due to its pointy nose and 12′ length.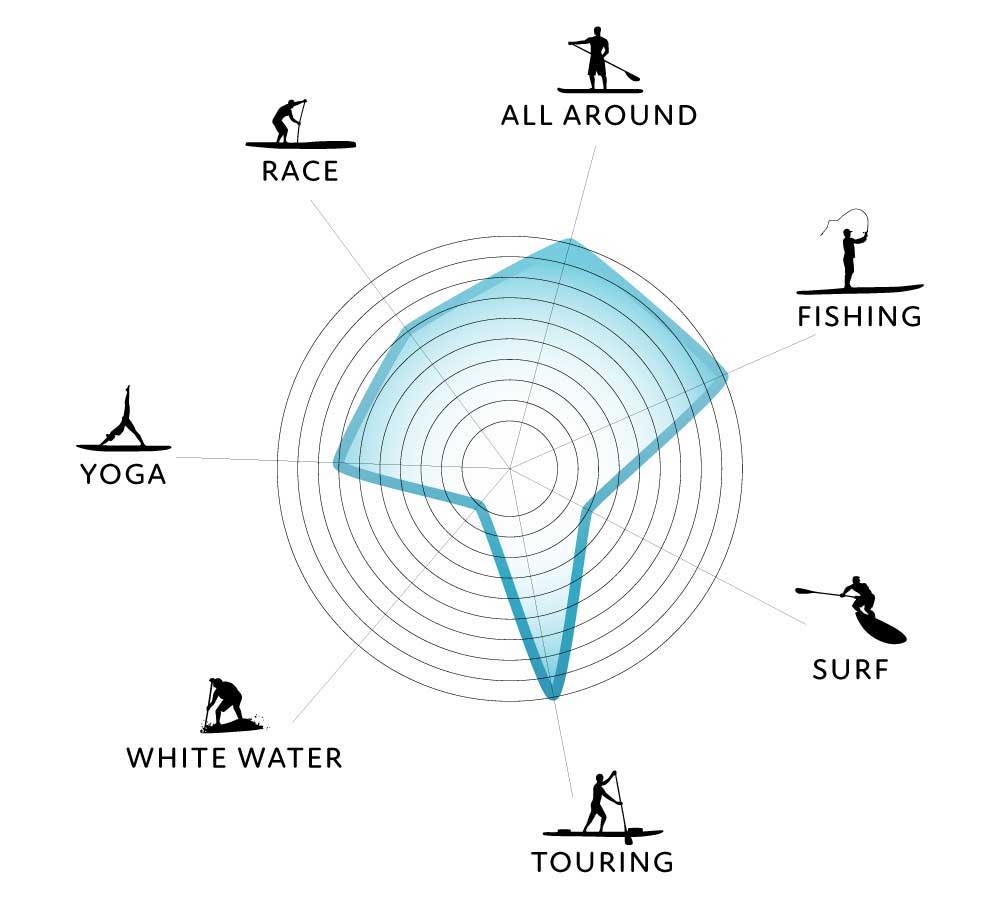 SOLO SUP 10′ 10″
---
Created for Digital Nomads specifically!
The SOLO SUP is the brands' most compact, and well-thought-out design. Although at 11′ long, the board was created to reduce bulk to make it extra portable.
The SOLO iSUP by Pau Hana is the best choice for an active paddler who likes the board to perform well in various conditions. Unlike an all-rounder, the sharp-edged bullet-shaped SOLO can be used well for touring, kayaking, and in the surf. Compared to the 11'0″ Biz EZ Hawaiian, the SOLO has a slightly sharper outline which makes it slightly more maneuverable on messy or moving waters.
10'10" x 30″ x 6″ @240L
Board weight – under 15lbs
Twin 6″ fins
TPU drybag – Made of environmentally friendly materials.
Total weight of the loaded bag – 23lbs.
This deal also comes with a new invention as well – a Solo™ Paddle what is basically a soft rollable blade that performs well as a SUP paddle and a Pack Raft canoe paddle.
As the main focus was its portability – the whole package weighs in at just 23lbs (10.5kg), and the loaded bag (without the paddle) is only 25″ (63cm) long. That falls between the size of an average sleeping bag and a regular iSUP bag.
Who said that 'one-for-all' products are not great for either discipline and who said that inflatable paddle boards are not as great as rigid SUPs? Well, they were wrong as we are luckily starting to see more and more such awesome deals in the future, thank you, Pau Hana! Being a digital nomad myself with a love for the outdoors – I am totally surprised by its capabilities and can't wait to test one out in the future!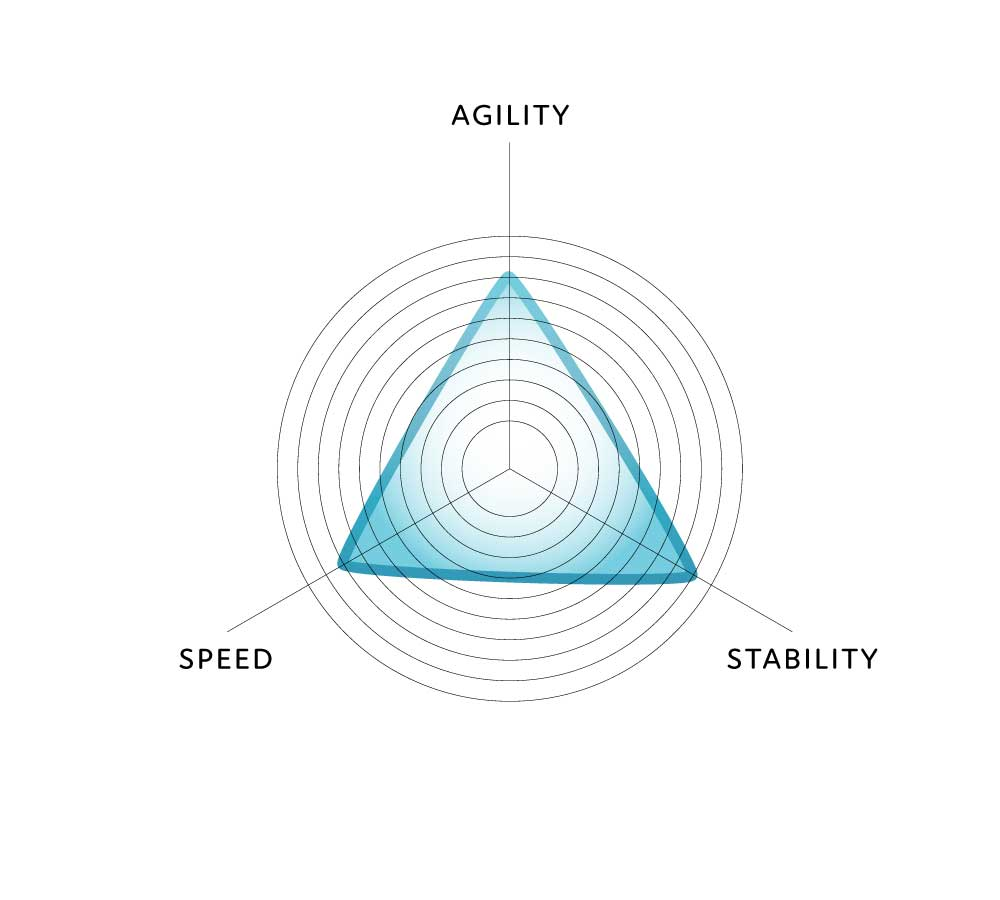 Oahu Nui Giant 15'0″
---
Might look like an inflatable dock – but it's a legit 2-person paddle board!
A giant board with a huge fun factor. This heavy-duty 2-person paddle board is one of the few in its range as there are not too many inflatable SUPs (not even rigid SUPs) that are designed especially to be ridden by two persons. The Oahu Nui connects people and teaches them that two heads combined are better than one – to practice teamwork and enjoy the benefits together. It is not only fun that it offers – but there's as much more technology and performance packed into this seemingly standard board.
15'0″ x 8″ x 4.5″ @1052L
Holds up to 6 paddlers (8 max) +

pets

Heavy-duty PVC layer
Double Layer PVC side rails
5mm EVA Deck Pad
Weighing in at 60lbs – you already probably wondered how do you pump such a large board up? Well, while the package includes two hands pumps – you are probably better off getting a proper electric pump for that. Once inflated to its maximum capacity, the board is rock solid and many reviewers and other paddlers couldn't tell it was an inflatable board.
The triplefin set-up (single + 2x side biters) on this board does a great job holding the line, and the customers have been happy with the level of quality on its accessories as well.
How many paddlers does it fit?
Some reviewers stated that it can be paddled alone while it can hold up to 6-8 people – whoa!
Can you paddle one by yourself?
15'0″ long two-person paddle board might sound intimidating to try alone – but you can do it easily. After all – it is a paddle board.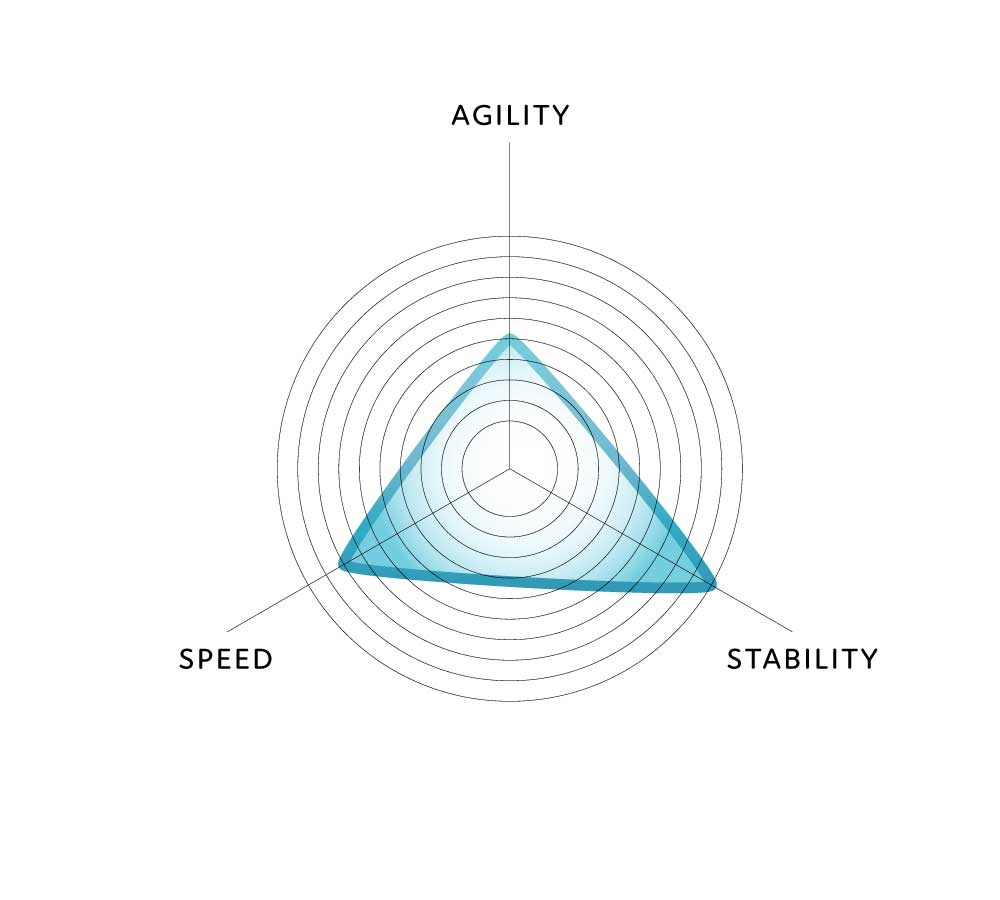 Bimini 15′
---
Built to hold a four-stroke 5HP motor on it
Ok move aside please, the Bimini is coming through. Here we'll see the inflatable paddle board technology at its finest – although there's room for going larger, faster, and more versatile, the Bimini is one of the top inflatable dock 2in1 paddle boards on the market.
Although it comes with two pumps and two paddles – you are obviously better off with an electric pump to inflate this humongous soon-to-be watercraft. In case you are planning to paddle to a secluded location overnight, grab the puncture kit and one pump with you just in case, and you are all settled for an adventure. – It is still more seaworthy than a boat in case something goes wrong!
Great replacement for a tender, skiff, or a boat platform – the 15′ Bimini is designed to carry a BUNCH! A great choice for anyone who doesn't want to get a small boat to move around the water. It is designed to hold a 5HP four-stroke motor which makes a paddle board like nothing else out there.
What are the downsides?
Due to its heavy total weight at 79lbs – you might need a cart to move it around. You might also want to invest in an electric pump.
Calypso All-Around 10'0″
---
3in1 – Window in the deck + kayak seat + kayak paddle
Who would've thought that inflatable paddle boards will be such a big thing like 10 years ago? Now we are here, and to top things up – there's a new subtrend, an inflatable stand-up kayak! To make things even better – it is made by one of the most-known SUP-specific brands on the market, our provider of fun – Pau Hana.
10'10" out of 10 for sure!
Read the full review – Calypso
Comes with a custom kayak seat and a window to see on the bottom – the Calypso is worth its name, and most likely going to be like that for the next 3-5 years. This design was first released in 2019 and it's got a bunch of awesome feedback to rely on.
Great for whitewater, open oceans, and inland lakes – this is probably the most versatile inflatable paddle board that there is. To top things up – you'll get all the below in a single carry-on backpack, and at an unbelievable price:
Inflatable kayak / paddle board
See-through window

Kayak seat included

One paddle with two blades

(to use for either kayaking or paddleboarding)
Gear bag with ABS wheels
Total weight of 28lbs only
Leash cup
Standard 10″ fin box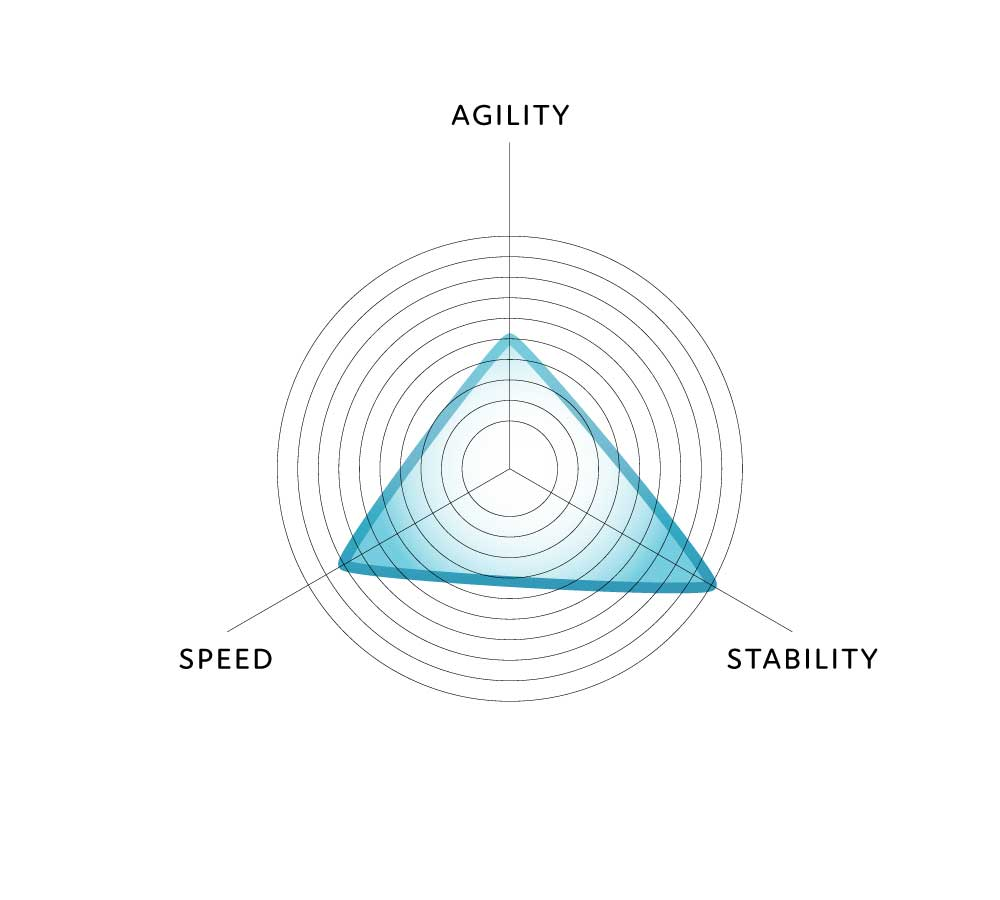 Moon Mist TPU 10'0″
---
Premium Yoga SUP
Due to its longboard surfboard shape, above-average length, and lightweight – the Moon Mist is as the name goes – a dreamy board. The slightly psychedelic design also reveals its laid-back attitude in the water.
Although it is not as long and wide as most other Yoga paddle boards, it is designed for that and if there's someone to trust in making decent paddle boards – it is definitely the Pau Hana itself. The masters of rigid & inflatable SUP boards – this is their take on a yoga-specific paddle board. Made of 100% TPU, an environmentally-friendly material which is a must in such field, and in the general SUP & surf industry.
Soft grab handle
Total package weight 17lbs (14lb board)
Extra soft EVA deck pad
At a slightly above-average price tag, the Moon Mist is a superb paddle board for the next 5-10 years, depending on how well do you store the board. The package includes everything necessary, but with a touch of extra-good quality by the brand – a 3-piece paddle, hand pump, carry bag, repair kit, pressure valve, and the 10″ single fin.
As the Moon Mist is designed to be stable rather than agile, it has a single fin without two side biters.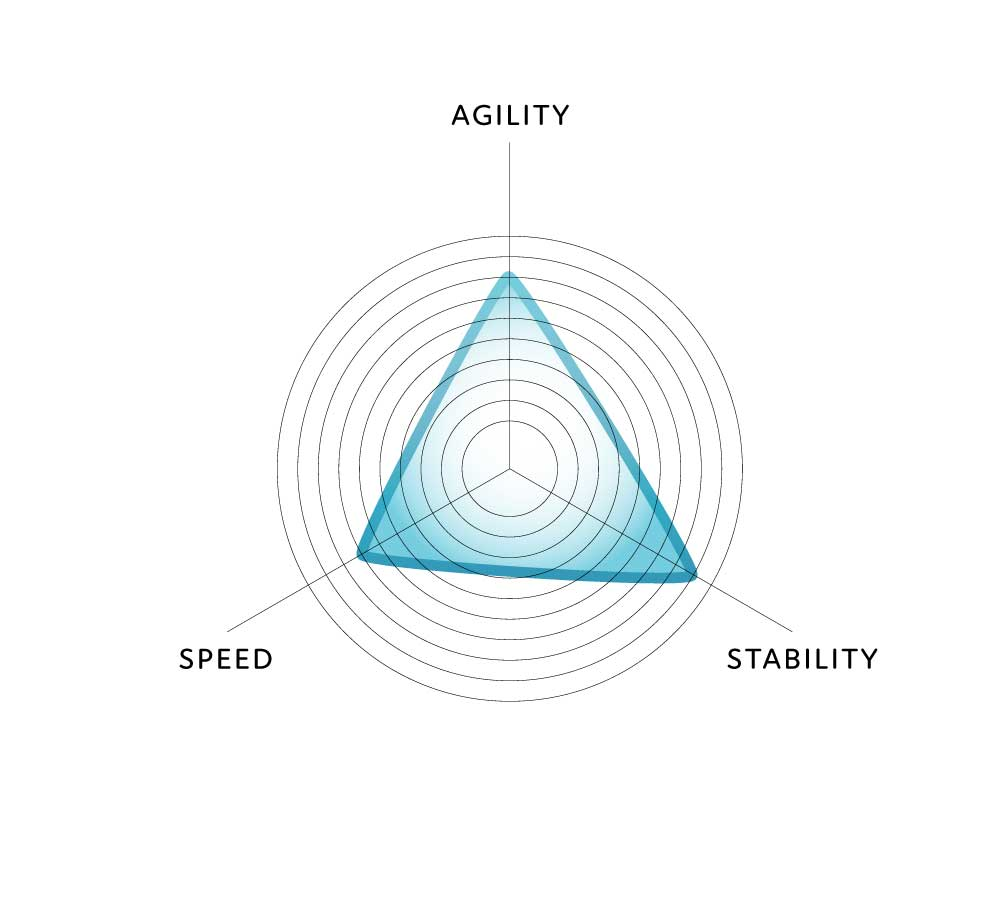 Diablo Air
---
Whitewater Diablo it is!
A single-person inflatable whitewater raft with the name that not everyone has the courage to tame. It is inflatable, it is light green – it doesn't look like it could handle one of the most demanding disciplines in the watersport game, but it definitely can!
5mm EVA Deck Pad
Heavy-duty PVC Layer
Double-Layer PVC Side Rails
Drop Stitch Layering – a high standard by Pau Hana
Designed by Jen Chrimes and Gerd Serrasolses (one of the best kayakers and white-water experts in the world), the Diablo is the widest inflatable SUP that can take a bunch of beating in eddy lines. Although above average in length and right in the middle on its width – the outline of the Diablo is designed specifically for rapidly moving waters, therefore we're glad to see something for extreme-sport athletes by Pau Hana.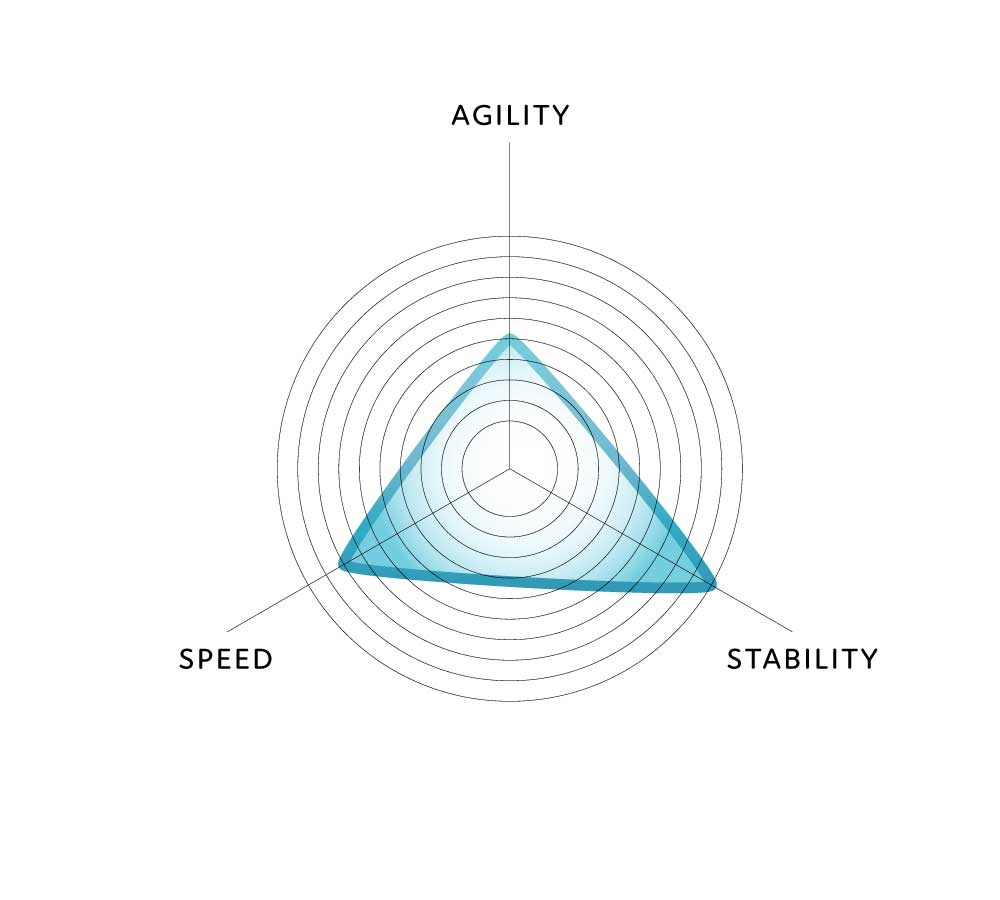 ---
III

. Pau Hana Inflatable SUP Extras
---
Pau Hana has a covered everything a needy paddler would want, have a look:
Pau Hana Paddles
3-piece

aluminum

paddle
3-piece

carbon Teak

paddle
3-Piece

Endurance

paddle
Moon Mist

Yoga

paddle

Convertible

Aluminum SUP paddle
Grom

Junior

paddle
SUP Apparel
Hat, shirt, long-sleeve tee
Pau Hana Accessories
SEAMOUNT® D-RINGS WITH BUNGEE
SUP paddle clip
SUP board bag (for rigid boards)
RAM ® Tough-ball
Coiled leash
Tie-down straps
Carry strap
Drink Cup holder
Revolution fishing rod holder
Gorilla cargo net
Roof rack pads
Strap & roof rack pad package
Board dog pad
Rail tape
+ Gift cards
+ Kits for each discipline
Fins
9″
Side-bite fins
SOLO SUP backcountry fins
---
Where to buy Pau Hana iSUPs online?
IV

. Conclusions
---
Is Pau Hana a good SUP brand?
Since they have been around since 2006 (16 years) they have plenty of experience learned from the rigid paddle board markets, and they have successfully put out a number of premium boards for the end-user who knows what they are after. They also don't make the boards for the masses, but rather a selected few to a planet-conscious person who is buying a product for their wholes lives, not as a toy to have fun around with.
They listen what customers have to say, and work in co-operation with one of the big names in the world of kayaking and white-water experts.
Are Pau Hana inflatable paddle boards worth the money?
Pau Hana is a premium SUP brand with quite a specific set of above-average exploring boards in their list. For the value, we are happy to see that the brand has successfully converted their experience from Rigid SUPs over to the inflatable section with their well-thought-out ideas, and at a great value. Their boards are well-liked by hundreds of reviewers who are surprised by the
Positives scores.
Environmentally-friendly construction.
25% of their range consists of iSUPs.
8 boards for the intermediate to expert users.
Almost all customers state that they can't feel the difference between a rigid board.
How good are Pau Hana inflatable paddle boards?
You are expecting to pay above the average for Pau Hana boards, but all that for a good reason. Many reviewers were surprised to get such a high-quality piece of equipment at such an affordable price level. Yeah, we are talking $999 and up, but there's simply isn't anything to add or remove about them. Each of their board has a special feature or design, if you don't notice it right away, you will after trying another brand's board – and you'll be surprised by the quality and attention to detail about Pau Hana.
Their shapes, paddle sizes, and construction have a long history of being in the rigid paddle boards industry. Their boards are always
You get surprisingly more for what you pay.
How long do Pau Hana paddle boards last?
Pau Hana uses above-average materials and technologies in the making of their boards, therefore they are designed to last longer. And they do! It is also the fact that wealthier or market conscious people prefer to buy their product as they know that's an investment for the next 5-10 years, not something to consume and throw away.
Quality over quantity
What kind of Inflatable boards does Pau Hana has specialized in?
While most other SUP brands are focusing on either a broad spectrum of boards, mainly the mainstream types (Yoga, All-around) – Pau Hana isn't running after the crowds, it is actually the vice-versa where customers are trying to find their specialized boards.
Where to Pau Hana iSUP owners like to hang out?
The brand's inflatable selection is forwards towards active paddlers who are eager to explore and use the board to the fullest. You can see Pau Hana paddleboarders on whitewater, in the surf, and going to an overnight stay on a nearby island. They have also two multi-person paddle boards, whereas you can even add a 5HP motor on one and carry up to 6 people on board!
Which are the most innovative boards by Pau Hana?
Pau Hana has put up two of their masterpieces which clearly stand out from the rest. One is the ultra-compact yet performance-based 10'10" SOLO that's designed for a traveling digital nomad. I mean how cool is that?
Secondly, it is the stand-up kayak paddle board which has a window on the board to see to the bottom of the ocean, a kayak seat, and an extra blade so you could do both – kayaking and paddling. And all that comes at a very reasonable price tag.
Actually, all their boards are worth mentioning, but these are what have the most interesting features for a larger number of potential paddlers. The 15'0 Bimini which can be used as a motorboat is another example of that. They've made their own set of categories and done that successfully.
Nulltuul score –
4

.

8

/

5

We like their specialization in a selected few iSUPs and their extended history of making a solid paddle board for the premium market. Also, the innovations and eco-consciousness that they're implementing into their boards. Why we didn't give the 5/5? We'd also like to see a fishing or a surf-specific iSUP in the future.
Did we miss anything important?
Let us & others know in the comments section!
Do you own Pau Hana inflatable board and are more than happy with it?
Let us know and let's see your opinion.
Read next
Best Paddle Board Brands
41 brands you need to know
Surfing vs SUP
PROs & CONs to each
Inflatable vs Rigid Paddle Boards
31 PROs & CONs to consider one over the other
I created Nulltuul to share my experience, research and analysis with other surf enthusiasts out there. If I'm not surfing on my travels - I like to photograph waves, surfers, and the surf lifestyle in general.