Bote Paddle Boards are one of the more known brands in the US. Their product range consist of both solid (rigid) and inflatable boards, also a bunch of other related water products for leisurely activities.
In this post we are going to focus on Bote's paddle boards.
Bote Paddle board range
Touring
Fishing
Surfing
Kids'
Family
+ Solid Paddle Boards
+ Inflatable Paddle Boards
+ Inflatable Kayaks
+ Floats
+ Accessories & Apparel
Founded in 2008 – Destin, Florida
The founders of Bote went out for their first paddle board to ride back in 2008 and were quickly kind of disappointed by the quality of paddle boards back then. They realized that the product they were using wasn't quite for their taste, the boards just felt too basic and clumsy.
One thing lead to another, as the married couple were keen water-enthusiasts, shortly after their first ride they combined their knowledge in finance and mechanical engineering, created a plan and took the risk by created they very own brand. Bote was born. By the way, the name BOTE originates from their idea of building their first so-called BOAT.
Back then the inflatable industry wasn't being taken seriously. It was mainly the pool lounging floaties and air-mattresses people had been using, therefore paddle boards were an unseen, yet hot market with huge demand for the upcoming decades. We could say that Bote started out at the right time where the quality and affordability had come down to a reasonable level.
Their goal was to create a board that was efficient for paddling, and stable for fishing –
"a board that could hold the cooler for my beer!"
YouTube @BOTE
Facebook @BoteBoards
Instagram @BoteBoards
>> VISIT Boteboard.com/
---
Table of Contents
Bote Boards Comparisons
Rigid Paddle Boards – Overview
Inflatable Paddle Boards – Overview
Accessories
Conclusions
---
1

. Bote Boards Comparison
---
Sort by Price (MSRP $)
↓
 Bote RIGID Paddle Boards
Rackham – $1,849 – $2,049
HD – $1,349 – 1,549
Traveller – $1,449 – $1,649
Flood – $1,149 – $1,349
Breeze – $949
Bote INFLATABLE Paddle Boards
Rackham Aero – $1,299
HD Aero – $999
Traveller Aero – $999
Flood Aero – $799
Breeze Aero 10'8″ – $649 / 11'6″ – $749
Flow Aero – $399
Sort by Recommended Skill / Level
↓
Beginners
– Breeze, HD, Flood, Flow
8′ / 10.8″ / 11′ / 11.6″
Intermediate
– Breeze, HD, Flood, Rackham, Traveler
10'8″ / 11′ / 11'6″ / 12'4″ / 12'6″
Advanced
– HD, Flood, Traveler, Rackham
11′ / 11'6″ / 12'4″ / 12'6″
Sort by Activity
↓
Expedition
– Rackham, Traveller
12'4″ / 12'6″
Fishing
– HD, Rackham
11'6″ / 12'4″
Fitness
– Flood, Traveller, HD
11′ / 11'6″ / 12'6
Hunting
Rackham
12'4″

Family
Breeze, HD, Flood, Flow
8′ / 10'8″ / 11 / 11'6″
---
2

. Bote Paddle Boards range – Rigid/Solid
---
Bote solid paddle board bundle comes included with:
Board
10″ removable center fins
2-piece adjustable paddle
Bungee straps
Technologies Used
---
HD
One board for everything
MSRP: $1,349 – $1,549
Available in four different designs and two sizes, the Bote HD paddle board is the brands' mid-range SUP with the most universal outline. Great for fishing, slight touring, fitness or family leisure rides – this board is a great choice for anyone who likes the versatility. The volume and shape of the board make it a great all-rounder.
The previous HD models used to have a tri-fin set-up that were useful when used on shallow water, but the newer models come with a single-fin set-up.
10'6″ x 30″ x 4.5″ | Capacity – 240lbs | Weight – 38lbs
12′ x 32″ x 5″ | Capacity – 315lbs | Weight – 45 lbs
Includes the board, 10″ removable center fin, 2-piece SUP paddle, bungee cord, plugs.
The HD is considered as Bote's fishing paddle board alongside with Rackham, so make sure to check out their accessories if you are planning to use it for angling as well.
---
Flood
Fun, easy, simple, family, leisure paddling, fitness – a classic choice
MSRP: $1,149
The Bote Flood paddle board is a another popular choice among families who are after a SUP board in its most common purposed field of use. Paddling, fitness, yoga, small surf and leisurely rides – the Flood is capable of everything. It is a great choice for all skill levels due to its rather casual and neutral outlining. It has a rather forgiving characteristics which make it a great first rigid SUP board, and a family board for years to come.
Gatorshell
10'6″ x 30″ x 4.5″ | Capacity – 230lbs | Weight: 35lbs
12′ x 32″ x 5″ | Capacity – 300lbs | Weight: 38 lbs
The deal comes with the board, 2-piece paddle, bungee cord, tie-down straps,
It is the affordable price tag which we can recommend, and the great value it holds. The number of available designs and two more-popular sizes what make it an attractive choice among many water-sport enthusiasts.
---
Breeze
Stability, durability, style
MSRP: $949
Besides the most neutral outline looks, it is also the name that has revealed it all – the Bote Breeze paddle board is for those glassy days with no wind, a board to just kick back & chill out. Equipped with essentials, it is most likely one of the best under $1,000 solid SUP boards for beginners and recreational paddlers alike. Don't get us wrong, it uses the technologies found on other BOTE's premium boards, and it comes ell equipped to get you on the water for good. It is a board designed for families – for fathers, mothers, uncles, sisters, brothers. The 10'6″ length is one of the most popular choices to go to, and the lightweight of 32lbs is also something we are happy to witness.
Full Trax Aqua Gatorshell / Classic Teak
10'6″ x 32″ x 4.5″ | Capacity: 230lbs | Weight: 31lbs
Package includes – board, 2-piece paddle, 10″ removable fin, bungee cord, tie-down straps.
If you are looking to go along with the trend of water-lovers, this Bote yoga paddle board is definitely something to consider. It is sort of a "low-maintenance board" – it is affordable, it won't mind getting used by beginners and intermediate riders, and it offers fun on every possible occasion.
---
Traveller
Expeditions. Smooth, stable, fast, open waters
MSRP: $1,449 – $1,649
The Traveller (with two L's) is a Bote stand-up paddle board for – yes, you guessed it – for traveling. The long, sharp, and narrow outline make it an ideal paddle board for touring. Whether it will be the seas or rivers, the Traveller is designed for advanced riders who know their destination.
Available in two sizes and various designs, what sets this board apart from the rest of the range is the fact that it's made of Epoxy. Epoxy is known to be fast in smooth and snappy, but it is the sharp outline that makes it stable.
Epoxy
12'6″ x 28″ x 6″ | Capacity – 275 lbs | Weight – 34 lbs
14′ x 29.5″ x 7″ | Capacity – 315 lbs | Weight – 42 lbs
For advanced riders, this is a serious watercraft for expeditions on the sea.
---
Rackham
Iconic Gatorshell technology
MSRP: $1,849 – $2,049
The top-end Rackham is the proper flagship of Bote paddle boards range. With an increased load capacity and stretched outlines, it is a premium product for advanced users. In essence – it is another Bote fishing paddle board just like the HD, but it's also as capable for touring as the Traveller. Bote also categorizes this board to be suitable for hunting just so you wouldn't underestimate its capabilities on the rough open seas.
12′ x 32″ x 8″ – | Capacity – 350 lbs | Weight – 48 lbs
14′ x 34″ x 8″ | Capacity – 400 lbs | Weight – 52 lbs
Check out the various awesome camouflaged versions and the features to get a better understanding of true being.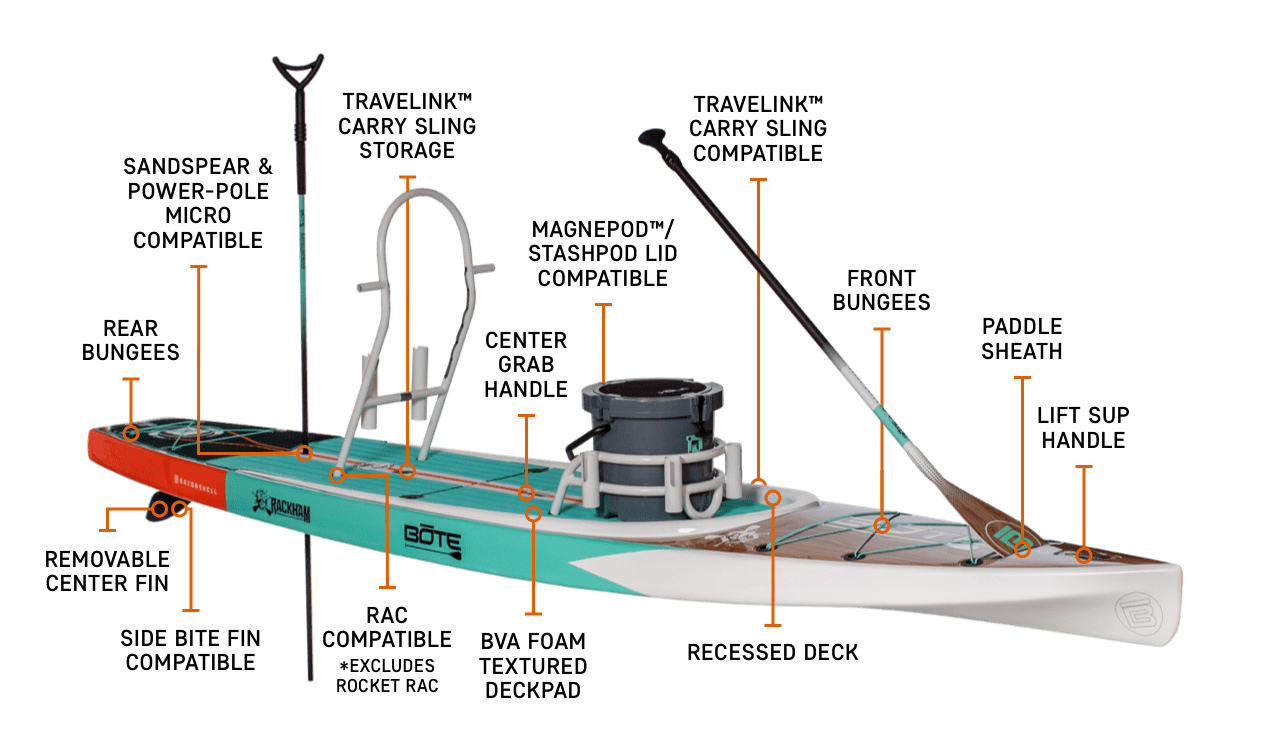 ---
3

. Inflatable Paddle Boards range (Aero)
---
The Aero version features a wide range of high-quality inflatable paddle boards for a wide bunch of paddlers. Yes, it sounds like any other sales line, but we are talking about a brand here that has been the pioneer of the inflatable industry.
These models are inspired by their rigid paddle boards while having the same purpose as mentioned above. The whole package includes the following:
Bote Inflatable Paddle Board
3-Piece Adjustable SUP Paddle
Aero Bag
1 x Removable Aero Center Fin
Aero Repair Kit
Hand Pump
Bungee
Grab handle
2x side-bite fins
Also with
2-year warranty
Free shipping
30-day Aero Guarantee
Breeze Aero
---
MSRP: $649 – $749
The Bote Breeze Aero inflatable paddle board is the brands best-selling model. Ideal for the whole family, the Breeze is focused on relaxed time on flat water. Available in two popular sizes, it must be one of the best-value paddle boards for yoga, and for beginners alike. It truly is an appealing deal to consider.
AeroULTRA Construction
11'6″ x 33″ x 6″
Board weight – 22lbs / Loaded bag weight – 28lbs / Max Capacity – 315lbs
10'8″ x 33″ x 6″
Board weight – 20lbs / Loaded bag weight – 26lbs / Max Capacity – 250lbs
Recommended pressure: 10-15PSI
HD Aero
---
One of the most popular choices to go for
MSRP: $999
Available in four designs and one popular size, the HD is a go-to choice for those who are looking for a mid-range quality. It is a one-for-all board with all the bells and whistles, and the availability to make it one of the most universal boards on the market (and we are not saying that out of the blue). the HD is a High-Definition board for sure. Wider than your average board, it has a size and stability of a watercraft, something many still don't believe can exist.
11'6″ x 34″ x 6″
Loaded Bag Weight: 48lbs / Board Weight: 30lbs / Capacity: 315lbs
Check out the accessibility to accessories and all the features as well.
Flood Aero
---
MSRP: $799
For adventure, fishing, and fitness – the Flood has a similar outlining to the popular HD. It is slightly longer, but two inches narrower which makes it a more fast and performance-based board. Besides the vibrant designs, it is also the price tag that is attractive, the Flood Aero can be used in small surf, and by paddles with above fitness levels.
11′ x 32″ x 6″
Loaded bag weight: 42lbs / Weight: 28lbs / Max capacity – 275lbs
Traveller Aero
---
MSRP: $999
The Traveller must be one of THE most universal inflatable SUPs available. I mean, it fits a backpack, it costs under $1,000, it's made by one of the oldest iSUP brands, and it can be used for touring. We live in an era where technological advancement has come to a degree where YOU CAN have a product that excels in various fields with success – and the Traveller is a great example of that.
Originally designed for touring, the Traveller is a great board for long-distance routes for above-average users. You will be needing a great deal of fitness to use its full potential as it is quite long and narrow, therefore a fast board to have.
12'6″ x 30″ x 6″
Loaded bag weight: 45lbs / Board weight: 30lbs / Max capacity – 275lbs
For fitness and endurance lovers, the Traveller is a board to look up to.
Rackham Aero
---
MSRP: $1,299
An inflatable hunting paddle board – wow. Rackham Aero is the most expensive board by Bote. The outline is quite unusual as it is long and wide, therefore great for heavier riders, and for choppy seas. Fishing and general expeditions are what was in the mind of the making of the Rackham.
Inspired by the rigid Rackham, you'll find camo designs, and the versatility to add all the possible extras to the bundle. 400lb inflatable paddle board – keep the name Rackham as you'll be needing to flex with that one day!
12'4″ x 38″ x 7″
Loaded bag weight: 70lbs / Board weight: 45lbs / Load capacity – 400lbs
AeroBote technology
Kids' Flow Aero
---
MSRP: $399
Flow is the smallest board for the biggest water-lover of the family. Considering the fact that many people (even professional surfers) are surprised by the rigidity of inflatable paddle boards these days – the Flow Aero is easily one of the best choices to consider.
8′ × 30″ × 4.5″ | Capacity – 100 LBS | 17 LBS
Inflatable AeroBOTE Technology
---
4

. Accessories
---
Bote paddles – adjustable 3 / 2 piece, 1 piece
Board bag – 12′, 10'6″, 12'6″, 14′
Board sox
Paddle bag
Wheel rac
Sandspear
Bote paddle board fins
10″ aero center fin
6″ aero midtown fin
3″ aero center fin
2x side bite fins
Tackle web
Travelink carry sling
Coiled leash
Magnepod / Stashpod Lid
Paddle boad tailgate pad
Roof rack pads
> Shop Paddle Board Accessories
---
5

. Conclusion
---
Bote stand up paddle boards are a solid go-to choice due to their top-rated feedback and popularity. They've been around for quite a while and the rating & feedback system gives you a great idea of what to expect.
What we personally like is that they focus on the inflatable industry only, and they have everything water-related in their product range including
How to choose?
If rider weight is within 50 LBS of a board's listed capacity, BOTE recommends upgrading to a larger capacity board.
Where to buy online?
Bote paddle boards can be found for sale online:
How to pronounce Bote paddleboards?
– Same as the boat with a slightly stretched 'o'.
Also featured in
Best Kids' paddle boards of 2021
---
Read next
44 Best Paddle Board-Specific Brands
13 Different Types of Paddle Boards
And their materials
I created Nulltuul to share my experience, research and analysis with other surf enthusiasts out there. If I'm not surfing on my travels - I like to photograph waves, surfers, and the surf lifestyle in general.