Yoga paddle boards are an increasing trend among recreational paddlers and SUP manufacturers alike. What's there not to like about a board that's designed for the most laid-back discipline out there?
Available in solid and inflatable form – there are over 15 brands to produce a yoga board along with their other popular types.
Yoga / Cruising / Comfort / Flatwater
Designed to be extra stable with extended width and a large deck pad – SUP yoga is an ever-growing trend on the water. Yoga alone is a super beneficial fitness and wellness recreation and by adding that extra element of water in the mix doubles its effect.
As most beginner paddle boarders are frightened by the instability in the first few minutes – Yoga paddle boards have a round and wide outline to provide some extra confidence.
Whether you are making your first steps on a solid or inflatable board, it's like everything else that takes some time to get used to. To better improve your progression, make sure to use the board accordingly – on flat water, and inflate the board to its maximum recommended pressure. By the end of the day, it comes like second nature!
What is a yoga paddle board?
What are the different types of yoga boards?
Where else can you use a yoga SUP?
Are inflatable Yoga SUPs worth the money?
Yoga SUP accessories.
What to wear to a yoga SUP session?
What are the main features of a Yoga board?
---
Extra-wide & round outline.
Bungee cords – usually on 4- or 6 D-rings.
Bottom nose D-ring for anchoring.
Soft EVA deck.
Shoulder strap for easy carrying.

Check out the accessories down below!
Popular Yoga poses
---
Now to the main point – what are the main paddle board yoga poses?
Check out the introductory video made by ISLE to get a better understanding of some of the basics.
Down dog
Chair
Warrior Z
Malasana
Headstand
Boat
Thread the needle
Modified crescent lunge
Full wheel
Savasana
The list is endless, just be creative!
What else can you do with a yoga paddle board?
---
Due to their relaxed outline, a yoga SUP board can be used for all-around leisurely rides on calm waters. Equipped with bungees on the front, you can easily take it for a clear-day touring session, or bring your pet onboard. You don't often need much to feel at peace, and the yoga board is a perfect example of that.
Some brands categorize yoga boards as cruising boards – which also kind of tells away their relaxed nature.
Can you use it as a 2-person paddle board?
Although yoga paddle boards are quite wide, they are intended to be ridden solo. Check out the average weight capacities down below to get a better view of the average sizes.
Average Yoga SUP sizes
---
INFLATABLE
10'0″ x 34″ x 6″ (Starboard)
Weight – 22lbs / Volume – 326L / Capacity – 100 to 255lbs
10'4″ x 34″ x 5″
Weight – 26lbs / Volume – 280L / Capacity – 100 to 220lbs
10'6″ x 36″ x 4″
Weight – 26lbs / Volume – 325L / Capacity – 350lbs
10'8″ x 34″ x 5.9″ (Red)
Weight – 24lbs / Volume – 333L / Capacity – 240lbs
11′ x 33″ x 6″
Volume – 248L
SOLID
10'0″ x 29″ x 4.25″
Weight – 22.75lbs / Volume – 160L
10'6″ x 32″ x 4.75″
Weight – 30lb / Volume – 192L / Capacity – 210lbs to 260lbs
The majority of SUP yoga boards are designed to be ridden by one person only.
What are the
alternatives

to a yoga SUP board?
---
An inflatable dock, touring and fishing paddle boards are also above-average in width.
Are
inflatable

 Yoga boards as

good as rigid boards

?
---
Some SUP boards can be inflated up to 20PSI (Average 12-15PSI) which makes them almost indistinguishable from non-inflatable paddle boards.
What is the right
amount of pressure

in an inflatable yoga paddle board?
---
Each manufacturer has its own pressure guides, but the average PSI ranges from around 12-15PSI.
If your SUP pump doesn't have a pressure gauge – you can actually go quite high and check if the board wrinkles ("tacos") when you stand on it. Before doing so – make sure that there isn't anything sharp below.
Check manufacturer pressure recommendations.
Avoid leaving the board out in the intense sunlight for extended periods of time.
If you don't have a pump with a pressure gauge – go as high that the board wouldn't wrinkle on full gear.
*Once the board is on the water the pressure applies differently than on the land
On super hot & sunny days you can go a little less than the average, and go above on chill days.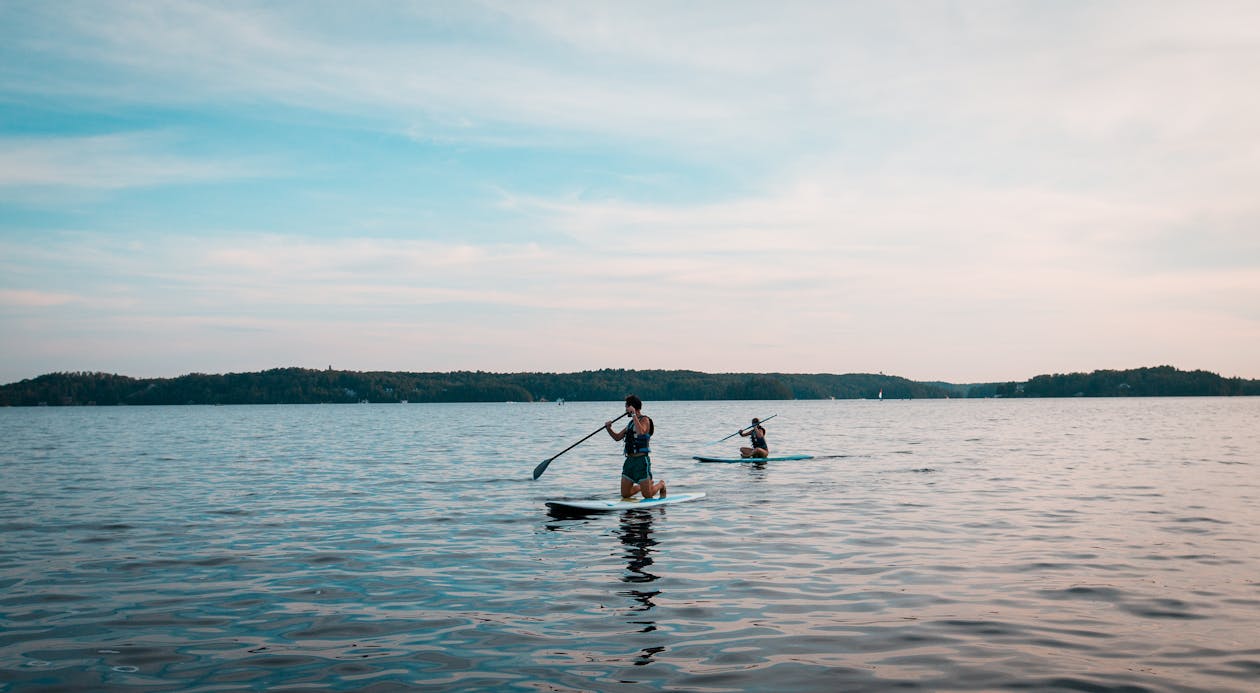 Are inflatable paddle boards
safe to use

?
---
As the main downside to inflatable paddle boards is getting punctured and running out of air rapidly – there's no need to overly worry about it. Modern inflatable paddle boards have increased way above the average expectation to a degree where most recreational users can't tell the difference between a solid or an inflatable board.
Inflatable paddle boards have been around for over a decade, and there's a huge following to this niche. Modern iSUPs are made of durable PVC materials with reinforced rails. To top things up – each bundle also comes with a repair kit.
The minor risk of puncturing the board definitely overcompensates its portability.
Is a Yoga board
great for fitness

purposes?
---
Yoga is considered a discipline of fitness recreation, but note that fitness paddle boards are more known for long-distance or fast paddling.
The main difference between yoga and a fitness/race board is that the outline of a yoga board is round (for relaxed riding) and a race board is narrow and pointy (for best paddling performance) which means they are actually the exact opposites.
How much does an average yoga paddle board
cost

?
---
Premium yoga SUP bundles cost around $699 to $1,299 for a solid and inflatable board with a paddle, leash, and essential accessories. Cheaper inflatable yoga SUPs can start from $300 to $400.
What to
expect

from a good Yoga board?
---
The best yoga iSUP for your needs should be stable, durable, and obviously good-looking as well. Most well-known brands make yoga boards as their third option after an all-rounder and a touring board.
What are the best Yoga-board
specific brands

?
---
The Boga Yoga's inflatable paddle board is one of the few boards that is produced by a Yoga-specific SUP brand.
Yoga boards are often found on those brands' selection that are more focused on leisure over performance. There are at least 10-15 premium yoga SUP brands on the US market.
What to
wear

to a paddle board yoga session?
---
What connects all paddle board disciplines is the obvious fact that they are performed on the water, but a paddle board yoga session is often performed on a clear and calm day near a safe distance to the shore.
That being said, there's a different approach to clothing for SUP yoga. We can't oversee the fact too that the majority of yoga paddlers are female, therefore we'll be focusing on that in the first point.
SUP yoga leggings – One of the main clothing items yoga paddle boarders wear almost all of the time.
A hat – Depending on which yoga poses are you planning on doing, a hat is another crucial items to protect you from overheating. If it gets on the way – simply toss it under the tie-down straps.
Sunglasses – A pair of UV-resistant sunglasses make the yoga session way more 'bearable'. As an extra – you might get some cool tanning lines along the way. Proper UV-protected and polarized watersports sunglasses also help to see better in the water to spot fish and the rocks & branches sticking up.
Wear sunscreen! – The UV rays double its effect when on the board, so make sure to protect your largest organ – the skin!
Related – What to wear to paddleboarding?
What's better than Yoga?
---
Yoga on water!
SUP Yoga Accessories
---
One of the only boards to use an anchor, and luckily there's a specific product designed for that – no need to carry around a bulky metal object.
The anchor for SUP yoga and fishing helps the paddler stay still at a preferred location. Even paddling on clear days with no wind – there's always some movement going on, either by a paddler or a slow undercurrent. The compact anchor is also used among kayakers, and it comes really useful, especially when you haven't used one already!
Did we miss anything? Let us & others know about it in the comments section!
Read next: 12 Best Yoga SUP Brands
I created Nulltuul to share my experience, research and analysis with other surf enthusiasts out there. If I'm not surfing on my travels - I like to photograph waves, surfers, and the surf lifestyle in general.