Unlike a tandem SUP for two persons, there is the mega inflatable paddle board selection that can fit up to 10 people. Yes, you heard it right, an inflatable board that can hold up to nearly a dozen of paddlers on one board.
Those giants, often called as mega or family paddleboards can reach up to 16′ in length and 60″ wide while keeping their original purpose – to stand up and paddle.
Although most boards are designed for flat waters to have fun and get some exercise done, you can actually use them for so many purposes and still expect a good. Whether it'll be touring, cruising, racing, a boat dock, or why not use it as a tool for transportation.
If you are new to paddleboarding or have already owned a fair share of boards, you are most likely going to have a positive surprise at their overall quality and performance. Pretty much all the boards available by known brands are well made, as that's one of the fun side-projects many brands want to master.
---
What is their
main purpose

?

The giant multi-person paddle board is designed for group rides, or to have fun with. I'm sure you've videos on groups of people surfing a wave on a giant stand-up paddle board which means that they can withstand some rougher use as well. Not to forget whitewater paddling which is another popular discipline for groups.
Group rides.
Overall fun paddling.
Flatwater paddling.
Cruising.
Whitewater.
Team sport.
Surfing.
The great thing about extra large stand-up paddleboards is that they can fit 3 to 6 people on board, and still perform like a SUP. Mega SUP boards are equipped with fins, grab handles, a leash plus all the essentials.
What are the
benefits

of oversized SUP?
A great alternative to a full-size boat.
Widest paddle board = most stable
SUP together with your friends.
Easy paddling performance.
Track well for their size.
Inflatable = ultra portable.
Two pumps for fast inflation.
Often come with two paddles.
What's the
average weight

of multi-person SUP?

While the average solid and inflatable paddleboards weigh around 20-30lbs, the extra-large paddle board weight can go up to 60lbs and over.
What is a family paddle board?
Family SUPs are often considered as tandem boards or just larger SUPs that can fit up to 2 persons on board. Many purchase the family SUP to paddle out with their pet as well.
Are tandem paddle boards considered multi-person paddle boards?
Tandem SUP is a specific board designed for two persons.
While some larger SUPs can be paddled by two persons, the outline and dimensions of a tandem board are designed for two persons on the board, but the multi-person paddle boards are built to withstand much higher weights.
4 Person SUPs
---
The 4-person inflatable paddle board is one of the most popular, therefore most produced boards available. There are models for racing (stretched – long and narrow) or for cruising – where two paddlers are meant to paddle on each side.
Check out the average specs for the 4-person racing SUP:
Dimensions 22′ x 34″ x 8″
Volume 1000L
Board weight 52 lbs
Payload capacity 1014 lbs
Besides racing, there's also an iconic board (Pau Hana Bimini) that's got an outboard engine mount on the rear. How crazy is that?
Dimensions 15′ x 60″ x 8″
Weight 71 lbs
Volume 1563L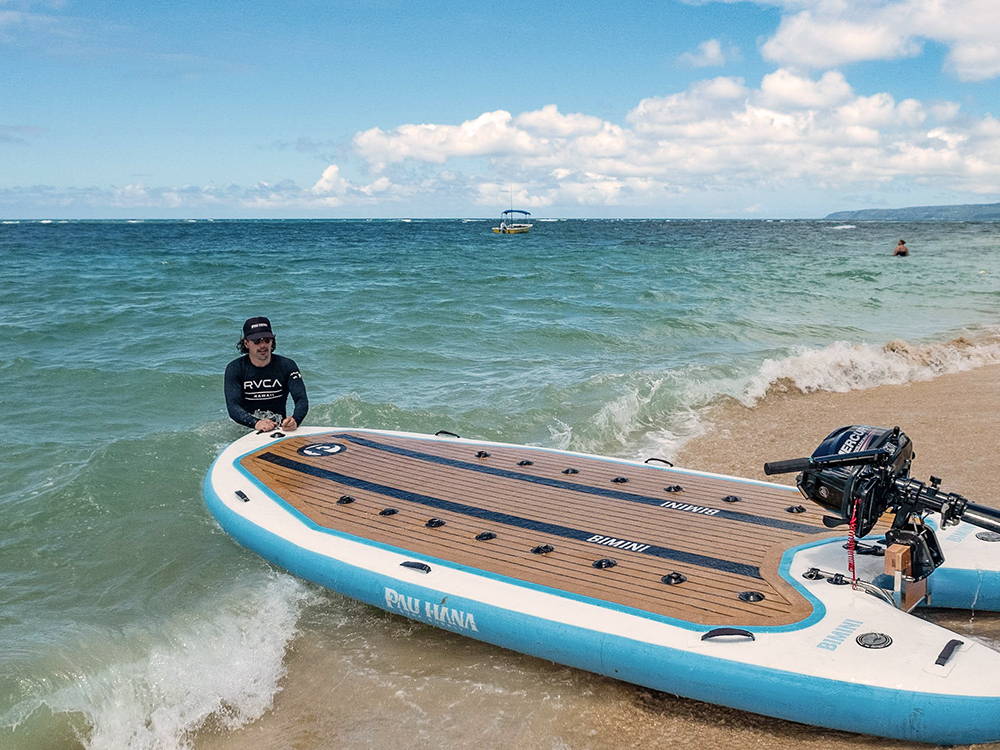 As you can see larger boards have multiple grab-handles on each side to make the carrying much easier. You'll actually find the handles all around the deck for convenient transportation – whether it'll be carrying the board to the shore from the water or vice versa. Having an outboard engine on the deck is definitely not a common sight, but as time goes by we are going to see more alternatives to traditional watercraft. Who knows when we'll see an electric multi-person paddle board on Amazon?
5-6 Person SUPs
---
Another popular range among the mega boards is the 6-person inflatable SUP.
Usually, near the 1000L range, these boards must be one of the most efficient and fun out there. Five or six persons on one board can build up the speed and momentum quite well, which means this size is not too small nor too big.
Although a 5-person SUP is not that commonly advertised as most boards of these sizes are designed for even-number groups, look for six-person SUPs for that query.
Average sizes:
Size 18'1″ x 60″ x 8″
Volume 1400L
Weight 60.6 lbs
Capacity 1433 lbs
Example #2
Size 15'6″ x 66″
Volume 1000 L
Weight 69 lbs
Capacity 1600 lbs
Example #3
Size 15′ x 58″ x 8″
Volume 1112 L
Capacity 980 lbs
8-person SUPs
---
Mega, but not the biggest. The 8-person SUP is the second-largest inflatable paddle board type out there in the range of huge paddleboards. Often seen on school holidays, popular holiday destinations, or paddled by a family onboard – these boards can easily be used for transportation to reach a nearby island.
Although not as maneuverable as 5-6 person boards – you can build up quite the momentum with eight people on board.
Dimensions 18'1″ x 60″ x 8″
Volume 1400L
Weight 60.6 lbs
Max payload 1433 lbs
Example #2
Size 16'8″ x 79″ x 7-4/5″
Volume 1666 L
10-person SUPs
---
Now to the ultimate range of boards, basically the mega SUP boat category. What's awesome about 10-person boards is that they are designed for paddleboarding, albeit their humongous dimensions.
Let's say an average person weighs around 200lbs, which leads us to the point that these boards can hold 2000lbs! There are currently only a handful of brands to produce a 10-person SUP – and that's quite a task to master!
FAQ
---
The way we see people paddleboarding is different all around the world, but it is the multi-person SUP that brings paddleboarding back to its core basics – to have fun on the water. Have a look at some of the most frequent questions people are asking before the purchase.
What is the average multi-person inflatable paddle board price?
The prices of 4 to 10-person SUP paddle boards averages around $1,500 to $2,000. Some boards can go up to $4000, depending on the brand. For the price, you'll get everything needed – the board, one or more paddles and pumps, a set of fins, and a leash. Although the carry bag is included in most deals, that's might not be the case on some huge paddle board bundles.
Price is determined by the material used, the number of technologies used, and also the quality of components.
What kind of SUP brands specialize in making multi-person inflatable SUPs?
As pretty much all the multi-person paddle boards are inflatable, it is the iSUP-specific brands that often have a mega / group paddle board in their listings. Here are some of the examples:
Aqua Marina
BlueFin
Boardworks
Body Glove
Pau Hana
RED
SOL (1x whitewater)
ISLE
etc
What are the most popular models?
ISLE Megalodon, Retrospec Weekender, and Body Glove Crusader are three of the most searched mega SUPs online. Luckily we'll be seeing more brands entering the market, and many existing SUP brands to build their very own mega board.
What is the biggest inflatable paddle board?
In terms of overall dimensions, the 18′ BlueFin Mammoth must be one the largest SUP on the market. While some multi-person race boards can reach up to 22′ in length, its the overall volume that makes the Mammoth an icon.
Can you paddle a mega SUP by two paddlers only?
Although these giants are ideal for flat waters, you'll often see only a few people on a huge paddle board. You can technically paddle a giant paddleboard with two people, especially in slow-moving rivers where you won't lose too much effort without the extra help of other paddlers.
While it is not advisable to go out on the ocean with a large SUP on windy days as it can be difficult to paddle back upwind, those large SUPs are ideal companions on
The Sum
---
Mega SUPS are great for those who are looking for the most stable inflatable stand-up paddleboard for multiple persons. As these boards are designed to do one thing mainly – to be paddled by multiple paddlers – there's anything else like that out there. Group rides, fun, family paddling – mega inflatable paddle boards are designed for 4-10 persons. At the moment, the are roughly 20 boards on the market to choose from, starting from $1,200 to $4,000.
I created Nulltuul to share my experience, research and analysis with other surf enthusiasts out there. If I'm not surfing on my travels - I like to photograph waves, surfers, and the surf lifestyle in general.