Paddleboarding in essence is meant to be fun and relaxing. It's an ideal way to spend some quality time on the water, and get a great degree of work out done as a bonus.
While the majority of stand-up paddleboards are made for adults, for all-around purposes, there's an increasing subcategory of youth and kids paddleboards on the market. These boards have a casual and forgiving outline, designed exactly for younger paddlers in mind.
In this post, we are going to overlook some of the most common kids-specific paddleboards; their sizes, types, purposes, and much more.
Kids' paddleboards are often marketed as "Jr – Junior" or "Grom – Grommet"
---
Paddleboarding with kids
There are three ways to stand-up paddle board with kids: To get a family board or get them a Youth SUP.
Kids SUP – A paddle board that's designed for kids.
Family board – A tandem or slightly larger all-around board.
Kayak/SUP – A board with an added seat(s).
Main features
---
Round outline.
Bungee cords for storage.
Carry handle.
Leg rope.
Three-fin set-up.
Compared to all the rest of the boards out there, a kids' stand-up paddleboard stands out for its smaller dimensions – in length, width, and thickness. These boards have less volume and smaller weight capacities as well.
The Different TYPES of Kids' Paddleboards
All-around flatwater – Average type for cruising. Kids' models are shorter at 8′ to 9′.
Kayak/SUP – With a seat.
Windsurf – Some boards have a mast mount on the deck.
Let's compare some of the average sizes to get a better idea
A small SUP is easier to maneuver, to carry around, and paddle with.
Smaller boards are much easier and faster to inflate as well.
While the

average inflatable SUP

is around 10'6″ x 32″ x 6″, an average youth/kids' paddle board stays around 8′ in length, 28″ in width, and 4″ in thickness.
What are the average Kids' SUP sizes?
How to size a kids' paddle board?
8'0″ x 28″ x 6″
Volume 180L
8'0″ x 29″ x 3″
Volume 125L / Weight 16lbs / Capacity 70 to 110 lbs
8'0″ x 29″ x 6″
Volume 200L / Capacity 160lbs
8'0″ x 28″ x 4″
Volume 140L / Weight 12.3lbs (5.6kg) / Capacity 132lbs (60kg) / Pressure 15PSI
8'0″ x 30″ x 4.5″
Capacity 100lbs / Weight 17lbs
8'6″ x 36″ x 6″
Volume 285L / Weight 24lbs
9'0″ x 28″ x 4.75″
Volume 185L / Weight (7.8kg) / Capacity  (65kg)
9'2″ x 29″ x 4″
Volume 173L / Weight 21lbs / Capacity 50 to 120lbs / Pressure 20PSI
9'6″ x 27″
Can a kid paddle on a full-size SUP?
Depending on the height of the paddler, some standard SUPs can be also paddled by a kid, but they are not as greatly optimized for that.
The only difference is that larger and wider boards take much more effort to paddle with a larger paddle. The paddling can not be which in turn isn't as optimized for the best performance out there. Often parents go paddling WITH their kids, whether they sit on the deck, on a kayak/SUP seat, or simply lay there.
*For example, Bluefin recommends their 8′ SUP to be suitable for a paddler 5'3″ and under.
Main materials
The majority of youth paddle board constructions are made of PVC, which means they're inflatable. The second-most-popular material is epoxy, and third by popularity is a soft-top foam board. Although the soft-top is not that common, they are still around.
Choosing the material comes down to convenience vs performance. (Inflatable vs Solid)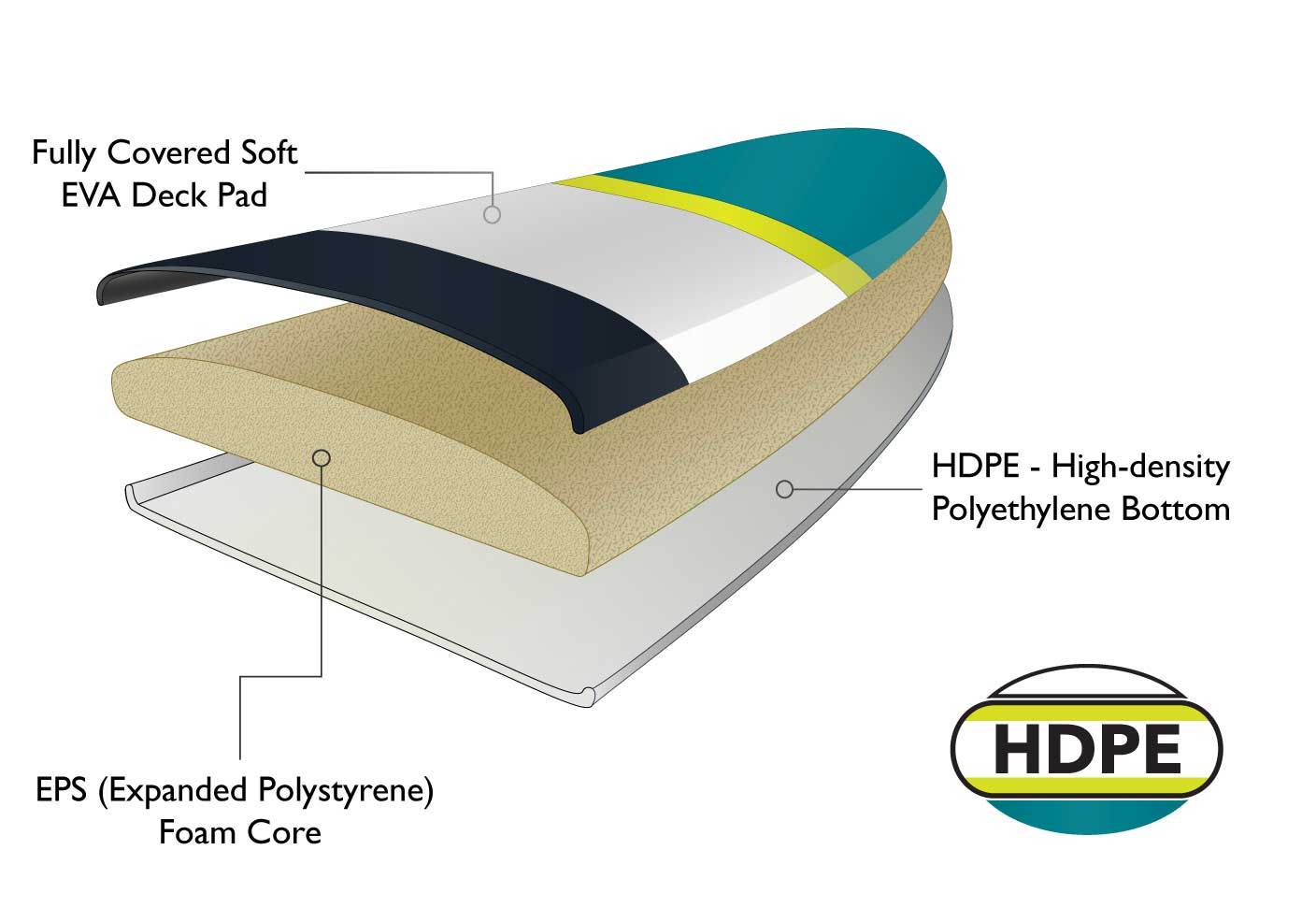 Are inflatable paddle boards safe for kids?
In the past 10 years, the quality standard in the making of making an inflatable stand-up paddle board has seen rapid growth.
The majority of the best SUP brands have a line of inflatable boards on their list, and a lot of them offer inflatable boards only. The inflatable industry is widely used in the rafting scene (think of rocks and branches, waves, etc), and in many other industries – lifeboats, swimming docks, waterparks, etc.
SUP Brands with Kids Boards
All of the brands below have a paddle board for kids.
Aqua Marina – 1x inflatable
Starboard – 1x inflatable
NRS – 1x inflatable
Pau Hana – 1x Epoxy
Naish – 1x inflatable
Body Glove – 1x inflatable
Bluefin – 1x inflatable
Bote – 1x inflatable
Read more from the article (Click on image)
What are kids'
paddles

like?

An average youths' paddle is adjustable from 50″ to 70″ in length. Remember that the paddle length should be adjusted 6 to 10 inches above the paddler.
FAQ
---
How to choose the right SUP for kids?
Choosing a board for kids is super easy as the majority of boards are inflatable. That means you are basically ordering a backpack-sized product that's easy to ship, store and transport. Make sure to check the size recommendations that would fit the needed criteria as well.
Is paddleboarding difficult?
Much like any other sport out there that takes some time to get good at – stand-up paddleboarding is no exception. One has to spend a fair amount of time on the water to get the balance, and to endure those long hours on the water. The good part with paddleboarding is that picking up a new hobby comes much more naturally to kids – they see it as a fun pastime, and that's all they need.
We believe that paddleboarding is a great way for kids to learn about the environment, and to stay connected with nature. After all, the surface of our planet is covered over 70% with water, and being around any body of water is believed to be very beneficial for our minds and bodies – it truly is a priceless recreation.
Can a grown-up paddle with kids SUP?
Yes, a grown-up can technically paddle on a small SUP, but that's not as advisable due to their maximum load capacity. Most boards that have a maximum capacity of 180lbs could hold a paddler weighing 220lbs, but that's not as advisable to do so.
Shorter and lighter grown-ups often use a small SUP since choosing the right SUP comes down to the ratio of weight and height. The same goes for step-through bicycle frames which were long-called women-specific frames, while they are often used by men as well out of pure convenience.
Why is it beneficial for kids to go paddleboarding?
There are way too many benefits of paddleboarding, especially for kids.
The young HAVE to spend as much time outside as possible – so why not allow them to experience the true beauty of nature from the top of the paddle board?
One of the main benefits is that they can get to know the different aspects of the environment better. Stand-up paddleboarding teaches us to stay calm and go with the flow, to simply enjoy the surroundings.
Besides fresh air and an aerobic workout, there's also so much to see from the waterline.
Is paddleboarding safe for kids?
An average SUP for kids is designed for flatwater paddling.
The basic safety on paddleboards is the leg rope that connects to the board. Depending on where you are about to paddle, the bungee cords on the deck work well to store a waterproof bag with extra clothes in it, or why not toss a lifejacket there as well. Although paddling with a lifejacket is very uncommon, it is better to be safe than sorry. Especially when the paddler isn't a competent swimmer.
Avoid the surf.
Watch out for winds.
Watch out for currents.
Inflatable the board to its maximum recommended pressure.
How much do kids' stand-up paddleboards costs?
While the average paddle board bundle starts from $800 for an inflatable, and $999 for a hardboard – kids' paddleboards start lower, from $500 to $700.
The main reason why the prices are much cheaper isn't the overall material use, but also the construction simplicity of those boards. There aren't too many special features built into them that could improve the riding quality in whitewater, or haul extra gear on the board.
Almost all kids' paddleboards are designed to be ridden on flat water – lakes, ponds, slow-moving rivers, etc.
INFLATABLE SUPs
From $599 by known brands
From $299 from Amazon
HARD SUPs
From $799
Is a mini paddle board suitable for kids?
Many smaller SUPs (Under 7′) are designed for either surfing, whitewater, or rifer surfing.
While you can use one for flatwater paddling – they excel much better at their purposed field of use. We would recommend getting a specific SUP for specific purposes, and the average kids' stand-up paddle board is designed exactly for that.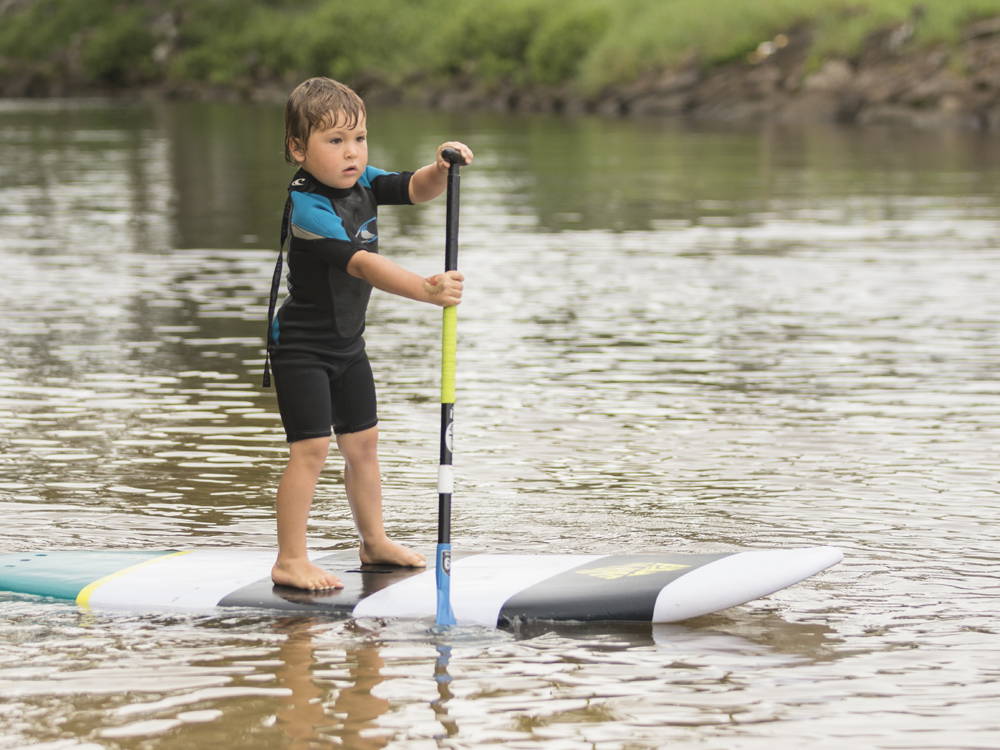 Did we miss anything important? Let us & others know about in the comments section!
Read next
13 Different Types of Paddleboards
I created Nulltuul to share my experience, research and analysis with other surf enthusiasts out there. If I'm not surfing on my travels - I like to photograph waves, surfers, and the surf lifestyle in general.