Longboards are the oldest surfboard type out there and there's still a large following for those who ride those large and bulky boards for obvious reasons.
The 8′ – 9′ surfboard allows the surfer to ride some of the best-unbroken waves out there. There is nothing else like a longboard, that's for sure, and as most hybrid surfboards these days have 50% of the characteristics borrowed from longboard surfboards, it is quite obvious why surfers prefer to "operate a heavy water-craft" rather than zip around on a shortboard.
How to choose?
Read more from down below!
---
1

. KONA – Cruiser

Great for gliding, trimming down the line
MSRP: from $750
8'6″ x 22 3/4″ 2 3/4″ @ 64.61L
9′ x 23″ x 3″ @72.7L
9'2″ x 23 1/4″ x 3″ @75.9L
9'6″ x 23 1/2″ x 3″ @ 82.1L
10'0″ x 23 2/3″ x 3″ @ 88.4L
Outline: A traditional longboard outline with a turned-up rail line allows the rider to stand almost anywhere on this log and grab hold of the wave. The wider round nose makes it an easy platform to stand far forward. The round nose. 50/50 pinched rails all the way through.
Rocker: Low rocker gets into waves with a breeze. The Cruiser has got a slight spoon in the nose for stable noseriding and an extra tail rocker for speed.
Bottom Contours: A spoon provides a front lift for noseriding to a rolled belly which provides stability and smooth transitions from rail to rail to a vee through the tail for extra control.
Tail: The square tail will react fast to both short and tight turns.
The square tail will react fast to short, tight turns.
A spoon provides a front lift for noseriding to a rolled belly which provides stability and smooth transitions from rail to rail to a vee through the tail for extra control.
KONA Cruiser on YouTube
Ultimate sixties-style classic longboard. Easy to paddle for any wave and stay stable in small to medium surf conditions with this log. Perfect nose-rider deal as there's the single fin and a leash included!
---
2. Torq – 8'0″ Mini Longboard
8'6″ / 9'0″
MSRP: $445
This Torq 8-feet longboard is a mixture of a mini-mal and a longboard that's a great all-rounder for various conditions. There's plenty of volume and more glide than you'd get from a funboard, but not too many maneuvering restrictions from a full-size longboard. A low entry rocker with a slight ail rocker to allow it to perform on various conditions, from thigh-high to 6′ waves.
TORQs fin system is designed by Futures Fins of California, and the package comes with three fins included. That's not too bad of a deal under the $500 mark.
Ideal wave height – 2 – 6ft
Size – 8'0" x 22" x 3" @60L
Recommended Rider Weight – 60-110 kg / 130-240 lbs
---
3

. Catch Surf – 8'0″ Odysea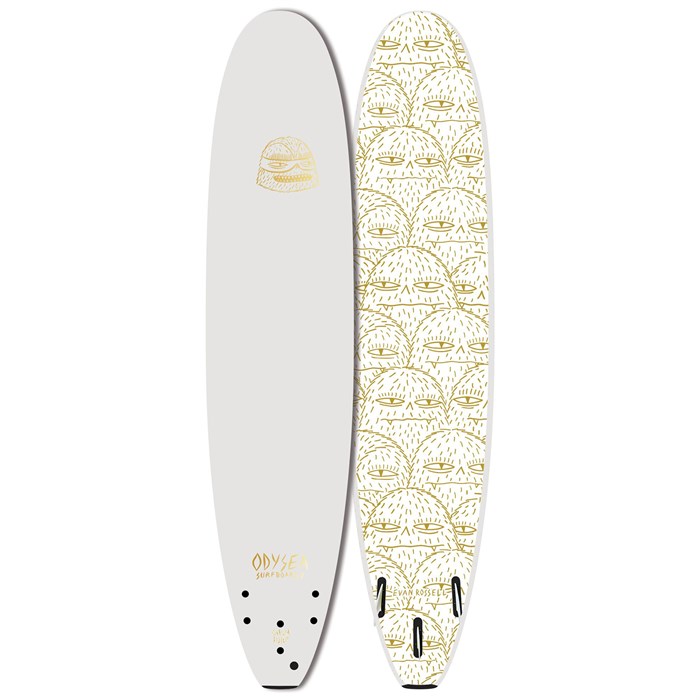 MSRP: $525
This board rides as fun as it looks, and as a nice surprise – it comes with three fins and a leash as well. Designed by Catch Surf in California, U.S.A, the Odsyea is a longboard funboard out of the Catch Surf series which has taken over the surf communities by a storm, and for a few good obvious too.
8'0″ x 23″ x 3 3/4 @ 86L
Their boards are inexpensive, US-made, both fun-looking and even more fun on the waves. The 8-feet Odysea is a great beginner longboard that will hold a solid spot in every surfer's quiver for a long time!
Dual composite core
Triple wood stingers
HDPE Slick Bottom with Bumper-Tail
Old-School PE Deck with Throwback Design.
Soft-Performance Tri-Fin Set with Leash Plug
---
4

. MODERN BLACKBIRD – XB
MSRP $525
8'0" x 22" x 3" @61ltr – 90kg / 198lb +
The Modern Blackbird surfboard offers a stable, flowing ride for both men and women looking for a reliable, everyday fun shape. The Blackbird has a bigger 'sweet spot' compared to other funboards on the market which offers great stability for the progressing novice.
Epoxy Bamboo construction produces a light, extremely durable surfboard that's particularly strong on the deck, and has beautiful aesthetic appeal.
OUTLINE: Classified as a fun shape, the outline is full and generous from nose to tail providing maximum stability on small to medium size waves. The rounded nose keeps the area up front and allows the rider to comfortably shift their weight forward. The slight taper through the tail lets you maneuver the board with ease.
ROCKER: Low, relaxed rocker makes this board paddle onto waves well, accelerate from the take-off with minimal effort, and allow for flowing turns on the face of the wave.
CONTOURS: Vee-to-double concave bottom makes for easy rail-to-rail transitions and offers control when driving off the tail.
FOIL: Designed with plenty of volume in the nose and tail, and out towards the rails, which provides added stability and makes this board simple to ride for surfers transitioning from the wastewater to unbroken waves.
FINS: Fitted with FCS II plugs makes installing and removing fins quick and convenient. Thruster set-up is stable and fast riding down the wave.
XB – Epoxy Bamboo
Fins included
XB, representing 'Epoxy Bamboo' is a multi-layered sandwich construction using epoxy resin, woven fiberglass, and sheets of thin bamboo veneer wrapped around a high-density EPS core. This construction method produces a light, extremely reliable surfboard that's particularly strong on the deck. The durability and strength of XB surfboards make them ideal for surfers who like to travel and newcomers to the sport. XB surfboards feel solid under your feet, offer a smooth free-flowing ride, and will maintain their appearance for many years.
With the ideal wave size of 1-6ft, the Modern Blackbird XB is a good all-rounder/hybrid longboard for anyone who's looking for a board to surf those slow and mushy waves.
Available at – SurfIndustries.com
---
5

. NSP – Protech Longboard
MSRP: $625
NSP Longboard should be represented in any best surfboard review, especially when it's on a more affordable budget. The Protech is a great alternative to many brand-name surfboards at a great value. Check in to find out more about the Protech Longboard.
SIZES
8'0″ x 22″ x 2 ³/⁴" @56.9L
8'6″ x 22 1/4″ x 2 7/8″ @64.4L
9'0″ x 22 3/4″ x 3″ @ 73.2L
Available at – NSPsurfboards.com
---
6

. NSP – Elements HDT Longboard
MSRP: $449
Another longboard/hybrid by the NSP – The Elements is yet another well-represented budget. Check out the NSP Elements Longboard in action on YouTube.
SIZES
8'0" x 22 x 2 ³/⁴ @56.9L
8'6″ x 22 1/4″ 2 3/4″ @64.4L
9'0″ x 22 3/4″ x 3″ @73.2L
9'6″ x 23″ 3 1/8″ 82.0L
Available at – NSPsurfboards.com
---
FAQ
How Much Longboard Surfboards

Cost

?
Well, we all know that surfboards are expensive, especially longboards. The price depends on:
The material
The brand/shaper
How many coats of glossy finishes
Epoxy or Fibreglass
Wooden stringer or not
– The average price of a longboard surfboard ranges from 1000-1500USD which could easily get you 2-3 other decent surfboards to the quiver.
---
Reasons

To Get A Longboard
It's a must-have board to any dedicated surfer's quiver
Longboarding is great for all skill levels due to its ability to catch small waves that are unrideable with any other board
Learning a completely different riding style – noseriding, cross-stepping
It's fun and cruisy like nothing else out there
Allows you to squeeze the max out of small&slow conditions
Early take-offs on above-average conditions
You get to know where surfing once started
Very easy to paddle for a wave – maximum wave count – fast paddle speed since large boards carry a ton of momentum
Even if they get dinged up and turn heavy – you can still ride them no matter what
Downsides of getting a longboard
It's bulky to carry around – Fitting a 6'ft surfboard to any car is no biggie, but that extra few feet forces you to sacrifice some comfort and make compromises. Usually by getting a wagon or a set of

roof racks

(Which is not a bad idea after all).
It's too heavy on fast & consistent waves – hard to duck dive
---
Buying Guide – How To Choose A Longboard Surfboard?
TYPE Determine what kind of riding are you going to do –

Noseriding

or

Performance

?
Choose the right SIZE for you
When choosing a longboard surfboard, you should be focusing on the design and length, instead of the volume of the board
SHAPE

& type
Which type of wave are you going to surf?
1.) The nose-riding "log" is heavy and round. Designed to be ridden straight on the pocket of the wave
2.) A performance longboard is designed to perform like a shortboard – Loose riding style
---
1.

Longboard For Nose-Riding
Classic longboard = A log = "Retro" longboard = Noseriding longboard
Designed to stay at the pocket of the wave and not speed out
Types of waves: Small, peeling point/beach breaks
Riding style: Nose riding (Hang 5, hang 10, hang 11), Cross-stepping (Walking the board)
Board Characteristics:
Wider contour
More volume – more foam throughout the board
Rounded rail on the back of the board that creates little drag that won't let the board speed out pocket
Wide and round nose
Wide middle part
Flatter rocker and bottom contour (sometimes belly bottom)
Single fin! Great stability when riding down the wave on a straight line
---
2.

High-Performance Longboard
HPLB = Performance Longboard
Designed to perform on the waves like riding a shortboard
Types of waves: Small, medium, large. Point and beach break, anywhere where an early take-off is an advantage
Riding style: Loose. Riding on the whole surface of the wave
Board Characteristics:
Narrower width
Less width on the tail for better turning
More rocker
Multiple fins – twin, thruster (2+1), quad or five-fin set-up
Double concave for elevation – gives the pop to move around easily
---
SIZE
–
length & width
What Size Longboard Surfboard Is Best For Me?
LENGTH
Longboards range from 8′ – 12′, more often in a 9′ – 11′ feet range.
A rough guide for choosing a longboard surfboard length:
Lightweight surfers: 8'6″
Midweight surfers: 9'0″
Heavyweights: 9'6″ +
Performance longboards: 8″ to 9'6″
Nose-riding longboards "logs" 9'6″ and upwards
*NOTE: The larger the board, the more space, and the effort it takes to turn one!
*NOTE: Experienced surfers shouldn't be looking a longboard that's too small ( 8′ – 9′ range ) as those boards don't really have the gliding factor you'd be expecting from a longboard.
WIDTH
If you are a heavier surfer (220 lbs / 100 kg +) get a longboard that's 23 1/4″ or 23 1/2″ wide
AVERAGE WIDTH: 23″
If you are a skinnier surfer (150 lbs / 70 kg and below) a longboard with 22 1/2″ to 22 3/4″ width would be ideal for you
---
EPOXY vs FIBREGLASS longboard surfboard
PU / Polyurethane = Fibreglass
Made of PU blank that's wrapped in fiberglass cloth.
A more traditional choice, 50+ years of history
Better flex
Heavy construction – stable in windier conditions
Has a nice and steady, own sort of "feel" people prefer

Ding easily which could lead up to waterlogging
---
EPS Polystyrene = Epoxy
Lightweight, stiff, better price.
Polystyrene foam core then coated with epoxy resin.
Epoxy resin is stronger than fiberglass
Better buoyancy
Lightweight feel

Not as good in windy or choppy conditions
Should longboard surfboards have a wooden stringer?
All fiberglass surfboards come equipped with a wooden stringer in the middle of a foam core
---
Read next