In 2022 – the large number of different kinds of boards can intimidate a potential buyer easily. I mean – everyone recommends different things:
"Get an all-rounder board if you are a begginner"

"Inflatable paddleboards are a passing trend."

The more expensive – the better.

"Get an extra wide paddle board for increased stability."
Well, the good news is that you don't have to spend hours doing the research and figuring out which is seller is biased, and who is telling the truth. The point of this review is to give you the core basics which make the buying process much easier.
We have broken the 13 types of SUPs into 5 main categories. Have a look:
5 Categories
+
Materials
+
Size comparisons
So, how should you choose a paddle board?
---
Type -> Material -> Budget -> Brand & Model
1

. Where are you going to use one?

I know it sounds like an obvious recommendation – but what sparked the idea to get into stand-up paddleboarding?

Did it just click right away, or do you see it as a tool for fitness, or go on an adventure? Here are the 6 main categories of Stand-up Paddleboards. Sorted by the number of different models available.
Leisurely rides –

All-around

paddling,

Cruising

,

Yoga

,

Tandem

,

Family

.
Exercise –

Fitness

,

Surfing

,

Race

,

Yoga

.
Competitive Sports –

Race

,

Whitewater

.

Adventure

–

Touring

,

Whitewater

,

SUP/Kayak

.
Fishing – Boards with rod holders and many other convenient accessories to mount.


(+ EXTRA)

Fun –

Tandem

,

Mega

-boards.
2

. Material

Inflatable, epoxy, soft-top?
3

. Size
Length – 10'6″ or 14′ ?
Width – 32″, 28″ or 36″
Thickness – 4.5″, 6″ or 8″
4

. Brand & Model

Choose the preferred brand produces those SUPs – we have covered all the types and available sizes out there:
1

)

Leisure
---
All-around / Cruising / Yoga
These types of paddleboards are ideal for flat water cruising.
Preferred by recreational paddlers who like to take it easy – and nothing else. An ideal choice for anyone who would walk into a store and ask for any kind of paddle board.
All-around
All-around paddleboards are the most casual out there. They don't have too many special features, but if they do one thing very well – it's what they were named after. Paddle on lakes, still rivers, or cruise by the flat sea. Once you've mastered the art of balance – you've can easily use it in small surf, or paddle down the river.
Yoga
Yoga paddle boards are much like all-rounders – they have a round outline, but the special 'feature' that makes them stand out is the extra-wide outline. Although slightly slower on the water when compared to the previous type, yoga boards offer unparalleled stability – I mean, they are designed to do a handstand and many more poses that are demanding even on the ground.
Tandem
A.k.a 2-person paddle boards.
Almost all Tandem Paddleboards are another type among the all-around boards. Although there are few racing boards available, 2-person SUPs are often designed to be taken easily. Tandem boards are also used by those who are often going out with their pets!
Family
Family paddleboards are often known as all-around boards to be used by the whole family. Whether you are going on a weekend trip by the beach, a lake, or staying at a lakehouse – these boards are ideal for a wide spectrum of riders. Usually 10′ – 11′ long, 32″ wide, and 4.5″ (solid) or 6″ (inflatable) wide. Although most SUPs can hold up to 2 persons (especially inflatable boards) family paddleboards don't perform at their best when fully loaded, you are better off looking for a tandem board in case you are planning to paddle with a partner the majority of time.
Cruising paddleboards is just a term for round boards with no special features besides the bungee cords on them. All-around and yoga boards are often categorized as cruiser boards.
2

)

Exercise
---
Race, Surf, Fitness
Stand-up paddleboarding is a great source of exercise. Matter of fact, it is much more demanding than it seems, and you can even use a regular SUP to a great degree and get a decent workout from a single session. Considered as an aerobic form of exercise while having all the muscle-strengthening benefits, there's a great variety of fitness-specific boards available.
Race
Race paddleboards are what the best SUP brands are all aiming for – to create the flagship product to boost their brand. There are paddleboarding competitions held each year all around the world, and this is where you see those long and narrow boards – 15ft up to 24ft long. For example, in the UK they have a race called Trent which covers 100km (62miles). SUP racing is very popular in Hawaii, the United States, Australia, the UK, and many other countries.
Some even consider race SUPs where the modern surf culture all started out.
Surf SUP
Paddleboard surfing is another extreme SUP version of discipline next to whitewater paddleboarding – an increasing sport that's performed all around the world. To surf with a paddle board – one must have a wide set of skills to know how the surf works, pay attention to surf etiquette, have outstanding physical stamina, and obviously have to have total control over the balance.
SUP surfing is a demanding, yet very rewarding sport out there. Surf-specific SUPs are basically oversized surfboards.
Exercise SUPs are often categorized as surf, tandem, race, or any kind of board that's mainly used for fitness purposes. Yoga is also considered as a form of exercise – although not as intense as the previous two, but it is recreated to increase physical and mental well-being.
These kinds of boards excel best at their designated field of use – therefore not as great for all-around cruising.
---
3

)

Competitive
---
Race, Whitewater
Race
Race SUPs are the epitome of performance paddleboarding. These boards go up to 24′ in length while the average size is 12'6″ or 14′. The bullet-shaped outline allows covering the longest distances like no other board type out there. Another discipline of racing is also called downwind SUP with slightly different features.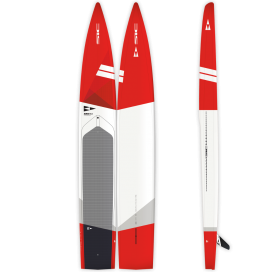 Whitewater
Although whitewater rafting is more of an extreme sport rather than a competitive discipline, we'd still like to put them next to the most demanding discipline of race boards. Whitewater paddleboarding is performed on a rapid-moving river or in the whitewater surf. These boards have the exact opposite style of outline and features by being above average in length and having a bottom curvature (rocker) all the way through the bottom.
4

)

Adventure
---
Touring / Whitewater / Exploration
Touring
Touring or adventure paddleboards allow anyone to go and explore those nearby islands where you've always wanted to go to. Pack your gear, and off you go. A touring paddle board is a mixture of all kinds of disciplines – they are basically technical all-around SUPs with increased durability and load capacities. You don't need to be overly fit or surf-smart to paddle a touring board, but use them basically everywhere you'd like.
These boards are slightly larger than the all-around board, and have a pointy nose to paddle through some rough waters as well.
Whitewater
River rapids, river surf, small surf – these boards are designed to handle the moving water. Not as great for long-distances paddling, these boards perform at their best when there's some existing speed to the ride.
Kayak SUP
Another great invention – a paddle board with kayak seats. One in four kayak/paddleboards is a tandem. Read our full guide to understand kayak SUPs better.
5

)

Angling
---
Fishing SUPs
Why not combine the interest in paddleboarding with one of the newest ways to catch fish?
Kayaks, the closest to fishing SUPs, have been around for a long time, but the best part about paddleboard fishing is the wide number of inflatable boards available. ISUPs boards offer unparalleled quality to solid boards as the majority of by-passers can't tell the difference between a solid or a blow-up board – by looks, or by the touch.
Fishing SUPs are often equipped (or have the availability) to add rod holders, a cooler, and many more accessories on board. The outline of fishing SUP is also well-thought-out, you can walk around the deck while having stability due to increased width and thickness.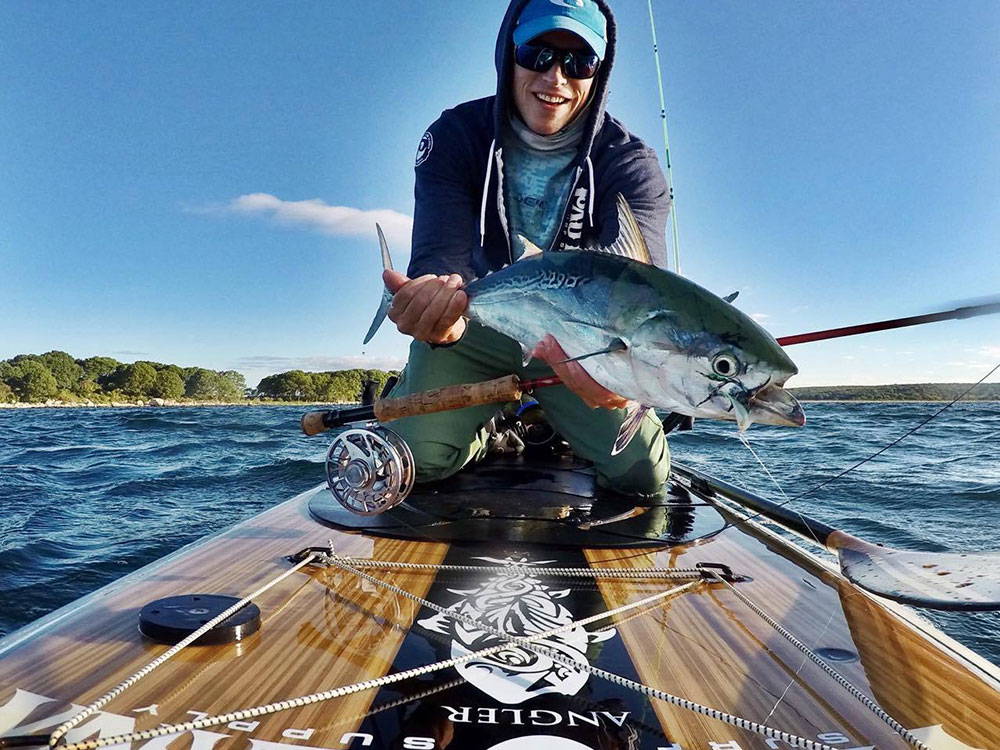 6

. Fun & Family
---
In essence, paddleboarding should be fun – and it is!
Besides the race focus, the best paddleboard brands are also working hard on inflatable multi-person SUPs that hold up to 10 persons on board. What's cool about is – they are still designed to be ridden like a paddle board, not stand still like on a swimming dock.
Materials
---
Epoxy vs Inflatable
The main difference between a rigid and an inflatable board is the convenience of transportation. For most paddlers – these boards have identical performance (iSUPs are only 5% slower) therefore the choice should come down to the frequency of use.
Sizes
---
Here's a brief overview of the different types of SUP sizes. Length, width, and thickness.
How much are stand-up paddleboards in 2022?
Cheap inflatable boards start from $250 to $400.
Mid-range yet best-selling SUPs in Amazon cost around $400 – $600.
Well-known SUP brand paddleboards start from $700 to $1,200 on all-around boards.
High-end inflatable & solid boards cost about the same – $1,200 – $1,800.
Check out the 45 Best SUP Brands in 2022
I created Nulltuul to share my experience, research and analysis with other surf enthusiasts out there. If I'm not surfing on my travels - I like to photograph waves, surfers, and the surf lifestyle in general.