The fish surfboard is a growing trend due to its fun and widely capable characteristics. These boards are quite compact while having plenty of volume for their size, and they can be ridden in all sorts of conditions. Although best-suited for intermediate to advanced surfers – it has become a must-have item for any surfer's quiver.
Fish Surfboards Characteristics
---
Thicker, wider, and shorter than an average surfboard for the same conditions.
Very stable for its length.
Better paddle performance.
Great speed well on small, mushy, and weaker conditions where you'd normally need a much larger board.
A great transition surfboard between a mid-length and a shortboard.
Average size 5'6″ up to 5'10".
Wider outline through the nose, center, and tail.
Designed with a recognizable swallow-tail.
Low rocker profile.
Why do fish surfboards have a fishtail shape?
---
Due to the below-average board length, the shallow tail on a fish surfboard helps to ride fast and hollow waves much easier. It cuts nicely into the wave while providing plenty of traction and maneuverability on smaller waves.
Swallow vs Fish Tail
The swallowtail is found on many surfboard types such as hybrids boards, or 'oversized' fish surfboards that are taller than 6′.
Swallow
Often used on longer boards.
Not as sharp to turn.
Smoother turning.
Fish
The sharp edge offers better traction for its length.
Different Types of Fish Surfboards
'Original' fish – Twin fin.
Performance fish – 5 fin set-up.
Hybrid fish – Thruster/Quad/Twin and a sharp or round nose.
Super fish – Twin, thruster or a quad set-up and with a sharp nose.
---
What Size Fish Surfboard Do I Need?
Fish surfboards have plenty of volume for up to 200lb surfers. Even the 5'6″ (average length) has around 40L in it – the shorter size is compensated by the width and thickness.
If you already have a surfboard but don't know its volume, check out our Slide Bar Volume Calculator.
---
BEST FISH SURFBOARDS in 2022
UNDER $500
1) Catch Surf – 5'6″ Heritage Retro Fish
2) Wave Bandit – 5'8″ Retro Fish
3) Thread Surfboards – 5'3″ Soft Top Fish
4) NSP – Protech Fish
5) Softech – 5'6″ Mason
---
1

. Catch Surf – 5'6″ Soft Top

Fish – Catch – Surf – Are you hooked already?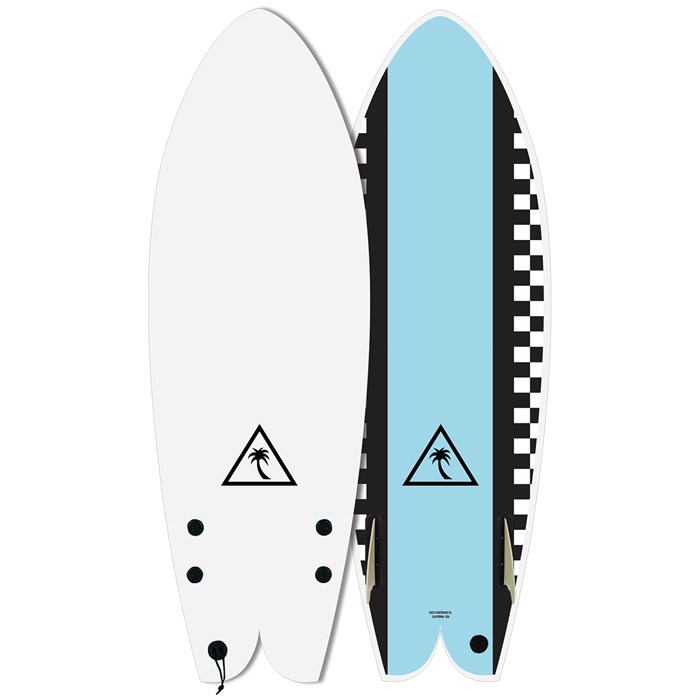 MSRP: $449
A soft-top fish surfboard by Catch Surf is something many folks are after these days. With a flat bottom and composite core, you can tell this board is a fun machine for those below-average summer conditions. With two high-performance fins and the proper fish surfboard length – this board allows you to ride on small to medium waves with ease. Although it's not an EP or PU construction, that's a good thing since it allows you to surf more freely without worrying about damaging the board while surfing or transportation.
It's light and durable, and at the moment comes $100 off from evo.com as well so it is definitely a great first fish surfboard.
5'6″ x 21.65 x 2.95″ (45L)
High-performance keel fins.
Dual-composite core.
Triple maple-wood stringers.
Extra layer between deck and core for extra stiffness.
*REQUIRES WAX
---
2

. Wave Bandit – Retro Fish 5'8″

Great for intermediate surfers looking for extra stability
MSRP: $329
Wave Bandit is a close competitor to Catch Surf – both brands sell tons of soft-top surfboards to basically all skill levels and age groups in the US. This 5'8″ Retro Fish is slightly larger than the average length of 5'8″, but the great extra about it is the quad-fin set-up that provides extra stability down the wave.
If you are after a fun board at a cheap price – it's got a lot to offer at under $400.
Twin-wood stringers
Dual-composite core
4.5″ quad-fin set-up
*REQUIRES WAX
---
3

. Thread Surfboards – Soft Top Fish 5'3″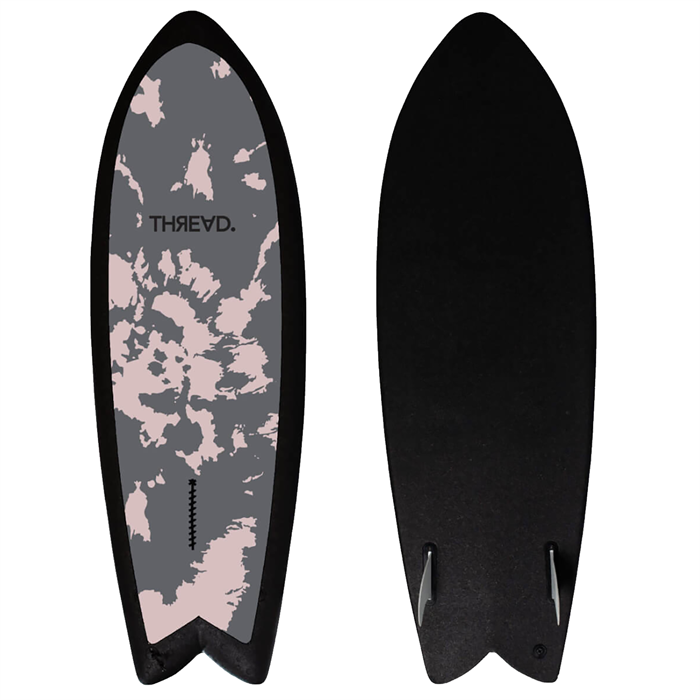 MSRP: $295
One of the cheapest and best soft-top fish surfboards on this list. At 42 Liters and with an attractive price tag – this board is as fun as riding a beater board, while having the capability to use it as a proper fish. Made of copolymer foam that's totally waterproof, you don't need to worry about throwing it around surf when you happen to dent one.
5'3″ x 21 1/2 x 3″ @ 42L
Futures Fin Boxes
Made with recyclable materials
---
4

. NSP – Protech Fish
MSRP $359 NSP
A great set-up that's got plenty of traction, down-the-line speed, and stability. Easy to catch waves with. It's also Level One Eco Board Certified, which means it's a high-performance sustainable construction. the Protech Fish has the same technical performance attributes as any modern shortboards while having reduced environmental and toxic impacts.
Available in
5'6″ x 19³/⁴ x 2¹/⁸ @33.0
6'0″ x 20¹/² x 2³/⁸ @35.1
6'4″ x 21″ x 2 ¹/² @ 40.2L
6'8″ x 21¹/² x 2 ¹/² @ 43.7L
Australia, North America, UK
Wide & Stable
Flat rocker
Ideal wave size: 1ft-6ft
Boxy & full rails
Wide nose
Single to double concave
Concave into V
Carbon Flex Tail for added durability
Comes with 3 fins
Available at – NSPsurfboards.com
---
5

. Softech – Mason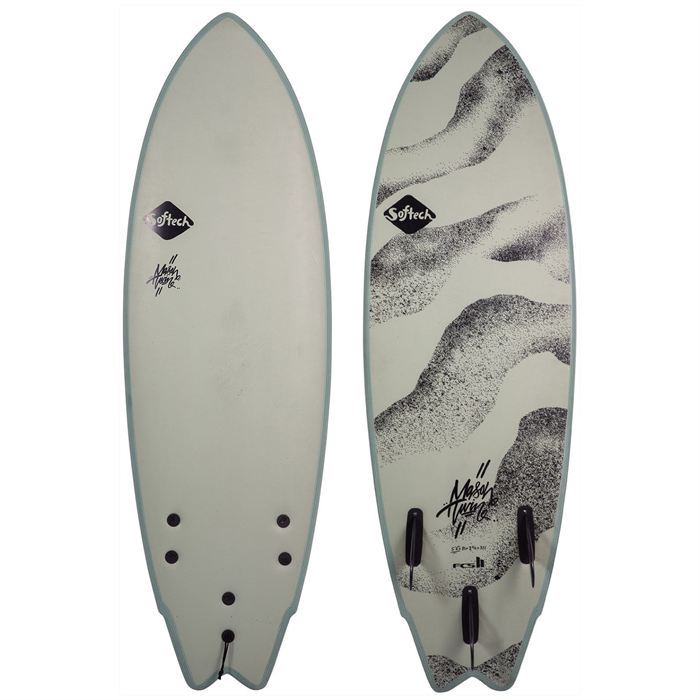 MSRP: $335
Here's another advanced soft-top surfboard that's covered with Epoxy foam core. The difference between an EP and foam board is that it doesn't have a fiberglass cloth in the middle. It feels just like an epoxy board but comes at a price of a soft-top surfboard.
Although it's not the "right" type of fish surfboard with a twin-fin deep fishtail – it performs similarly and works great to have fun on smaller waves.
5'6″ x 21″ x 2 5/8″ @ 34L
100% waterproof EPS foam core.
Double stringer.
Thruster set-up & fins included
Winged fish & swallow tail.
---
FAQ
---
Why fish surfboards don't have a single fin set-up?
Have you ever seen a single-fin fish surfboard? The purpose of this deep inverted-V curvature is to provide the purpose of a fin, therefore the large single fin in the center would make the board lose its sharpness.
Is the fish surfboard a great choice for beginners?
As the original fish surfboard is slightly shorter than the average beginner's board that's between 7′ to 9′ tall, it could stop a beginner from progressing. Although they have quite a bit of volume, a shorter board needs way more balance control. We wouldn't recommend a fish surfboard to a complete beginner.
It is a great choice for an intermediate surfer who wants to try out a new board or they simply need something for weaker conditions.
Epoxy vs Soft-top fish surfboard
Epoxy surfboards are known for their stiffness, durability, and amazing speed. The soft-top surfboard industry has grown in the past 5 years which makes these boards an ideal alternative to more expensive EP boards. Almost all soft-top fish surfboards require wax for grip just like EP boards.
Is $500 enough for a fish surfboard?
At $500 you'll be most likely looking at new soft-top constructions or a used fish board. The bad thing about is that a fish is often bought in to stay in the quiver. They are fun, easy to ride, and don't cost a fortune – therefore you don't see as many fish surfboards for sale that are used.
What are the downsides to a fish surfboard?
Although there are way more pros than cons to the fish surfboard – its biggest limit is the reduced length. When the surf suddenly gets better and you only have one board with you, you might be missing out on some great waves.
Do you know better fish surfboard deals online? Let us & others know in the comments section
Read next
16 Different Types of Surfboards
What Not To Do With Your Surfboard?