Surfing the wave is known for its simplicity – you basically need just any kind of board to surf a wave, and nothing else.
Well yeah, you obviously need a wetsuit or shorts, set of fins, leash, and all the good stuff to be good at – but it is one of those few sports with limited electrical appliances in the mix. We all know that the combination of water and electricity is fatal, and let's be honest – there's no need for any electrical assistance anyway. The ocean is a great place to unplug from all the devices found on land.
Well, there is good news for surf geeks as there are a handful of electric surf gadgets on the market. These tools, so to say, actually help quite a bit towards a more convenient surf lifestyle. Have a look and let us know which one would you pick:
Electrical / Digital
Wetsuit Dryer
Surf Watch
Electric Beach Cruiser Bicycle
Shark Repellent Band
Electric Surfboard Propeller Fin
Heated Wetsuit
Action Camera
LED-Light Surf Lock
---
Down below you'll find a list of few available electrical gadgets that benefit to the surf lifestyle
1

. Blawesome Wetsuit Dryer
---
Started out from a Kickstart fundraiser in 2017, you can kind of tell why this invention succeeded. The surf geeks simply needed something more productive than the combination of air and time to dry out the winter wetsuit, and we must admit they succeeded in their idea.
How does it work?
Plug the 80″ cord into the electrical outlet and you can start the fan which runs air from the top of the hanger. That process ultimately resembles a constant airflow through the suit.
Dries a steamer (winter, cold-water wetsuit) at a record speed of 1 hour. (At least from the inside, which is more important anyway)
Blasts: 290m3 natural or warm air.
1000W resistance warms the air.
Estimated lifespan: 10,000 hours.
Rotating speed: 2,800rpm
Airflow direction: 360º
Weight: 50oz / 1,4kg.
Max capacity: 44lbs / 20kg.
Silent at 50dB.
Works on 110V and 220V.
12V cigarette plug, 12V to 220V at 150W with a Blawesome fan only (Sold separately)
Dual thermostat: temperature-controlled switches at 90ºF / 32ºC
Is it worth it?
This product definitely solves many problems and is an overall cool gadget to flex with. The fact that you can run it through a car's cigarette plug makes it even more convenient when on the road, or when there's a continuous swell around and where you really NEED the suit to dry up.
What are the downsides to it?
Although the wetsuit dries out quickly in about an hour, a simple coat hanger type isn't the best way to hang a wetsuit. It can simply stretch the suit out of its shape in the long run due to its excessive wet hanging weight.
TheWetsuitDryer.com/
2

. Surf Tide & GPS Watches
---
Although a surf watch is not entirely electric, it is still digital. Close enough. There are two main types of digital surf watches that benefit the surf lifestyle.
Tide watch shows you the basic information needed: current and upcoming tides, sunrise & sunset times, a large number of surf location information integrated, etc.
GPS watches are more advanced compared to tide watches since they record your max speed / average speed / wave count / distance paddled, and you can actually track your movement on a map using an app. Read more.
Is it worth it?
Tide watches can be replaced with a mobile app, but when you'd like to track and analyze your workout statistics, a GPS surf watch comes in real handy. It is a great way to monitor your sessions, and receive valuable insight to your performance. What I like the most is that you can compare your improvements over time, and isn't it simply awesome to know the distance paddled, and max. speed as well?
Is it comfortable to wear one?
A digital surf-specific watch might sound a little restrictive when paddling, but they are actually designed pretty much in the same way as a swimming or any other sports watch. That means – they are comfortable to wear.
---
3

. Electric Beach Cruiser
---
Although not surf-specific, a cruiser bike is definitely among the most popular bike type among surfers. Add an electric motor and you're introduced to a sweat-free, cool-factor arrival on your local beach break. Add a pair of surfboard bike racks or simply tuck the board under your shoulder and buzz away.
E-Bikes have evolved to a great degree over the past 5 years, especially in the past year. That means there's quite a good variety of those super comfortable bikes around, starting from $1,500.
Are electric cruiser bicycles worth the money?
Every single penny. Not only does riding an electric-powered bicycle alone change the whole concept of cycling and transportation, but a cruiser is also simply one of the most comfortable bicycles to ride with. You can easily use one for everyday commuting if you value comfort as your main criteria for a bike ride.
Riding an electric cruiser bike is much like surfing the waves on land.
What are the downsides to owning an electric cruiser bike?
Bear in mind that the battery of an electric bike shouldn't be left out in the intense or direct sunlight for countless hours at a time. If you happen to find a nice and shady spot, this problem will be solved. BUT, bear in mind that a shady spot can attract bike thieves thief so you better invest in a good bike lock as well, and a helmet!
4

. Shark Repellent Band
---
According to data by the Florida Museum of Natural History, there's a 1 in 79,746 chance of dying from a bolt of lightning, and 1 in 3,748,067 compared to dying from a shark attack. Nevertheless, there's still a market for shark repellent devices, and we don't mind that. It feels intimating to be two/three hundred feet away from the shore and eyeing one of the oldest predators in the world, lurking around us. Even confusing a dolphin fin to a shark fin can make us freeze up for a split second, so here's a solution for that.
Worn on ankle or wrist.
Technology worked out by marine biologists.
*Proven science.
No battery – no charging.
TSA & Airline friendly.
Weight: 3oz.
How does it work?
The shark repellent sends out magnetic a magnetic pulse that interferes with sharks' ability to sense electromagnetic fields in search of prey.
Is it 100% "shark-proof"?
A shark ban is not a hundred percent repellent for numerous reasons.
People who have been wearing a shark-repellent have still got bitten by a shark.
Sharkbanz is not scientifically tested & proven to be completely safe.
Sharks are predators and you are on (or should I say in) their territory.
Sometimes hungry sharks stroll around at a certain area for days in search of prey.
Facts about sharks and surfers
Sharks are one of the most misunderstood species on the planet. Since they can't survive in closed captivity long enough for complete research, marine biologists don't fully understand their behavior. Besides the senses of what humans have: smell, hear, sight, touch, and taste, sharks also have electroreceptors and lateral lines to feel or sense. Hence the reason they swim close to an object of interest is to 'feel out' what are they all about. The more you panic, the more interested they get. Also, they might just confuse you to turtle and still grab a bite with their razor-sharp teeth.
5

. Electric Surfboard Propeller Fin
---
Available for surf- and SUP boards, an electric propeller placed under the board seems like an invention that should've been released a while ago. It has become (somewhat) widely used during the past 5 years, and the pictured Boost Fin has over 11,000 pre-orders on Kickstarter and Indigo.
Although it is most likely unofficially considered cheating by surfers, there's a market for that!
Hooks up to any surfboard in 5 minutes.
Comes with a wristband to regulate speed.
Modes – Long boost & a quick 2-second boost.
Top speed – 10mph.
Battery lasts – 60 to 90 minutes
Is it worth it?
This product can definitely attract a bunch of beginner or tech-savvy surfers. It could also be a great idea for board-rental companies to lure in experienced surfers who'd love to give it a go. Overall, I'm going to take a bold guess here and believe that a life-long surfer would try it once, but wouldn't switch to it for good. Maybe Zucc would?
Can surf fat and mellow waves.
Awesome thing to try when it would be available at a board rental.
What are the downsides to electrical surfboards?
You are going to lose out on a proper workout and won't appreciate each wave since you haven't sort of earned it. Another downside can be the drag from the propeller cage which makes this board hard to turn and even slow you down.
6

. Heated Wetsuit Vest
---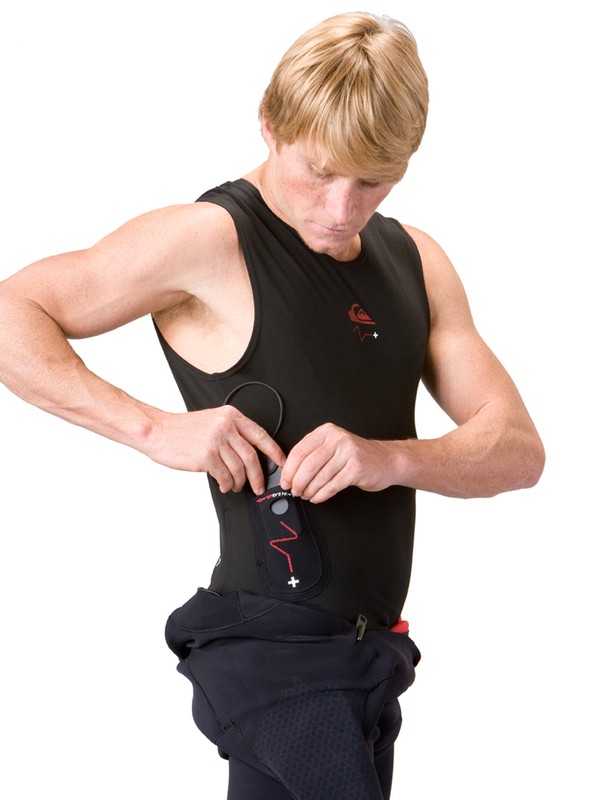 Cold-water surf wetsuits have advanced to a degree where any water leakage is dragged down to a minimum, but there's still a bunch of looneys who can't get their hands off a surfboard on icy waters. As much as we respect the determination – we'd much rather watch them from the shore or from a video. And of course, we are glad that there's an opportunity that allows some surfers to do that.
Extra useful for those who haven't built up the tolerance, or are not as 'fatty' to adapt to cold temperatures (myself included)
A heated wetsuit is not a new invention, I believe the first surf wetsuit brand that released a heated vest was Rip Curl with their H-Bomb. Rip Curl is a brand known for its well-made steamer wetsuits.
How does it work?
This type of wetsuit vest has a battery-powered heating system that keeps the torso (most important area) toasty for hours. This is a crucial factor in extreme weather conditions. It is easily accessible by a switch of low/high to regulate the intensity of heating.
What are the downsides to it?
Some users say that the extra heat can make the whole body sweat, which is not a good reaction to have in icy temperatures. Also, water temperatures in moving sea won't generally freeze but stay above 35°F / 2°C which means you can still get away with a fully equipped gear winter surfing wetsuit combo.
7

. Action Camera
---
Action cameras are irreplaceable devices to modern surf culture. There is no better tool to capture images, especially videos that are close to the real-view of surfing. A revolutionary invention that definitely adds up to the list of electrical surf gadgets. As much as we'd like to add drones and water-proof housings to the mix, a GoPro-type camera is the only one that allows shooting those POV angles.
8

. Surf Lock Box with LED Light
---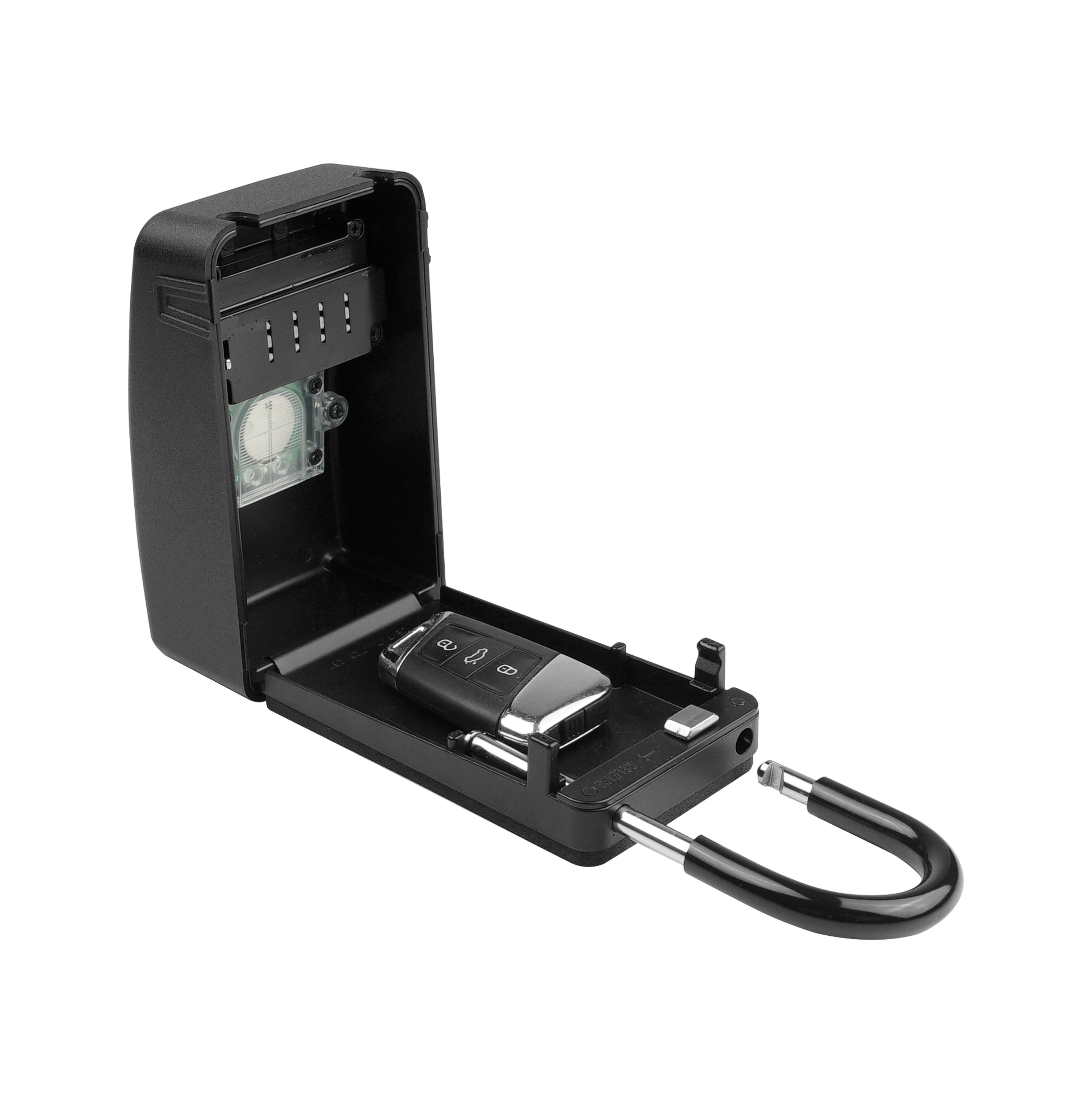 Here's one of the most advanced 4-digit combination car padlock that is equipped with a LED light. The small battery-powered lock doesn't have an alarm – but it comes in handy when you have to access the lock after-hours when the sun has set. There's also a pouch where you can stash the car key fob which prevents thieves from hacking into a keyless-entry car.
What to expect in the next ten years?
---
Are we going to see electrical surfboard ding-repairing devices?
Is everyone going to be able to take awesome shots with a good smartwatch camera in the waves?
Underwater drones are already a thing, but will they be able to take shots on the break-line?
Can a monitor camera detect the perfect spot to surf a sandbank in an area?
Instant tsunami alerts?
The sum
---
Surfing is a silent sport like climbing, running, camping, etc. It is the best remedy to get out of this 1-0-1-0-1 world, right? Wifi, 3G, 4G, 5G, messages, emails, all kinds of beeps and sounds, 4K, whatever – escaping the "reality" to go surfing takes you to one of those places where you can be surrounded by nature. Away from everything. Although if you don't want to get too far away from everyday comforts, these are your current options.
If you think we've missed anything remarkable, let us & others know in the comments section!
I created Nulltuul to share my experience, research and analysis with other surf enthusiasts out there. If I'm not surfing on my travels - I like to photograph waves, surfers, and the surf lifestyle in general.