There are 13 types of SUPs made of many mixtures and variations, but who would have thought that there's a SUP for digital nomads?
In essence, the 10'10" Solo Backcountry is an ultra-portable yet durable all-around touring paddle board for those that travel often.
Its made by Pau Hana that's got an awesome range of iSUPs next to their hardboards. The 10'10" Solo SUP™ Backcountry is definitely a 10 out of 10 in terms of innovation, looks, and performance. We don't say that without packing it up since Pau Hana is definitely a brand to look up to. They've got a decent selection of mid to high end products at a great value.
Designed for digital nomads specifically, the Solo SUP is most likely the only one of its kind, and luckily made by a brand that's bold enough to design innovative solutions.
Who is a digital nomad?
According to Wikipedia, a digital nomad is someone who conducts their life in a nomadic manner while engaging in remote work using digital telecommunications technology.
Key specs
---
Board Weight – 14.8lbs / 6.3kg
Total Weight – 23lbs / 10.4kg
Backpack dimensions – 23″ x 14″ x 12″ / 58cm x 35cm x 30.48cm
Max capacity – 215lbs
10'10" x 30″ x 6″
MSRP: $1,249
Inflation time – 6-9 minutes.
Package consists of
---
10'10" Solo Backcountry inflatable paddle board.
Environmentally friendly TPU dry bag/roll-up carry bag.
Solo SUP hand pump.
Two 6″ fins.
Solo paddle.
Repair kit.
Leash.
Where to buy?
---
The Good
---
Besides all the fancy nitty-gritty, it is a premium bullet-shaped inflatable paddle board for all-around and touring purposes. It is a great SUP, no questions there.
As the name reveals, SOLO Backcountry is a single-person SUP to go for weekend trips with loaded gear. You can also use it as a versatile all-rounder and take it with you basically anywhere. While it sounded like a random line, it's actually the main feature about this board.
The reason why it's called Backcountry is due to its increased length of 10'10", and also the double bungee cords on the deck to store extra gear.
Noticeable is also the fact that Pau Hana has done a lot of research and testing before they finalized the end product. As portability, durability & lightweight were their #1 criteria, they've come up with something quite impressive, to say the least. Every inch about the Backcountry Solo is thought-out with a back meaning. For example – the carry bag converts into a roll-up dry bag to store your gear, and the paddle folds "to a size of a good baguette", according to one reviewer.
It has also got a new texturized deck pad, clip-on fin system, and a neoprene carry handle. It's the small things that make it a good, complete product.
The 30″ width and 6″ thickness places it as an average-sized inflatable paddle board on the market. Ideal all-around board with some touring in mind.
50% touring, 50% all-arounder, 100% portable
What sets it apart from other boards?
The paddle.
Ultra-compact storage.
For $1,249, we'd say it's reasonably priced. Paying extra for portability is well justified in this case. As it turns out – you can have an ultra-portable SUP with a premium build. To make things easier – the average price for a mid-range touring board is around $999 and $800 for an-all rounder so its right about it.
What can you use the SOLO SUP for?
Traveling, all-around cruising, touring.
Main features
---
5mm thick bungee cords on the nose and tail area.
The backpack turns into a waterproof carry bag.
A textured deck pad must be one of the latest technologies around to offer the best possible grip in all weather conditions.
Neoprene grab handles to make carrying more convenient.
Reinforced leash plug D-ring to stand the test of time.
Tool-free snap-in fin box.
Construction
---
It's got all the basics, except that it's made by a premium brand. Woven cloth base, woven drop-stitch core with double layer sides are a must among mid-range boards, and the ultra-durable and lightweight drop-stitch layer with texturized traction pad make it a slightly advanced construction.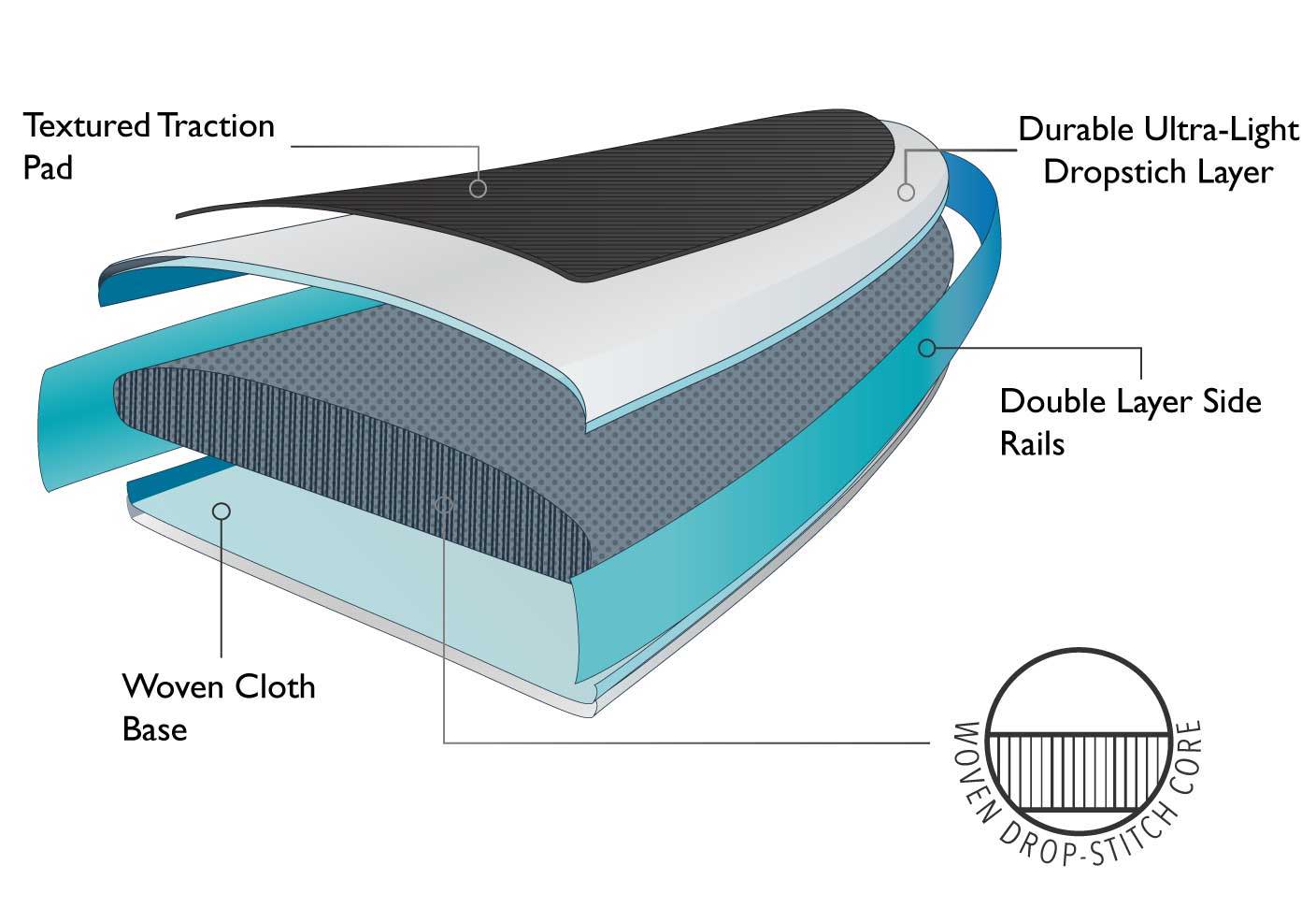 Ultra-portable
---
While the average SUP backpack is 40″, and an average sleeping back 20″ long – it is a portable SUP for sure at 23″. While there may be lighter boards available, there definitely isn't anything that's 10'10" long. If we are wrong, let us & others know about it in the comments section.
Development
---
It's not just someone's idea, but there's much more going on.
Watch it on YouTube
The Bad
---
Not great for taller paddlers (6′ and over)
While the paddle is one of its main features, one reviewer stated that if he'd change out the paddle to a 1-piece solid paddle – it would be a perfect board. It's just not long enough for taller paddlers due to its ultra-compact construction.
Poor paddle design
It seems to be that the brand went a little too far by optimizing the portability so that the paddle would fit in a backpack. It's not as great for fast turns and demanding waters. Although, for recreational use, the 'travel paddle' does the trick very well.
One reviewer also stated that the bottom part of the blade misaligns itself after heavy use.
30″ width might not be the best touring
A serious touring expedition is through demanding waters with loaded gear. That might not slightly difficult with a maximum load capacity of 225lbs for heavier paddlers, and we'd expect to be rather fast than stable, as 30″ is quite the average among all-around SUP boards.
The Sum
---
The 10'10" Solo SUP is a paddle board for recreational paddlers that travel often, or for someone simply looking for the best value product in terms of portability, durability, and innovation.
It is an ideal companion for anyone really who values portability as their main criteria. Overall, we'd say it's more of an all-around rather than touring SUP, but you can definitely get some occasional full-load adventure done with it. I'm sure there are hundreds of people out there who are looking exactly for something like that, whether it'll be a three-day adventure with limited gear or they live at a far away location by a bush plane.
It's hands down a great board for anyone weighing less than 200lbs, under 6′ tall. If you are taller than that, you can swap out the paddle to something more fitting and you'll have an awesome board for the years to come. It won't age like others boards if taken proper care of. We are excited to see what Pau Hana reveals next!
Our score – 4.5/5
Read next
---
I created Nulltuul to share my experience, research and analysis with other surf enthusiasts out there. If I'm not surfing on my travels - I like to photograph waves, surfers, and the surf lifestyle in general.