Paddleboarding seems to be one of the newest and most popular water-related recreational activities.
After the vast growth in the paddle board and inflatables industry during the past decade, there's a wide variety of new SUP brands on the market. Due to a large number of different sizes, types, and features – we've put together a guide to understand better what's out there. Have a look!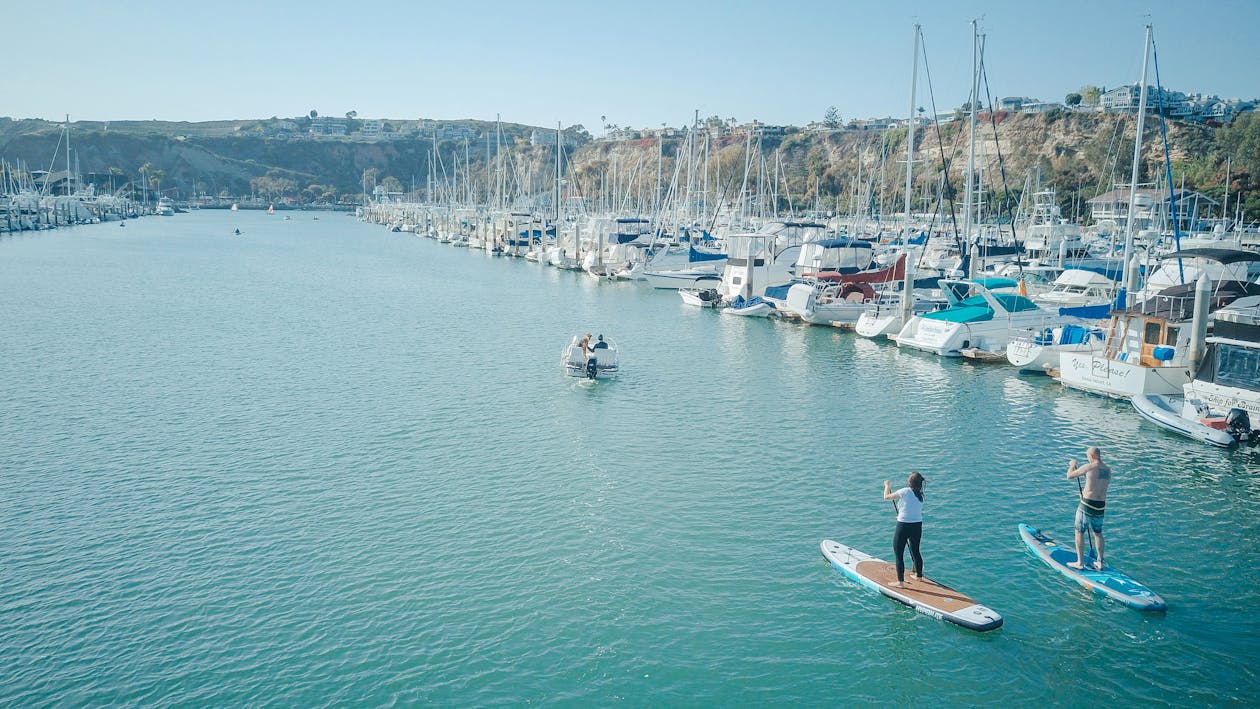 Paddleboards & Paddleboarding
Suited for a wide variety of activities (13 in total!) from leisure to touring and competition, stand-up paddling has gained popularity all over the world for obvious reasons.
Mainly it is the combination of fresh air, calming effects of the water, and physical activity that clears the mind like nothing else out there. Although it is considered a low-impact sport, you can actually get a decent workout from an average session on the water.
---
101 GUIDES:
All-around / Touring & Adventure / Yoga & Cruising / Fishing & Expedition / Race & Performance
Multi-person / Tandem / Youth & Kids' / Whitewater & River / Surfing / Kayak SUP / Electric / Prone
*Click to read full review / Scroll for quick overview
BRANDS:
Touring & Adventure (10) / Yoga & Cruising (12) / Fishing & Expedition (11) / Race & Performance (6) /
Multi-person (12) / Whitewater & River (7) / Surfing (14) / Tandem (7) / Youth & Kids'(17) / Kayak-SUP (7)
MATERIALS:
Epoxy / Fiberglass / Inflatable / Bamboo / Soft-top / Modular
Terminology:
Inflatable Paddle Board = iSUP = Inflatable Stand-up Paddle board
Hard SUP = Rigid SUP = Solid Stand-Up Paddle Board
SUP Kayak = Stand-up paddleboard with kayak seats & extra blade conversions
Modular SUP = Foldable SUP
15 Different Types of Paddle Boards
So, which type of paddle board should you buy?
1

. All-around SUP
---
A.k.a flat-water SUP. The best type of paddle board for all-purpose use
Number one in this list is the all-around paddle board which is the most universal of the bunch. Preferred by recreational paddlers who are looking to just take their time off and slowly cruise by the water, this type of SUP is best for all-around activities.
Round outline
Not too wide or narrow
Versatile
The average size for this type of board is:
10'6″ x 32″ 6″ – Inflatable
10'6 x 32″ x 4″ – Rigid
2

. Fishing SUP
---
The fishing paddle board is characterized by the availability to add multiple extras on top of the board. Fishing SUPs have generally slightly wider outline as well. Many fishing hard SUPs have the obvious rod-holder mounts on the board.
34″ – 40″ wide
Large volume – 380 to 500L
Integrated rod holders
There are many good-quality fishing-specific SUPs around and they seem to offer a pretty good alternative to kayaks and small boats.
Kayak vs SUP for fishing?
Although a kayak is slightly more stable and has a decreased risk of falling in the water, a fishing SUP on the other hand offers more freedom of movement while being on top of the board.
3

. Yoga SUP
---
Practicing yoga benefits the state of mind, coordination, and increases both physical and mental stability. Many beginner paddle boarders are struggling to find the balance on both hard and inflatable paddle boards, and due to the wider outline – a Yoga board is definitely a great choice for beginners.
Stable feel
Shorter & wider
Slow
Practicing yoga can be quite demanding and great stability is needed to do the exercise and stretching which means Yoga paddle boards have the most forgiving outline. Although they are not as wide as fishing paddle boards.
4

. Touring SUP
---
A touring paddle board is characterized by its long and narrow profile. Designed for long-distance paddling, these boards have increased weight capacity. Best suited for fit individuals, a touring stand-up paddle board is also known as an ocean SUP.
Long & narrow
Endurance orientated profile
Approx. 12'6″ long on average
5

. Race SUP
---
If you are after a fast paddle board to peak out on your fitness – the race sup is designed exactly for that. Similar to endurance and fitness boards, race SUPs are long & narrow, making them super efficient for fast speeds and longer distances.
Fast
Pointed nose to direct water flow
Not stable for cruising or all-around activities
14′ long, 22″ to 24″ wide
6

. Cruiser SUP
---
Similar to all-around SUP, a cruiser paddle board is as the name reveals – for taking it slow and cruising along flat waters. The average speed of the paddle board is around 3-4 knots, and the cruiser board aims at its lower range. Yoga paddle boards are often considered as cruiser SUPs due to their design that's best-suited for calm waters.
---
7

. Surf SUP
---
The best paddle boards for surfing have a sharp outline which helps to turn on the wave, while it sacrifices stability compared to rounder-shaped boards. Read more from our full guide to Surf SUPs.
Paddle board vs Surfboard
While the average surfboard is around 50 liters in volume, SUPs tend to go as far as 400liters which means they are almost impossible to duck-dive.  Although a longer board with more float is much easier to paddle for a wave.
The surfboard has greater maneuverability and duck-diving capabilities.
Paddle board – More volume = more float. Easy to paddle small waves, but hard to maneuver on a breaking wave. Laird Hamilton is one of the best SUP surfers.
Related – Surfing vs SUP
Related – TOP 14 Surf SUP Brands
Related – Surf SUP 101 Guide
8

. Kids' & Youth
---
The main difference between kids' and adult paddle board is obviously the overall size and weight capacity. Kids' paddle boards are characterized by slimmer width which makes it easier to paddle.
7′ – 9′ long
4.5″ thick (inflatable)
26″ to 30″ wide
9

. Folding Paddle Boards
---
Although there are only a handful of foldable paddle board companies in the market – they've been in their field long enough to have built up a reputation we can trust.
Whatever you want to call it – a take-apart paddle board / collapsible paddle board / snap-together paddle board – these boards are designed for the portability of an inflatable SUP with the performance of a solid paddle board.
A modular SUP is generally made of two or three pieces that can easily be installed and stored away in the car.
10

. Stand-up Pedal Board
---
Among all the different types – there is also a stand-up pedal board which is basically like any other paddle board, but with pedals, and sometimes equipped with a seat. This works for those who don't want to overuse their upper body but focus on the feet workout.
As keeping balance is one of the crucial elements to learn for a beginner paddleboarder, there's a handle that makes controlling the board much easier. Have a look more from YouTube.
11

. Kayak / SUP – a stand-up paddle board with a seat
---
Although SUP stands for = Stand-Up Paddleboarding, many folks use the board while kneeling, and yes – while seated. A stand-up paddle board with a seat is great for fishing or preferred by those who like to use the paddle board like a kayak. One in three paddle board manufacturers also produce use a tandem SUP kayak which makes it an ideal board for leisurely rides with a mixed set of paddling disciplines.
12

. Multi-person paddle board
---
Among the 12 different types of SUP boards which are designed for a certain field of use – the multi-person paddle board is the biggest of the bunch. Otherly known as a party or a family paddle board, many known SUP brands offer are XXXL – XL paddle boards designed for 2-10 persons.
As these boards have the features of standard SUP – it's got fins & a paddle, they are more known for leisurely activities instead of fitness or leisure.
13

. Tandem Paddle Board
---
A tandem SUP board is designed to be ridden by 2-persons specifically. These boards are not as large as the mega boards featured above but have a much better everyday paddling performance. Check out our guide below to get a better understanding of their features and technologies.
14

. Whitewater SUP
---
A whitewater paddle board is designed to be ridden in moving waters – streams, rivers, etc. The dimensions of a whitewater SUP are below average in length, and above average in width. This design leads to a board that is easy to maneuver while maintaining its ability to steer quickly. Definitely for advanced paddle boarders as it takes a good amount of skill and stamina to stay safe out there.
15

. Electric SUP
---
Although the e-SUP is one of the newest addition to this already large selection of boards, their dimensions besides the motor don't make up a new sub-trend. They are the future. First popularized in 2014, there are about 10 brands to produce paddleboards with an electric motor. Available in two main motor types: jet (advanced) and fin-propeller that fits most board fin boxes out there, it's the anglers, tourers and flatwater paddlers who find use of this awesome new invention.
16

. Prone Paddleboards
---
Prone paddleboarding is a great cross-workout for surfers and paddleboarders. You can kneel or prone on basically any board that's 30″ or narrower. It offers a great workout for the core, shoulders and back!
---
Stand-up Paddle Board Buying Guide
Types & Purposes / Materials / Sizes & Weight  / FAQ
↓
---
Quick FAQ
Read more from down below
Solid vs Inflatable SUPs – Which one to choose

?
PROs of
rigid/hard SUP
Better glide
Less drag in the water
Better paddling performance
More stable on choppy waters
You get a high-quality product
Own a pair of crossbars & roof racks
Planning to master the art of paddleboarding
Faster to the water – no need to inflate the board
SUM – Better option when you are planning to use the board more frequently – If you happen to live close by the water where you could walk/cycle to the beach.
PROs of an
inflatable board
iSUP package includes everything you need to get started – a SUP, pump, carry-bag, a paddle, and a puncture kit.
Portability
Unbeatable value
Maximum portability
More affordable alternative
Limited storage at home & car
Great for recreational & weekend paddlers
Inflatable SUPs have boomed over the past 5 years
Get an extra workout when inflating the board each time (10-20min extra each session)
---
↓
How to choose a paddle board?
1. FIELD OF USE
Where and how often will you be using the board – Inflatable or rigid?
2. SIZE
Choose the right volume – 275lb or 350 lb volume, 8′ or 14′? in length.
3. TYPE
Choose the right type – Yoga or Touring. Each outline has its special purpose.
↑
MATERIALS – What are paddle boards made of?
Most modern paddle boards these days are divided into two main types –
Among those are about SIX different materials to choose from. Don't worry, there are two main types people go for. Find out more below.
Rigid paddle boards
Epoxy / Fiberglass / Foam / Plastic / Wood / Bamboo
Hard, rigid or solid paddle boards have been around way longer than inflatable boards. Rigid SUP boards are preferred by those who wish for the best performance and longevity in a product. Although hard paddle boards are available in about five different materials, the majority of boards are made of epoxy.
More glide.
Less drag.
Better feel.
Preferred by seasoned or advanced paddlers.
(EPS) Epoxy Paddle Boards are lightweight and super durable. A majority of hard paddle boards on the market are made of epoxy. Foam core + epoxy resin.
(PU) Fiberglass paddle boards are more stable on choppy waters/messy conditions and are preferred by their distinct 'feel'. Inspired by longboard surfboards, a fiberglass SUP holds a better line and has a slightly more rigid 'watercraft' to the ride.
Foam paddle boards are similar to soft-top surfboards by being beginner-friendly and affordable. They are also lightweight and great for those who don't pay too much attention when handling the board while on the move (car, garage). Although the foam SUP is not as durable as EP or PU or plastic boards, they still are still a great budget choice among complete beginners who buy a SUP for the whole family to use.
Inflatable paddle boards
Most inflatable SUPs are made of military-grade PVC.
The whole paddle board fits into a carry bag.
'Ride' quality is basically comparable to a rigid SUP, most owners say.
Takes extra time to inflate & deflate the board
Paddle boards made of wood
Although a wood veneer is used on almost all fiberglass boards to make the stringer (in the middle) for added strength and stability, a 100% wooden SUP is not a common sight these days.
Wooden stand-up paddle boards are basically always handmade, and heavy. It takes a lot of time, effort, and knowledge to make one, they still remain a small minority due to more convenient alternatives.
It is believed that the wooden paddle boards have been around since 3,000 BC!
What is the best wood for paddle boards?
Paulownia wood is believed to be the best wood to make a paddle board shell of.
Bamboo
Bamboo wood veneer is often used to make the SUP stringer. A bamboo SUP is a great alternative to wooden boards by being slightly more affordable, lighter. Matter of fact, a bamboo veneer is 2-3 times stronger than wood veneer fibers.
Foam vs fiberglass paddle boards
Foam paddle boards are not as common as there's a better alternative that's taken on the markets – the inflatable SUP. A hard shell paddle board such as a fiberglass board has a way better life expectancy, these boards are more stable on the water, and can be used in choppy waters as well.
---
SUP Size & Weight
We are going to be bold here and state that an average paddle board size is 10'6″ x 34″ x 6″
Stand-up paddle board paddle sizing is the #1 thing to look out for, so make sure to consider our recommendations down below.
Paddle board design plays a huge role in the performance and the expected field of use. Depending on your weight and paddling preferences, you can determine what size paddle board you need by following our guide down below.
What size paddle board do I need?
Before buying a SUP, make sure to check if the max weight capacity exceeds your own weight by at least 10-20%. A person weighing 200lbs should get a board that's got at least a 275lb capacity. Most large paddle boards have a weight capacity of 300lbs, but there are also 350lb boards for intermediate users.
Check out our paddle board size guide down below to get a rough estimate.
Paddle Board Length
The average paddle board length is 10'6″ for an all-around adults model. Anything below is best-suited for more relaxed cruising or practicing yoga. Longer boards are more suited for touring, fitness, or for tandem riding.
Longer board = better glide
On average – How long is a paddle board?
Below 10′ – Short paddle board that's designed for kids or for adult surfers. The main difference is in width and especially in thickness.
10.5 ft paddle board is mainly found among hard SUPs
10'6 paddle board – popular all-rounder inflatable board.
11′ paddle board is a regular cruiser type length
12-foot inflatable paddle boards are found among touring SUPs. What
Width
The average paddle board width is around 32″-34″. Anything below that is suited for kids', or for racing.
Wider board = more stability = more drag
A wide paddle board offers better stability but loses on overall speed.
If you are new to paddleboarding, a 32″ to 34-inch wide paddle board is a go-to choice for a recreational paddler. For example, the best 14′ SUP race board is generally around 26″ wide which gives it a reduced drag in the water.
Thickness
The average inflatable SUP is 6″ thick. Kids/Youth's, race, and most solid SUP boards can be 4″ – 5″ thick, while anything above that is found on boards with higher weight capacity – multi-person paddle boards, or even inflatable docks.
Weight
The paddle board weight seems to be one of the main concerns for beginners. What comes as a surprise to most is that the inflatable SUP weight is close to hard SUPs. What's categorized as a big paddle board can weigh up to 35lbs, while a small paddle board for pool use can weigh under 20lbs.
*Average 10'6″ x 34″ x 6″ inflatable & 10'5″ x 32 x 4.5″ hard SUP weight this size is about the same – around 25lbs.
Lightweight paddle boards are smaller in size, although they all seem to fall in one weight category, from 20 – 30lbs. The weight difference between a solid stand-up paddle board and an inflatable one is around 20%.
Parts of paddle board
The whole SUP gear consists of paddle board, paddle, and coil leash. Here are the must-have parts on the board:
Non-slip traction pad on the top.
Bungee cords on the front (& often on the rear)
Fin(s). Generally a large single fin in the middle, and so-called 'side-biters' on the sides. Some surfing SUPs are equipped with 5 fines altogether!
Paddles
The average paddle board paddle length is 70 to 86 inches. The paddle should be adjusted about a foot (30cm) above the rider's height for best performance.
70″ = 5'10"
90″ = 7'2″
---
FAQs
What is stand-up paddleboarding?
Stand-up paddleboarding is a watersport, an activity performed by a SUP board (Generally 8-14 feet long), and a paddle to move forward on the water. There are many disciplines of paddleboarding, from touring to race, but also for yoga and leisure.
How hard is paddleboarding?
Paddleboarding is like any other sport that requires some dedication and patience until one can enjoy the sport. Unlike most other fields where you can go and perform basically whenever you like – a good paddleboarding session is required to have the right weather for it.
How to pick a paddle board?
Choosing the right paddle board comes down to preferences, height, weight, and budget. There are about 7 different disciplines of boards available, ranging from all-around cruise boards to touring, yoga, and race SUPs.
Men's, Women's, Kids'?
Paddle boards are generally marketed as unisex, which means they can be used by anyone. Although, a lesser-known term for women's stand-up paddle board is a board characterized by a wider & rounder outline for added stability and more vibrant color schemes.
Kids' paddleboards are generally 8′ in length.
Women usually prefer a more stable SUP for leisurely activities, or for Yoga. Those boards are about 33″ – 34″ in thickness, and about 10'6″ in length.
Men should look at the maximum weight capacity of a board so that it would exceed 20% of the paddlers' weight.
How long should a paddle board paddle be?
A paddle board paddle should be 6 to 8 inches (15-20cm) taller than the rider. Most paddles are foldable so they would fit a wide range of users.
What is the average length paddle board?
An average length of a paddle board is 10'6″. If you are looking for a surf or kids SUP, you'd be looking at below 10′, and over 14′ for a touring SUP.
How much is a good paddle board in 2022?
While entry-level inflatable SUPs cost around $200 – $300 and entry-level hard SUPs start from $800, a good paddle board costs $600-$800 for an inflatable and $1,000 for a hardboard SUP.  
How to buy a SUP board?
Buying a SUP board comes down to a few key factors.
1. How often are you planning to use it? 
Do you need a rigid or an inflatable board? From there you can also determine if you will be needing a pair of crossbars and roof racks.
2. What is your budget and expectations.
3. Choose the right type and size
Inflatable kayak vs paddle board?
Those two have been one of the most popular choices in the booming inflatable industry. While the paddle board is mainly intended to be ridden on the flat water while kneeling or standing, a kayak is designed to be used while seated.
Inflatable paddle board vs regular paddle board?
There are considerable PROs and a few cons to both – making it hard for us to give solid recommendations.
On average, a rigid SUP is around 5% faster than their inflatable counterpart (which is clearly nothing major) it is the stability and the whole 'feel of the board' for a hard SUP. Although it's not a hoax nor a selling point that many SUP customers state that there is little to no difference in the riding performance, there are some points that might give away the idea:
iSUP is soft and thicker.
A rigid stand-up paddle board is faster and more stable.
Is it hard to paddle board?
Paddleboarding takes a while after one could enjoy the sport. What comes naturally to some, can be really frustrating to others – and this is the case with stability. Once you've got the hang of it, there are endless benefits to enjoying the recreation.
What equipment do you need for paddleboarding?
A board, paddle, and a leash are the basics to start with paddleboarding.
What size paddle board is right for my height?
Choosing the right volume paddle board is more about the weight capacity than the length of the board. The average paddle board is 10'6″ long, whereas the volume can differ by width and thickness. Check out our type recommendations below.
What to look for in a paddle board?
Length, width, thickness, and the overall shape of the board are what matter the most.
*VOLUME is #1 factor determining whether the board fits the paddler or not. The shape is determined by the volume, therefore make sure to get the right size first.
How long do paddle boards last?
The lifespan of an average paddle board is around 3-5 years. To extend the life of materials and especially the outer shell – make sure to keep good care of the board in and out of use.
How long do inflatable paddle boards last?
ISUPs are made of PVC and get inflated and deflated constantly. If taken proper care of, iSUPs can easily last for 5+ years when you are using it with all the safety measures. Although they are more prone to punctures, a properly inflated (not over-or under-inflated) can be repaired and used just like a rigid SUP.
How to maintain a paddle board?
Rinse after each use with clear water – otherwise the salt 'dries up' and shortens the lifespan of a SUP board.
Handle with care – avoid denting the board so that no water could get inside the boards' core.
Keep the board away from direct sunlight when not in use – intense UV rays can damage the outer shell.
How to increase your stand-up paddling performance?
Just go in the water more frequently and don't forget to enjoy the surroundings. As most of the paddling effort is generated by arms (shoulders, wrists) and upper body in general – any physical activity related contributes to increased mobility and stamina.
How to make a stand-up paddle board foam?
There are kits sold online that can help to create a DIY first paddle board.
Are inflatable paddle boards good?
Buying an inflatable sup board can be a bit of a minefield. The good news is that blow-up paddle boards have been around for a while, and the quality of materials and overall technology have advanced well over time. Besides, there are enough ratings and feedback to rely on their durability these days.
Inflatable paddle boards are very good alternatives to rigid boards. In performance, the rigid board is only about 5% faster than the inflatable board, and many season paddle boarders state that you can't they were surprised by the similarity of those two boards.
Where to buy paddle boards?
Are supermarket SUP boards good? Well in 2022 you can do divine research and order a board online, or from your local sports store that is specialized in paddleboarding. As a regular SUP is going to last for a good amount of time, ask around as much to get THE right board for your needs.
---
Read next
I created Nulltuul to share my experience, research and analysis with other surf enthusiasts out there. If I'm not surfing on my travels - I like to photograph waves, surfers, and the surf lifestyle in general.