Whether you are a pro surfer or a new beginner starting out – the truth is – nobody likes to feel cold and uncomfortable in the water. Especially when the conditions have aligned and there's nothing to stop you from enjoying the waves for hours.
As there are only a few surf wetsuit brands on the market, most of the models are already familiar to regular surfers out there. The purpose of this article is to point out each brand's top-shelf products and pick out the best for 2021.
What to look out for?
An experienced surfer is well aware of their preferences for wetsuit type, thickness, brand, and model. Beginner surfers, on the other hand, are looking for a wetsuit at a smaller budget as most of the time, they haven't fully understood the importance of having the best garment around the body as possible.
Why buy a better suit?
High-end wetsuits do cost a little more, but at the same time, you are guaranteed to enjoy the latest of technologies, warmth, which overall results in better performance.
More expensive wetsuits:
Weigh less.
Have better flexibility.
Superior comfort.
Dry faster.
Stay warmer for longer periods of time.
Use different materials that are also environmentally friendly.
The best time for surfing is generally rather limited, something every surfer know, that's the reason why you should be having the best performing gear to maximize it!
---
Table of Contents
5/4 and 4/3 Steamers
Cold Water Wetsuits
3/2 and 3/2 Spring suits
Warm Water Wetsuits
↓
---
Best Steamer Wetsuits for Surfing
6/5
5/4
4/3
1. Rip Curl – FlashBomb 5/4
2. O'Neill – Psycho Tech 4/3+
3. O'Neill – Hyperfreak 4/3mm Hooded
4. XCEL – Drylock 6/5
5. Vissla – North Seas 5.5​/4.5
6. XCEL – Infinity 4/3
Read more – 19 Best Wetsuit-specific Brands
---
1

. Rip Curl –

FlashBomb

5/4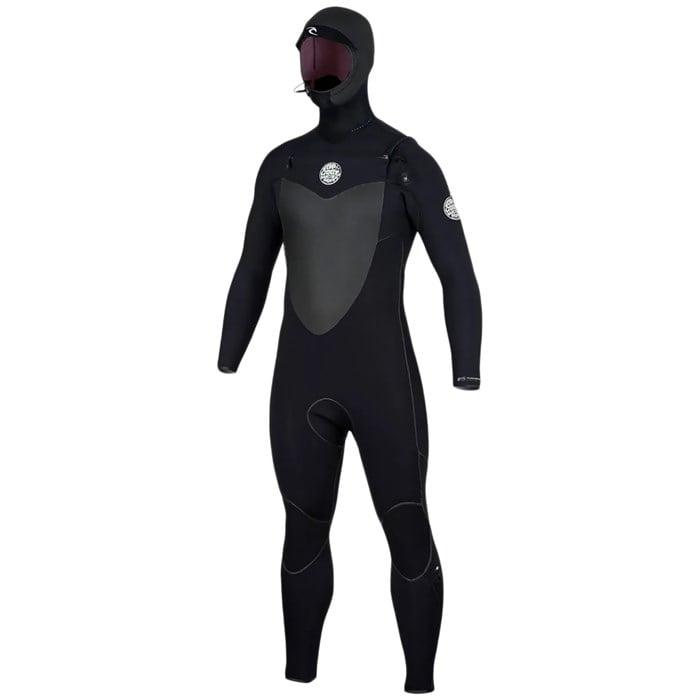 MSRP: $470
If you'd walk into any surf around the world that has the best surf wetsuit brand in stock and ask for the best wetsuit – You'll be guided to Rip Curl's Flashbomb wetsuits. Sure it costs nearly 500$, but you'll get one of the greatest wetsuits that are lightweight, warm, and super stretchy, almost like not wearing anything at all! The whole Bomb-series wetsuits by Rip Curl has been one of the most popular choices by surfers so far, hence the reason it is placed as number one on this list.
This 5/4 hooded Flashbomb is made of Rip Curl's most flexible high-performance E5 neoprene which is lighter and more durable than their previous E4 and E3 Neoprene. As it is ranked as a 'performance surf wetsuits', it's got all the bells and whistles such as stress-point taping, GBS seams, internal key pocket, and obviously a chest-zipper.
---
2

. O'Neill –

Psycho Tech

4/3+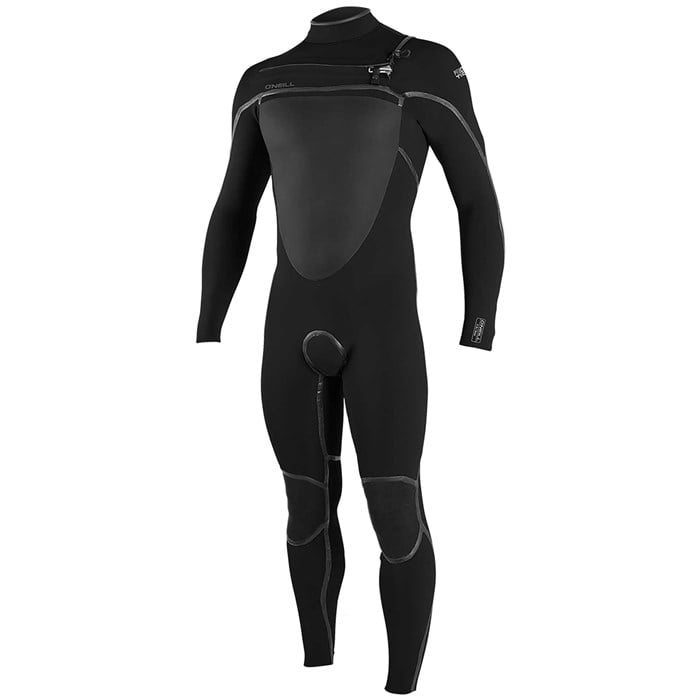 Recommended Water Temp: 48°F – 54°F
If you love traditions and would like to get a wetsuit made by literally the oldest surf wetsuit manufacturers out the – O'Neill, this is one of their best surf suits to get! Featuring the one and only Technobutter neoprene that uses different types of technologies all around the body such as:
Arms, shoulders, shins, and Calves – Technobutter 3 Neoprene
TechnoButter 3 Air-Firewall Smoothskin on Chest, Back, Thighs, and Butt area
Psycho Tech is also known to be 'Psychotically' warm while being equipped with one of the most lightweight and quick-drying qualities on the wetsuit market. O'Neill also produces wetsuits for the largest range of surfers
---
3

. O'Neill –

Hyperfreak

4/3mm Hooded
MSRP: $360
The 4/3 HyperFreak by O'Neill is constructed with super light TechnoButter 3 and TechnoButter 3X neoprene. O'Neill has added 0.5mm thicker material as a set-up from the Hyperfreak Comp. There's minimal seam design, lighter weight, super good quality construction, and attention to detail which make it one of the greatest 4/3 surf suits out there.
TechnoButter 3 Neoprene – Body & legs
TechnoButter 3X – Arms&Shoulders
F.U.Z.E. Closure – Front Upper Zip Entry
360° Barrier with Drain Holes
Minimal seam design
Seamless paddle zones
Double Seal Collar
External Key Pocket with Loop
TB3X Fully Taped Seams
GBS – Glued and Blindstitched Seams
Full Body/ Legs: TechnoButter 3
Aqua Alpha Solvent Free Neoprene laminate
---
4

. XCEL –

Drylock

6/5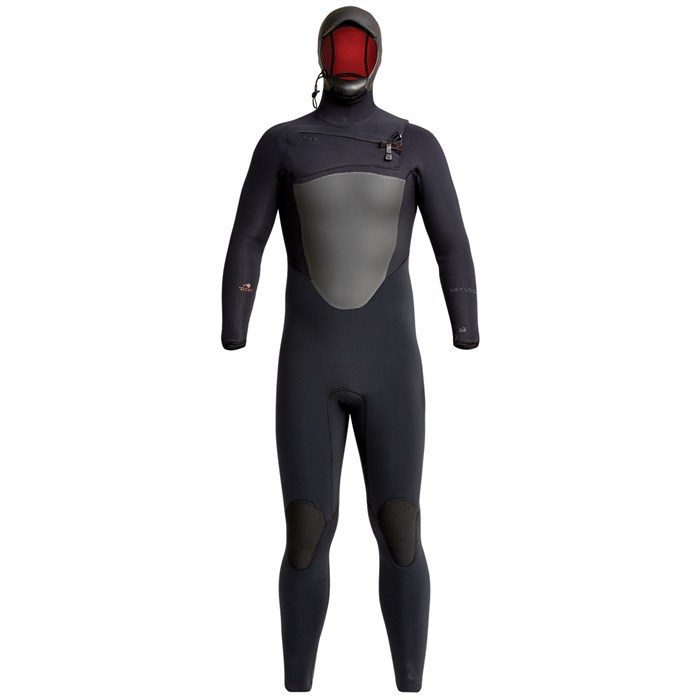 Ideal water temp: 34° – 46°F'
MSRP: $480
If you are the tech-type person who is after the latest of technologies and prefer to buy a brand that is specializing in one field only – you don't need to second guess your opinion. Xcel Wetsuits have the best value in the market. Their wetsuits are known to be warmer than most other of their
Semi-Dry Zipper – Offers a solid closure with a silicone strip to seal and minimize flushings.
Triple Glued and Blind Stitched Seams

– A water-tight seam construction where foam edges are glued multiple times before being slammed together creating an air and watertight seal, then stitched a quarter way through the foam to give it the strength needed.

Drylock Wrist Seal

– Seamless doughnut-tapered cuff to prevent flushing.

FusionX Taped Seams

– Maximum seam durability while eliminating the need for excess glue.

Eco-Friendly Water-Based Glue

– Premium durability and bones while being environmentally conscious.

Nexskin Seals [Ankles]

– Liquid neoprene seals at the wrist and/or ankles to prevent flushing.
---
5

. Vissla – North Seas 5.5​/4.5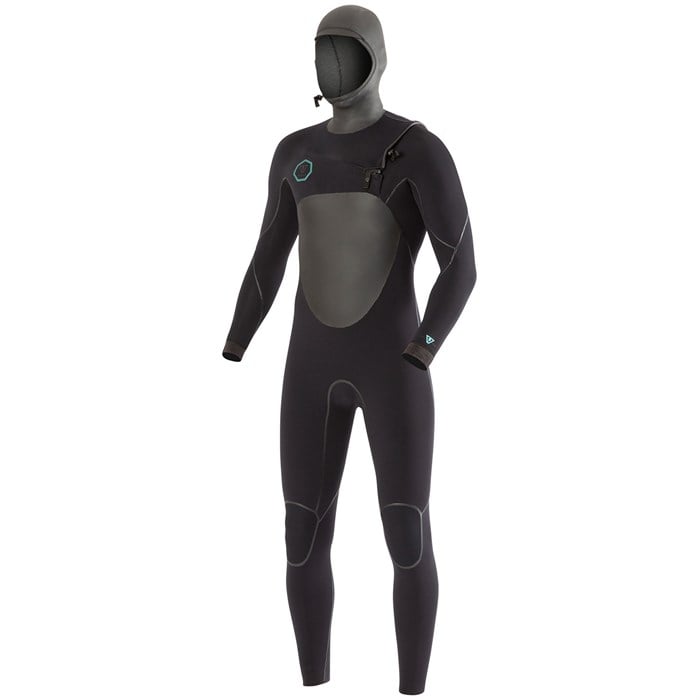 Ideal water temp: 39 – 53° F / 4 – 12°C
MSRP: $350
Vissla wetsuits have to be represented in every decent wetsuit review, especially when it is about the best surf wetsuits. Vissla, alongside Xcel, is one of the few surf wetsuit brands that produce surfing wetsuits only, and they are both pretty darn good at it. The North Seas series is obviously inspired by the rugged and far north/south climates
I-Foam Premium – The lightest weight, warmest & stretchiest Japanese limestone-based neoprene available
PK S-LOCK Water Tight Chest Zipper

– Chest-zip entry with Cris-X panels for easy entry and minimal bulk with a perfect fit.

Triple Glued, Double Blindstitched Seams
Vissla Neo 2.0 Super Stretch Tape

– Allows for maximum seam sealing while having unrestricted stretch and comfort.

Power Seam

– Advanced, flexible, waterproofing sealant used on the outside of the seams for added durability and warmth.

Supratex™ Knee Pads

– Abrasion-resistant jersey for flexibility and strength.

Liquid Taped Cuff Seals to Prevent Flushing
Glideskin Collar to Prevent Flushing
Easy Access Secure Key Cord
---
6

. XCEL – Infinity 4/3
Recommended Water Temp: 49° – 58°F
MSRP $320
Best technical wetsuit for the mid-range value. Xcel wetsuits are known to be slightly warmer so always check the water temperature guides from each merchant.
Semi-Dry Zipper with Magnetic Closure – A zip closure with a silicone strip helps to prevent suit flushing.
Engineered Fit System

– Fits like a second skin

Glide Skin Collar

– Durable smooth skin collar creating a water-tight seal to prevent flushing.

Back Knee Flex Grooves

– Articulated pre-bent knee with grooves to prevent folding behind the knee.

FusionX Taped Seams

– The next-generation precision tape technology, applied by a machined heat-pressure process that bonds tape directly to the suit ensuring maximum seam durability while eliminating the need for excess glue.

Eco-Friendly Water-Based Glue

– Water-based glue provides premium durability and bonds while being environmentally conscious.

Nexskin Seals [Wrists]

 – Liquid neoprene seals at wrist and/or ankles to prevent flushing.
Always rinse thoroughly inside and out with fresh water after every use. Hang to dry.
Eco-Friendly Nanoprene Lite Japanese Limestone Neoprene – Unrivaled memory and rebound that is lighter, warmer, and softer than the average neoprene with 100% high-performance stretch for comfort and warmth.
Channel Flex [Exterior] – A hydrophobic channeled textile that has great stretch, reduced weight, and repels water.
---
Best Surf Springsuits of 2021
3/2
2/2
8. Rip Curl – Flashbomb Search 3/2
9. Xcel – Drylock X 3​/2
10. Quiksilver – Syncro​+ 3​/2
---
7

. O'Neill – Psycho One 3/2
The same suit that's been reviewed on the top – the Psycho One offers a psychotically warm fit at lightweight. This is O'Neill's top-shelf production, so you wouldn't have to cut corners and make up excuses to perform at your best. This is the one – The Psycho One!
F.U.Z.E. Closure (Front Upper Zip Entry)

360° Barrier With Drainholes (F.U.Z.E.)

Minimal Seam Design

Seamless Paddle Zones

Plasma Wrist and Ankle Seals
---
8

. Rip Curl – Flashbomb Search 3/2
The Flash Bomb Search is a zipless springsuit with the E6 lining used inside for the best warmth and stretches qualities. The E6 lining has been used throughout the arms and shoulders which gives the surfer unrestricted paddling and movement.
E6 Lining offers premium high stretch, lightweight neoprene 30% more stretch, and 20% lighter than E4.
Rip Curl wetsuits are generally aimed towards the performing surfer so you'll be surely getting everything out of your investments.
---
9

. XCEL – Drylock X 3​/2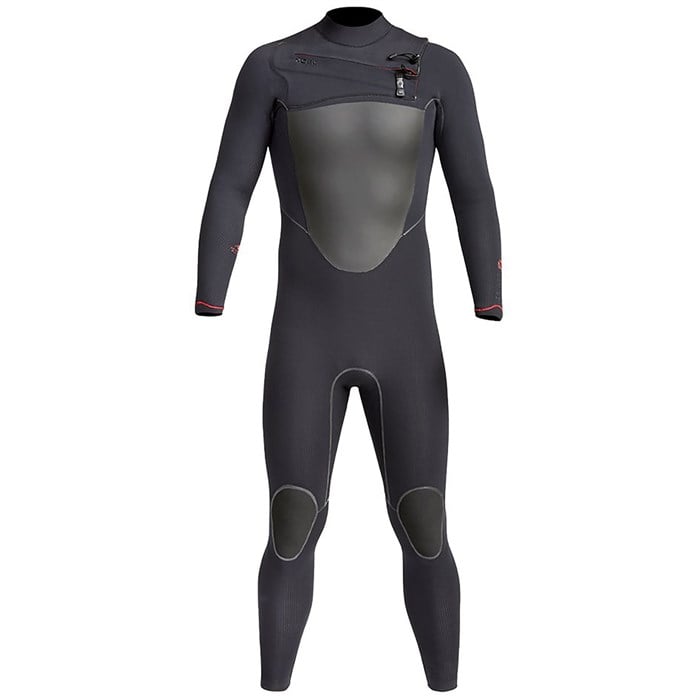 Ideal for water temp: 55˚ – 64˚ F
MSRP: $485
Made of Nanoprene Lite Japanese Limestone neoprene, the Drylock doesn't need too much introduction as it is one of the best performance surf wetsuits by Xcel, a brand that focuses on making wetsuits. Its got all the bells and whistles a needy surfer could ask for, features such as the Channel Flex, Stitch-Free, Power Seam, FusionX, Nexskin Ankle Seals, Drylock Ankle Seals, Glide Skin Collar, Celliant Black Liner make it indeed one of the top picks on this list!
---
10

. Quiksilver – Syncro​+ 3​/2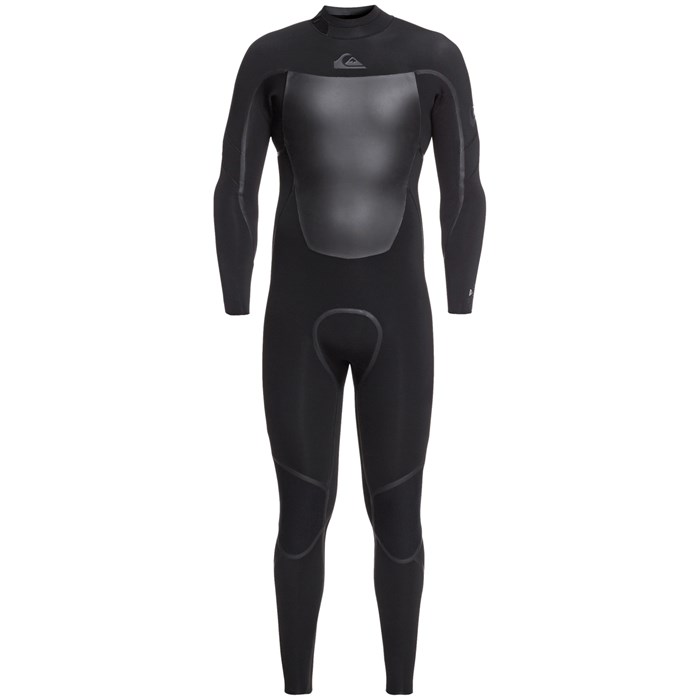 MSRP: $200
On the more affordable range, you'll find the Quiksilver Syncro+, which is a mid-range wetsuit with plenty to give for an average surfer. It is considered a mid-range wetsuit. It looks and fits good so what else to ask for? It is also one of the few back zip wetsuits available. Syncro Plus offers plenty of outtakes to make it one of the
---
Did we miss anything worth mentioning? Let us & others know in the commens section
Read next
19 Best Wetsuit-specific brands
What not to do with your wetsuit?