The Surf Watch, otherly known as the Tide Watch is basically a tool that helps to monitor stats and surf conditions. Depending on the model, the proper surf watch offers great insight into the statistics of your performance.
A surf watch is something many athletes are after as the stats can be a great reference towards improvement. Besides, it is a difficult task to make a surf watch, something that the surfers will be going to wear as well. Sure, you can go out with a fancy Apple watch with a surf wristband, but by the end of the day, those watches are not really 100% built for that kind of elements.
Track Tides – Surf Tide Watch
Track & Upload Activity – GPS Watch
Look Nice – Surf Style Watch
What to look for in a good surf watch? As the watch will be strapped around the wrist, the timepiece obviously has to feel comfortable, durable, and clear to watch and operate.
What is the alternative to a surf watch? Surf watches are quite similar to running/swimming watches.
---
Table of Contents
1. GPS watches
2. SMART/ sport watches
3. TIDE watches
4. SURF STYLE watches
---
1)

Best GPS Surf watches
---
Rip Curl – Search GPS 2
The ultimate surfers' watch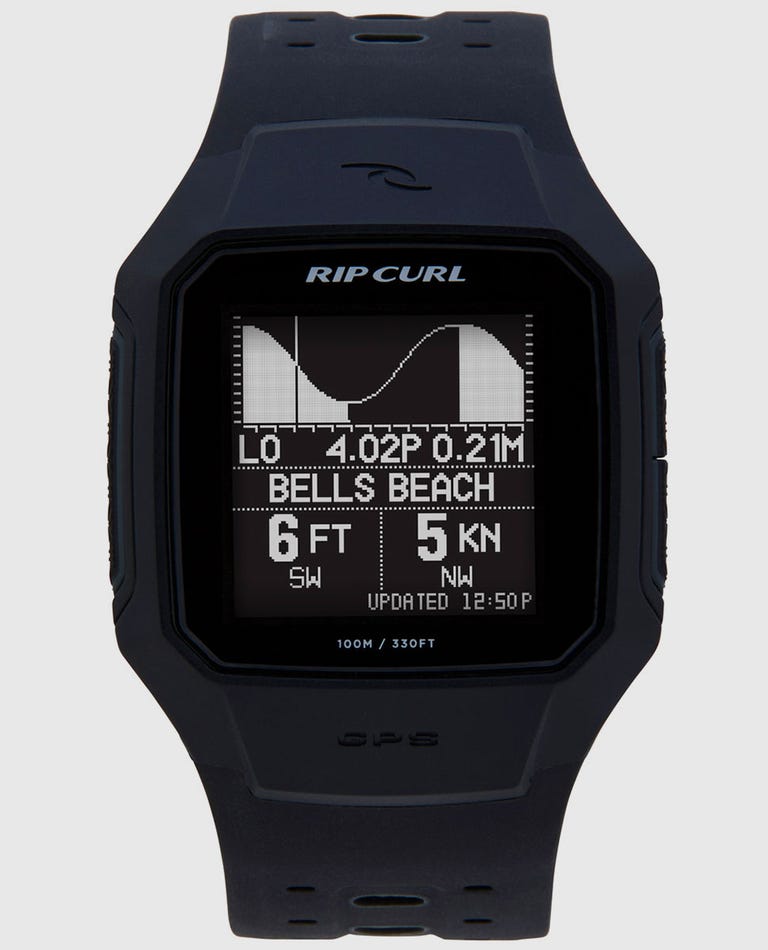 Rip Curl is a dedicated surf brand with a clear focus on performance. Matter of fact, they were the first surf brand to introduce the modern tide watch to surfers – back then it had around 200 pre-programmed tide locations and the second 'feature' was to set the sunset and sunrise times. Today, Search GPS 2 is advanced enough to pinpoint the main features a needy surfer could ask for.
The main features that stand out and make this the best surf watch are the following features:
LONGEST WAVE

DISTANCE SURFED

TOP SPEED

WAVE COUNT
As for the name, it tracks activity through GPS and offers real-time surf conditions. Conditions such as the height of the swell, direction, wind speed, and wind direction are all provided through the Surfline database. There's tide information for 1,400 global locations. As it is a watch meant to be used in the water, it is water-resistant to 100m (330ft), but something to note is that after all, it is a surf watch that's suitable for swimming and snorkeling, but not for diving!
Search GPS2 is smaller, lighter, and more durable than its predecessor, the Search GPS. Not to forget, that the motto of Rip Curl is also "The Search." One of the most iconic Australian surf brands Rip Curl has been a definite favorite to many surfers worldwide from the very beginning. Today, Rip Curl surf watch software updates the wind and swell data through GPS signals from the Surfline database. Before that, MagicSeaWeed was used to produce the data. Rip Curl surf watch style is both sporty and professional – suitable for men and women. Basic color schemes are available that you are seeing when surfing – black, dark blue, mint blue, and yellow.
Watch Build:
Case Diameter: 43 mm
Case Thickness: 15.5 mm
Band Width: 31 mm
Weight: 2.24 ounces
Band length: Men's Standard
Available colors: Black, Blue, Mint, Yellow
Mobile application: SEARCH GPS
Battery life: 2 – 3 months without GPS

Analog-quartz Movement

One-Touch Auto-Set (Indoor Compatible)
Day, Date, Calendar, Alarm, Stopwatch, Moon Phase, Sunrise/Set Times, Stopwatch, Countdown Timer, Backlight
Permanent Pairing, Bluetooth Compatible
Rechargeable Battery
Read more from the owner's manual.
---
2)

SMARTWATCHES for surfing
---
Apple Watch Series 6
The most universal sports smartwatch
Without any further ado, everyone knows both the functionality and the quality of the Apple Smartwatches and their latest model 6, which is on the top range of smartwatches. The specs of the Apple Watch Series 6 are one of the best out there, which means that it is also a great wristwatch for surfing. The best Apple watch band for surfing is the rubber band.
All Apple Smartwatches have the GPS function from the 3rd model! Check out the waterproof comparison down below!
The PROs: The Apple smartwatch is a way to go when you are after one of the most popular, therefore best smartwatches for sports purposes out there. It's a watch for everything – surfing, everyday activities thanks to the smart notifications, it's even got a loudspeaker!
The CONs IOS compatible only
SPECIFICATIONS
Case Diameter: 40/44 mm
Case thickness: 10.7 mm (Aluminum)
Band Width: 24 mm
Mobile application: ULTRATIDE
FEATURES AND TECHNOLOGY
GPS!

20% faster than the 5th series

50% louder than 5th series
Blood oxygen app

Electrical and optical heart sensors

Digital Crown with haptic feedback

Built-in rechargeable lithium-ion battery

Automatic workout detection

Improved accelerometer and gyroscope for fall detection

Tracking Data – UV index, activity, calories burned, distance, heart rate, steps taken, time

Integrated Components – heart rate sensor, navigation

Battery life: up to 18 hours
Waterproof: 50M/164 ft

Sensors – Accelerometer, ambient light sensor, barometric altimeter, gyro sensor

LTPO OLED capacitive touchscreen, 16M colors
Resolution 448 x 368 pixels
Internal: 16 GB
Loudspeaker
---
Fitbit – Sense Advanced
The Fitbit Sense Advanced is a great alternative to the world's #1 selling watch in history! by having the same set of features as the Apple Smartwatch.
The main features why Fitbit Sense is great for surfing:
GPS TRACKING.

HEART RATE MONITOR.

SMART NOTIFICATIONS.

& much more.
Comes with personalized health & fitness guidance and a free 6-month trial of Fitbit Premium. The battery life is expected to be 6+ days (without GPS, and it takes roughly 12 minutes to fully charge the watch to a full day worth of battery life. We'd recommend getting a screen protector as well
---
TicWatch Pro 4G LTE
The TicWatch has gathered over 1,200 ratings and reached a score of 4.1 / 2,000 ratings on Amazon. If your main consideration to track your activity when surfing is thanks to GPS tracking, this watch has got it. Abnormal heart rate warning
Sleep Monitor.
Phone Function.
GPS.
Heart Rate Monitor.
---
3)

Best TIDE surf watches
---
Weret
Weret is a brand that produces Tide Watches only, and that's what they do best. Their timepieces are designed to be worn in such intense activities as surfing so you'll be guaranteed to have a comfortable fit. What makes their watches way more expensive than the rest of those watches in this list are the following features:
Real-time wind speed & direction.
Swell height & direction.
High & low tide status.
Air pressure.
Battery life up to 6 months.
Weret Wireless induction charger included.
MSW covers almost 3,000 beaches in 180 countries.
---
Nixon BASE TIDE PRO
Best surfing tide watch out there
Nixon is an American surf wear brand that focuses on making boardsports surf watches, and they are pretty damn good at it! All around the world where any board-sports-related equipment is for sale, Nixon watches can be found behind the glass doors for sure. The Base Tide Pro by Nixon is probably one of the best surf watches with the best feedback and reviews! If you are looking for a wide section of surf-style watches, go check out the link below.
Real-time tide

550 pre-programmed tides for 15 years

Wave counter
Watch Build
Case Diameter: 42 mm
Case Thickness: 14 mm
Band Width: 24 mm
Mobile Application: ULTRATIDE
FEATURES AND TECHNOLOGY
Time, day, date, future tide times.
Chronograph.
Countdown timer.
Time of day 12/24h.
Day/Date calendar.
Sunrise/Sunset times.
EL backlight.
TR90 case with hardened mineral crystal.
Custom water-resistant PC pushers case.
Stainless steel screw-down case back.
Three different alarms.
Double locking looper.

Three types of alarms.

The Whale Belly Pattern on the backside of the band helps channel the water off your wrist.
Crisp screen.
Negative LCD with printed tide graph dial.
The Ultra Tide women's features way more color schemes with a smaller case as well!
The PROS:
It's Nixon's watch. It does not cost a fortune considering it's one of the toughest surf tide watches available!
Nixon watches are always with a maximum minimalistic look as possible – very low profile. It's got everything and a little bit more on some quirks and features while not being a severe, smart/GPS surf watch. Plenty of customization and all the essentials are there! Great color options as well – there are more models for women! The double-lock strap is a cool feature. Many people also use it for other activities as well, thanks to the full range of features; Whether it will be sailing, fishing, hiking, swimming, etc.
Some of the best reviews:
"Watch is even more eye candy in person; Functionality is on point, and so is the feel of it."
"Rugged enough for wearing every day."
"Greatest. Watch. Ever. Stop reading this review and buy one now. Never surf again at the wrong tide. Know before you ever lead the house. No other tide watch is closer to the truth."
"Radical"
---
Rip Curl – Rifles
The Rifles is a tide watch with a clear screen and has got all the essentials to use as your everyday watch as well. It has got 500 pre-programmed tide locations, which isn't much, but all the main areas are covered. The watch itself is made of lightweight polyurethane construction that is durable and waterproof, tested up/down to 100M / 330ft. That means it's best for surfing, but not recommended for diving!
---
Quiksilver – Addictiv Pro Tide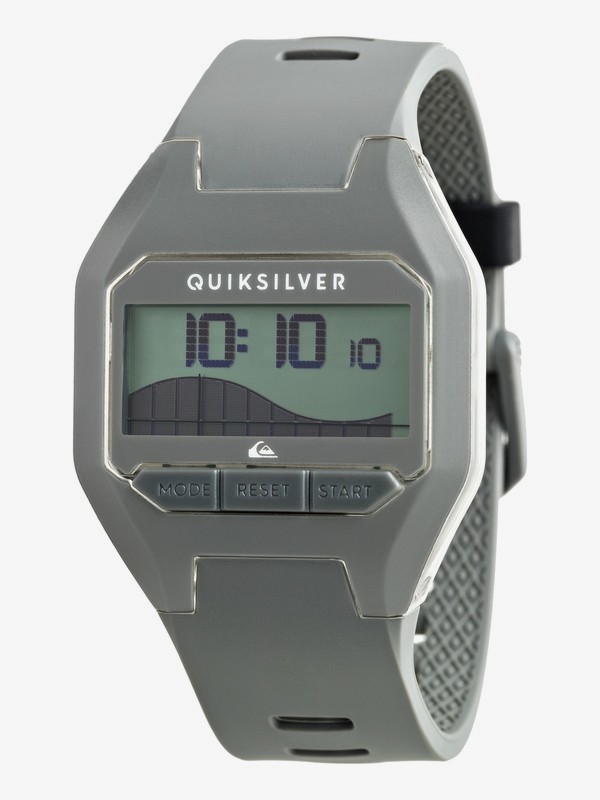 A tide watch by Quiksilver with a 40mm case with a basic tide indicator, calendar, chronograph, and a countdown function. At hundred dollars its got everything a fan of Quiksilver or any surfer could ask for.
---
Rip Curl – Maui Mini Tide
MSRP: $125 Surfboards
The Maui Mini Tide watch from Rip Curl features 500 pre-programmed tide locations, detailed tide views, and future tide views. Other basic features such as alarm, countdown timer, and backlight complete the package. The Maui Mini is tested to 100m depth which is best for swimming or surfing, but not for diving.
---
Nixon – Base Tide
MSRP: $100
Surfboards.com/
Date.
Calendar throughout to 2099, whoa.
Basic tide & future tide.
Backlight.
Chronograph.
Customizable countdown timer.
The home screen can be set to display time and date or time and tide.
---
4)
Surf Style Watches
Aesthetics & simplicity
The section down here is dedicated to those who wish to shut their daily routine off and focus on surfing only, or for anyone who wishes to kick back and chill out with a simple-looking timepiece on their hand. Yes, you can obviously go surfing with those watches, and due to their small frame and rubber band, they are actually quite comfortable to have around the wrist.
---
Nixon Men's Comp S
This is simply a funky-looking rubber waterproof watch, with only a few features. When out in the water, some people just need something strapped around their wrist, or it is quite useful for those who wish to know when to get in and out of the water. With a case diameter of 31mm and simple features such as day, date, Chrono, backlight, and countdown timer, this was has got the bare basics you could ask from a surf/swim watch.
There are more good-looking watches on this series to look out for, besides – it's made one of the giants of the surf-watch game, Nixon!
---
Rip Curl – Tide Wall Clock
Not quite a watch but a wall clock instead. Make your life easier and hang it on somewhere obvious if you aren't the type of person to wear a wristwatch around on your hand or whenever it makes you feel restricted. The clock is 10 inches wide, operates on 2xAA batteries.
---
Nixon – Time Teller P
This is most likely the best-selling analog surf watch by Nixon. The sleek and ageless design with the most minimalistic look as there is out there, the rubber-band Time Teller is one of the best surf style watches in my opinion. There are more than 20 different designs for men and women to choose from! The watches have ranked up the score of 4.3 / 5 out of 670+ ratings on Amazon!
---
Q & A
What is the
max speed

record in surfing?

Mick Fanning, an Australian professional surfer, is currently holding the speed record in surfing, a whopping 39.1 km/h (24.3 mp/h). An average surfer is probably cruising around 15-20 km/h (around 10 miles per hour).
Is the surf watch
comfortable

?

As these watches are designed to be submerged and wrapped around your wrist when paddling for hours – then YES, a good surf watch must be comfortable while not straining your wrist.
Can I
surf

with my

Apple watch

?

Apple Watch surfing / waterproof ratings:
Apple Watch Series 1

: Water-Resistant – Not recommended for submerging

Apple Watch Series 2

: Waterproof – Can be used swimming in the pool or ocean. Not recommended for diving.

Apple Watch Series 3

: Waterproof – Can be used for swimming in pools and oceans. Avoid shallow depths

Apple Watch Series 4

: Waterproof – Can be used for recreational swimming in the pool and surfing in the ocean. Avoid shallow depths.

Apple Watch Series 5

: Waterproof – Great for surfing and swimming alike. Avoid diving in shallow depths!
IMPORTANT NOTE: Make sure to rinse your watch after each use, and try not to push any buttons as the water might squeeze in between
---
Why

do I need a surf watch?

1. To analyze the DATA

Well, surfing is not about chasing the record speed or maximum distance, but mainly planning your sessions and examining the data of your efforts. It has been said, that an average surfer earns above the average wage so, I'm sure most successful people like to know the stats and data of what they've put in.
Wave count – Know how many waves you have surfed
Water temperature – Why not check it out when this cool gadget is there?
Maximum speed when surfing – Hey, aren't we all interested the most in it?
Maximum Wave Height – Another great surf watch gadget that would help to measure the height of the waves
GPS tracking – Know exactly where did you surf the most
2. To plan your sessions by knowing the TIDE & CONDITIONS
Most point breaks work on certain tides. Surfing on a low tide, in general, can be dangerous due to the shallow reef, or less water depth over the reef. On the other hand, surfing on high tides, the waves might not be breaking at all since the bathymetry characteristics and too high water level don't make the waves break at all. So, by knowing the tides times at certain breaks, you can plan your sessions.
3. To know the TIME
It is easy to get carried away when surfing the waves, but sometimes we have to get somewhere in time. Whether to work, to an appointment, or go to the supermarket before it closes.
4. Use it on OTHER WORKOUTS and activities
It is specially designed for surfers but can be used on any other sports as well that tracks your distance, max speed, etc. Swimming, cycling, jogging, hiking, and why not for fishing and yachting as well.
What
Not To Do

With Surf/Apple Watches?

Avoid using conditioners, shampoos, soaps, lotions, and perfumes as those can negatively affect rubber seals and acoustic members. Use clean water to rinse the watch and soft cloths for drying.
---
Then & Now
The first surfing tide watch was introduced to surfers about 25 years ago by Rip Curl. The primary "tool" that could be set were the tides and moon phases. The watch had around 200 pre-programmed surf locations with sunrise/sunset times integrated. At the beginning of the 90s, computers were rare in households so can you imagine what reputation that mini-computer could have had back then? Rip Curl has been one of the most advanced surf-watch brands today.
---
Surf vs Swim/Sports Watch
Here you'll find the difference between one of the most advanced surf tide watches and one of the most advanced sports-watch. Whether you are considering getting a specific surf watch or thinking of a sports watch that has nearly similar features, I've listed one of the most popular and advanced models to get a rough idea of why choosing one over another is a great choice.
Differences

between a specialized

Surf Watch

/

Sports

Watch

PRO's of having a surf watch over a regular sports watch.
Wave counter – How many waves you surfed
Tide information – Moon phases, current tide height, computes future tides
Pre-programmed tide locations on the most popular surf spots around the world
Sunrise/Sunset times
GPS & WiFi – Track your overall distance and exact locations
Wave height – How big were the waves you surfed
Water temperature – Know what wetsuit to wear
Wave period – Measures the swell period
Wind speed & direction
Max speed
Distance paddled
Backlight – Helps you see that screen on sunny days or low light evenings/mornings
Alarm – To set the alarm when you have to start moving back to work/wake up
Sturdy yet comfortable rubber band – A key feature any sports watch must have
10 ATM waterproof -50-100M / 165 -330ft Designed to use on all water activities except for diving
Countdown timer – In case you are going somewhere in time
Stopwatch
A well-detailed display – For a quick and clear peek while doing sports
Smartphone compatible – Sync the stats
Any other sports watch for swimming does not have the essential data many surfers are the most interested in – max speed, wave counter, wave period, etc. A surf watch is designed mainly with a comfortable and durable rubber band. There are some surf watches with a metal band as well but seems logical that rubber and skin don't go together in a high-intensity activity like surfing.
Share in common

Backlight
Alarm
Strong and comfortable rubber band
Waterproof rating
Countdown timer
Stopwatch
GPS
A well-detailed display
Smartphone compatible
Time and date
Calendar
---
The Garmin Forerunner 945 vs. Rip Curl Search GPS
SHARE IN COMMON:
GPS
Bluetooth/Wifi sync
Timer
Stopwatch
Day/Time calendar
Sunrise/sunset times
Garmin FORERUNNER

PRO

's over the SEARCH GPS 2 for surfers
Pace, stroke count/rate
Stroke distance
Calories burnt
Find my watch app
Heart rate zones
Smart notifications – Text response/reject
Display resolution 240 x 240 pixels
Battery life: Smartwatch mode up to 2 weeks, GPS only up to 36 hours, GPS + Music up to 10 hours
Sunlight-visible, transflective MIP (memory-in-pixel) screen
Accelerometer
Thermometer
Gyroscope
Rip Curl SEARCH GPS 2

PRO's over the FORERUNNER 945 for surfers
1400 pre-programmed surf locations live data
10 ATM waterproof rating
Swell, wind, tide track
Real-time surf conditions
Water temperature
---
Surf Tide Watch CARE
Frequent temperature changes, saltwater, and big wipeouts can diminish the longevity of the watch's rubber seals. To keep the watch in peak condition for surfing we recommend you have your watch seals replaced and thoroughly tested every two years of use. After the watch is exposed to saltwater, rinse thoroughly in fresh water, and wipe dry with a soft cloth after the session.
Update your watch firmware when possible.
Do not clean watch with spray cleaners, thinners, or other such volatile agents.
Never try to open the watch.
Avoid exposing the watch to extreme temperatures.
Should moisture appear inside the watch, have it checked by your local dealer or send it to warranty inspection.
Avoid dropping the watch and rough treatment.
Avoid exposing the watch to gasoline, cleaning solvents, aerosol sprays, paint, etc., as chemical reactions with such agents will destroy seals, cases, and finish.
Do not operate buttons underwater (Can do it on Nixon surf watches though).
Not quite into tide watches? Check out WatchResearcher to get a complete overview of different types of wristwatches out there!
---
RELATED
16 Different Types of Surfboards
I created Nulltuul to share my experience, research and analysis with other surf enthusiasts out there. If I'm not surfing on my travels - I like to photograph waves, surfers, and the surf lifestyle in general.