It's all fun and games until you have to figure out where to leave the keys before jumping in and paddling out.
Although some surfers don't mind taking the keys with them out in the water (by using a waterproof bag tucked inside a wetsuit), it is the surf key lockbox that has been one of the go-to choices among seasoned surfers for ages. The bottom line is – you want your belongings to be safe.
Have a look at some of the benefits of using a surf lock key security padlock:
No need to worry about losing the car key on the ocean floor.
No need to worry about breaking/snapping the key while surfing.
No need to worry about submerging the key fob.
All in all – you can focus on surfing, by not constantly worrying about the well-being of your car/scooter keys.
---
Surf Lock, Surf Lock Box, Surf Key Lock Box –
Whatever you want to call it, there a currently
3 types of Keyless Car Lock Box available:
1. Combination lock, digital access (With a buckle)
2. Combination lock, analog access (With a buckle)
3. Combination lock, window-mounted (Magnet)
What to expect from a good surf car key lock?
Attack-resistant construction
To avoid moderate hammering and twisting. Some premium locks use a material that blunts the grinder's plate instantly.

Weatherproof
To avoid water entering the box.
10,000 password combinations
On a 4-digit lock which you change on your own.
Removable shackle (Alternative is a lock with a window curvature in it)
For easy installation.
An anti-signal pouch protects the inside lockbox key fob from signal hacks.
Prevents keyless-entry car keys from hacking.
Anyway, down below we'll explore a bunch of surf locks by trusted brands! Let's see how much does your peace of mind costs:
---
Safety Recommendations
*Test the product first before use.
*Attach the padlock to a solid structure.
*Attach the padlock away from sight if possible.
---
Creatures of Leisure – Stash Lock
MSRP: $59
evo.com/
Choosing a lockbox doesn't have to be difficult, especially when you see a popular surf accessory brand that has already made a product for that. The Stash Lock is somewhat basic – it's got everything an average surfer would expect – a sturdy construction, wide buckle, and a basic 4-digit combination. It works well in most cases, in all weather conditions as there's plenty of room to attach one on multiple spots all around the car. There are also no batteries for LED lightning.
Stainless steel shackle
Internal dimensions: 3″ x 2.5″
Resettable combination
Water-resistant
In case it rains
Corrosion-resistant
Scratch-resistant EVA backing
2-year warranty
---
Iron Lock
Score 4.6 / 5 out of 600+ reviews
MSRP: $36
Amazon.com
Made of zinc alloy, resistant to water, salt, and corrosion – the Iron Lock is another bulky car key lock box with a surprisingly positive rating in Amazon. Its has the same size as the Creatures of Leisure, but on this model, you can also find the height of the interior. The scratch-resistant exterior shouldn't leave any marks on the door after as well.
Storage size – 3.5″ x 2.5″ x 1.2″

4-digit combination

Waterproof 4 Digit
A/B Switch with resettable code
Hold up to 5 keys
Amazon score – 4.6/5 out of 630+ ratings
---
Surf Logic – Key Lock LED Light
Best surf lock of 2022!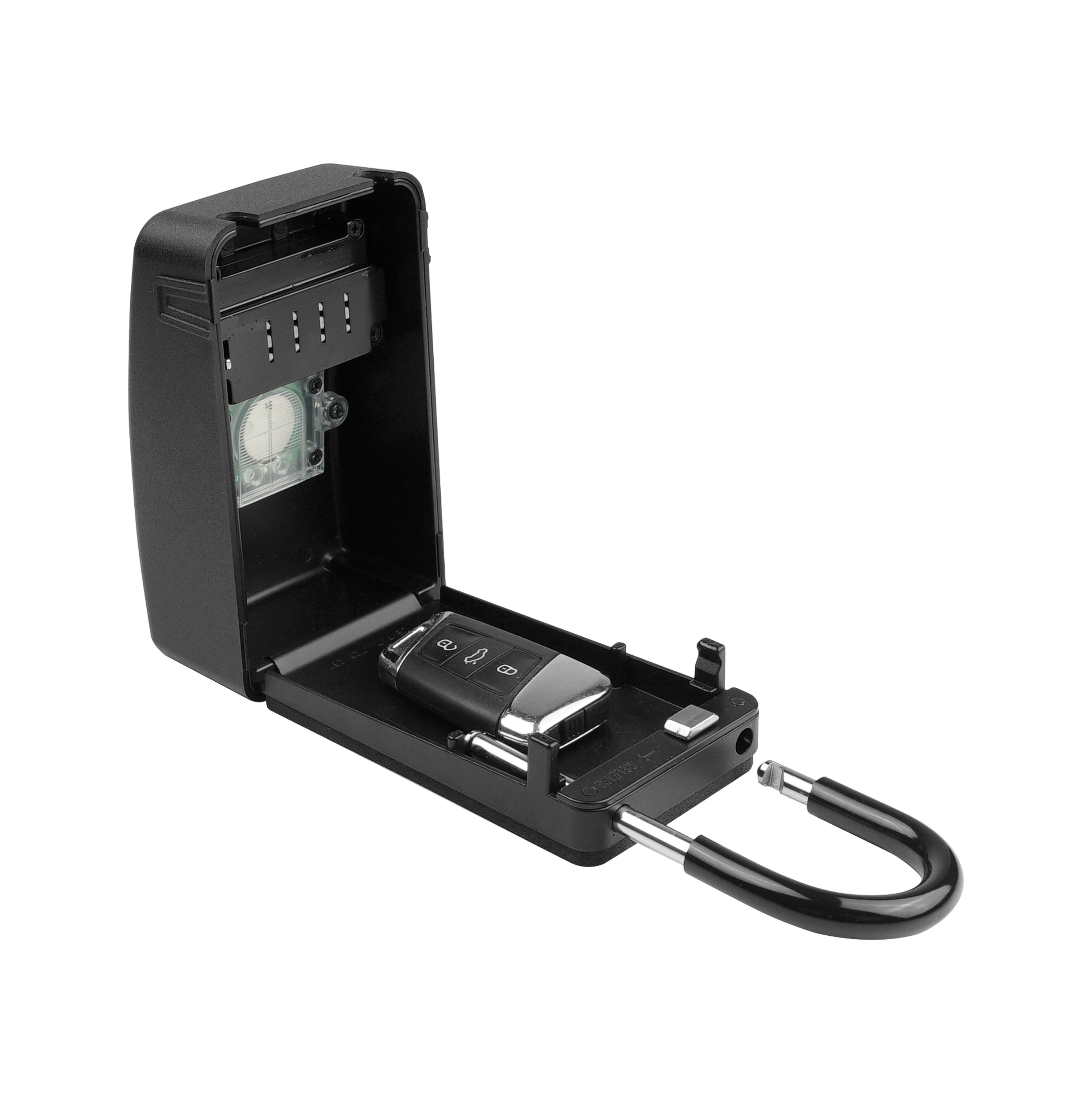 MSRP: $65
Surflogic.com/
We chose the most expensive lock by SurfLogic as they are one of the most-searched surf lock padlock brands.
What sets this lock apart from others is that it comes equipped with a LED light that comes in handy when you have to access the lock in the dark. It also comes with a signal-blocking pouch to prevent any keyless-entry hacking. Compared to the previous two models, the Surf Logic is the most advanced lock to get!
Storage area – 107mm x 68mm x 40mm (4.2″ x 2.7″ x 1.6″)
Includes a battery for the LED light
LED light
Foam backing & coated shackle
Water-resistant
Pouch inside the lock box for the key fob (blocks wireless key signals)
---
FK – Deluxe Keysafe
MSRP: $70
FKSurf.com/
Here's a lock to look up to. The Far King Key Safe lock is a compact and durable choice, ideal for keyless-entry cars due to its RFID pouch that prevents any signals. A great choice who wants extra protection but doesn't want a digital device like the Surf Logic LE model.
Storage area – 89mm x 65mm x 29mm (L 3.5″ x W 2.5″ x H 1.1″)
RFID Signal-blocking pouch to prevent entering keyless-entry cars
Heavy-duty 10mm shackle
Hardened metal case foam casing
10k code combinations
---
What are the downsides of a surf lock box?
It can scratch the surface of the paint.
A thief still knows where your keys are located at.
(Unlikely) Your keys might not fit in the box.
You might forget the passcode.
FAQ
---
What are the alternatives to a surf lock box?
How safe

is a surf lock key safe?

A surf key lock is the best way besides taking the actual key with you. When choosing a padlock key safe, make sure that it has a solid buckle and it is also weatherproof. Avoid using inexpensive locks that are mainly used for keys that open doors you can't drive away with.
Where

to hide a key in your car?

Once you've got your lockbox you might still be confused about where to hide a key in the car. Some cars (like Tesla, Mustang, Range Rover Velar, Cadillac CTS, new Corvette, etc) don't even have a visible door handle. Check out some of the ways where to store your lockbox:
Tow bar.
Door handle.
Wheel spoke.
Check for spots under the car. As a downside, you'll have to crouch on the ground.
*Not on the car? – Some surfers even use a handrail on the beach
How

to hide a key outside your car?

Popular surf spots and car parks can be suitable territory for thieves to find their prey. Whenever you are going to hide a key under your car – make sure that nobody knows about it. Many cars have secret spots around the body that allows them to hang the keys in a specific spot.

A beach key safe box is similar to the ones used on a car – but they don't often have as much protection as found on car lock boxes. Many people use one on their scooter or bicycle as well.
How to hide a key in a car?
Use a lockbox/padlock.
Find a flat surface to place the key under the car – whether inside a bumper or on top of a frame.
*This obviously works when there's no chance of any suspicious bypassers.
Simply place the keys on top of the tire.
Hang the keys on a safe hook with a keyring.
Some cars have an electrical error where one of the doors can still be opened while the rest of the doors are closed. Check yours and see if that might be the issue/solution.
Where to store your valuables inside the car?
The car lockbox in front of the passenger's seat is a great spot to store your phone, wallet, home keys, etc. You can obviously be more creative to be extra cautious.
What are the common passcodes for a surf lock padlock?
Most-used 4-digit codes for key padlocks are:
1337 – Gamers will know
6969 – Adults will know
1234 – Grandparents and kids are going to guess it
0000 – Too smart for your own good
DOB – A date of birth is another common choice – whether it'll be a year or DD/MM
The good thing about such locks is that you change the passcode. Read more from the manual.
Where else is the car padlock box being used?
Real estate business.
Car rental business.
Construction sites.
The SUM
---
There's nothing better than a worry-free surf session. The pros of using a vehicle lock box are the keyless code access and a solid, safe, and weatherproof casing that protects from the weather. Yes, they do not offer a 100% theft-proof solution that prevents anyone from stealing your keys, but that's the best alternative to carrying the key with you.
They say locks are for animals, and whoever is determined enough to get that key – they are most likely going to get it anyway. There are several ways to hide a key lock box on the car – keep your eyes open and go look where you can store your next lock!
---
Read next
Where to store your valuables when surfing?
8 Only Electrical Devices for Surfers
I created Nulltuul to share my experience, research and analysis with other surf enthusiasts out there. If I'm not surfing on my travels - I like to photograph waves, surfers, and the surf lifestyle in general.