Surfing is an individual sport and quite a fun activity. It is a recreation for kids to meet other active like-minded folks and learn the basics of coordination, knowledge of the water, and in general – a good way to stay active.
There are numerous reasons why the young find surfing so appealing – it can be mainly because they are already into skating or snowboarding, or feel tempted to progress in something more demanding. If there's one thing for sure, it is that surfing will most likely stick to them for the rest of their lives! It is simply one of the most rewarding sports out there that teaches a lot about personal growth, determination, and also about the environment.
Kids Surfboards Know-How
Choosing a surfboard for kids is easy – you simply choose between two types of materials, and then the size of the surfboard.
Kids, beginners, first-time surfers

– Soft-top surfboard that's about their height or longer. The second option is a boogie board to practice catching waves while standing up or kneeling on the board.
Those boards are quite forgiving, safe, and easy to catch waves with due to their oversized volume and soft deck.

Kids' & intermediate surfers

– A fiberglass/epoxy surfboard. Great for those who have some skating/snowboarding background, and have grown out of their soft-top surfboard. Solid /rigid surfboards compared to foam boards offer a fast progression that is a great way for kids to get good at surfing.
---
A
Boogie Board

or a

Surfboard

?

Surfing can be quite difficult in the beginning even for the folks that are somewhat talented in most other sports out there. Boogie boards are ideal beginner surfboards or for kids who are looking to build their confidence in the waves. It is far easier to catch a wave with a boogie board and a pair of flippers than learning to stand up on a board on a moving wave.
Made out foam – plenty of float and safer on the water.
Easier to surf a wave without standing up.
Requires a pair of flippers.
Surfboards pros over a boogie board
If your child is already good at skateboarding or snowboarding – it would be a great idea to choose a fiberglass/epoxy board for a fast progression. If not, a soft-top surfboard is a go-to choice that can be used even after they've grown out of it.
---
Best Kids' Surfboards in 2022
---
Kona Surf Co – The 4-4 Short Softboard
2 in 1 – A boogie board and a beginners/ kids foam surfboard
MSRP: $209
4′ 4″ x 19 1/2″ x 2 1/2″ @27L – This surfboard is suitable for beginner surfers weighing from 80lbs to 140lbs
An all-inclusive soft-top surfboard package for kids aged weighing up to 140lbs. This is by far the best choice for anyone who's looking for a small and soft surfboard that could also be turned into a bodyboard. Add the leash and fins and use it as a stand-up surfboard, or remove the fins and it can be used as a bodyboard.
---
Kona – The 5-5 Short Softboard
Best surfboard for kids!
5′ 5″ x 20 1/2″ x 2 1/2″ @ 45L – Suitable for beginner/kids from 150lbs to advanced surfers weighing +240lbs.
With two wooden stringers and an epoxy core, this fishtail mini soft board is an awesome choice for any beginner surfer up to 190lbs. Yes, it's great for kids and both adults as well – 45L is quite a lot to have fun with. The '5-5' can also easily be used as a bodyboard when removing fins from the board. If you are looking for a surfboard that the whole family could give a go – this is definitely the one. One of the tallest soft top surfboards for kids on this list.
---
Catch Surf – Beater Original 48″ Twin Fin
Best kids' soft surfboard that also works as a shore-break funboard for adults!
Beater boards are the latest trend in the world of surfboards. The terms 'beater' comes from beating the 'no-surf-rule' in beaches where no watercraft or surfboards are allowed. Essentially, you can ride this without the fins. Beater boards generally come in two sizes: 48″ or 54″. Both sizes can be used by kids, and believe it or not – by beginner/experienced surfers as well.
Tons of volume, tons of fun!
This kind of surfboard is originally designed for waves where you normally wouldn't paddle with your epoxy/fiberglass surfboard, so – they are ideal for shore breaks and other sketchy waves. A great small surfboard for kids!
48″ (4'0″) x 20″ x 2.5″ @31L – Great for beginner surfers from 80lbs to advanced surfers weighing up to 180lbs
54″ (4'6") x 20" x 2.5" @35L – Suitable for beginner surfers from 100lbs to advanced surfers weighing 215lbs
---
NSP – P2 Soft Hybrid
MSRP: $469 NSP
The NSP = New Surf Project is a surfboard brand well-represented among recreational surfers, and surf schools alike. There are tons of different boards for each occasion, and the P2 is among the most suitable for kid surfers or lightweight beginner adults.
Ideal surfboard for those who would like to advance in surfing, or for anyone who has a skating/snowboarding background
The board features rubber bumpers on the nose and tail for added security and durability, a funboard style design that offers a laid-back riding style. More good news – the board comes with a leash and three fins, which is all you need to get the young ones in the water. The core of the board is made of EPS with a molded soft SecureCell. Crocodile skin all over the board for added grip (No wax needed), bolt-through fins you'll see on must soft-deck surfboards.
5'6" x 19 x 2-1/4'' @25.3L – Great for kids from 80lbs (beginners) up to 150lbs (advanced)
5'9'' 19 1/2'' 2 3/8'' @28.7L – Great for kids from 100lb (beginner) up to 175lbs (advanced)
Ideal for: 1-5ft waves
---
NSP – Chopstix
For grommets, soon-to-be little shredders
MSRP: $469 NSP
A choice for intermediate surfers with a solid surfing background. This is an affordable kids' epoxy surfboard that starts out from a size 5'4″ at 23L.
This is the type of surfboard most kids would love to have as their first surfboards, but it is the hardest board to paddle for a wave, and easiest to ride the fast-moving wave (Not for beginners, trust me) Shortboards require a fair bit of physical stamina and knowledge of waves, so make sure your kid is competent enough before you get that board. This is a nice-looking and agile performance shortboard! Made of Epoxy, you'll need your own fins, leash, and wax.
5'4″ x 18″ x 2 ³/¹⁶" @23L – Ideal from 95 lbs intermediate surfer up to 135lbs advanced surfer.
5'6″ x 18 ¹/¹⁶" x 2 ¹/⁴" @24.2L – Ideal from 100lbs intermediate surfer up to 150lbs advanced surfer.
5'8″ x 18 ⁹/¹⁶" x 2 ¹/⁴" @25.7L – Ideal from 115 lbs intermediate up to 155 lbs advanced surfer.
---
Chilli – Grom Plus
Best youth performance surfboard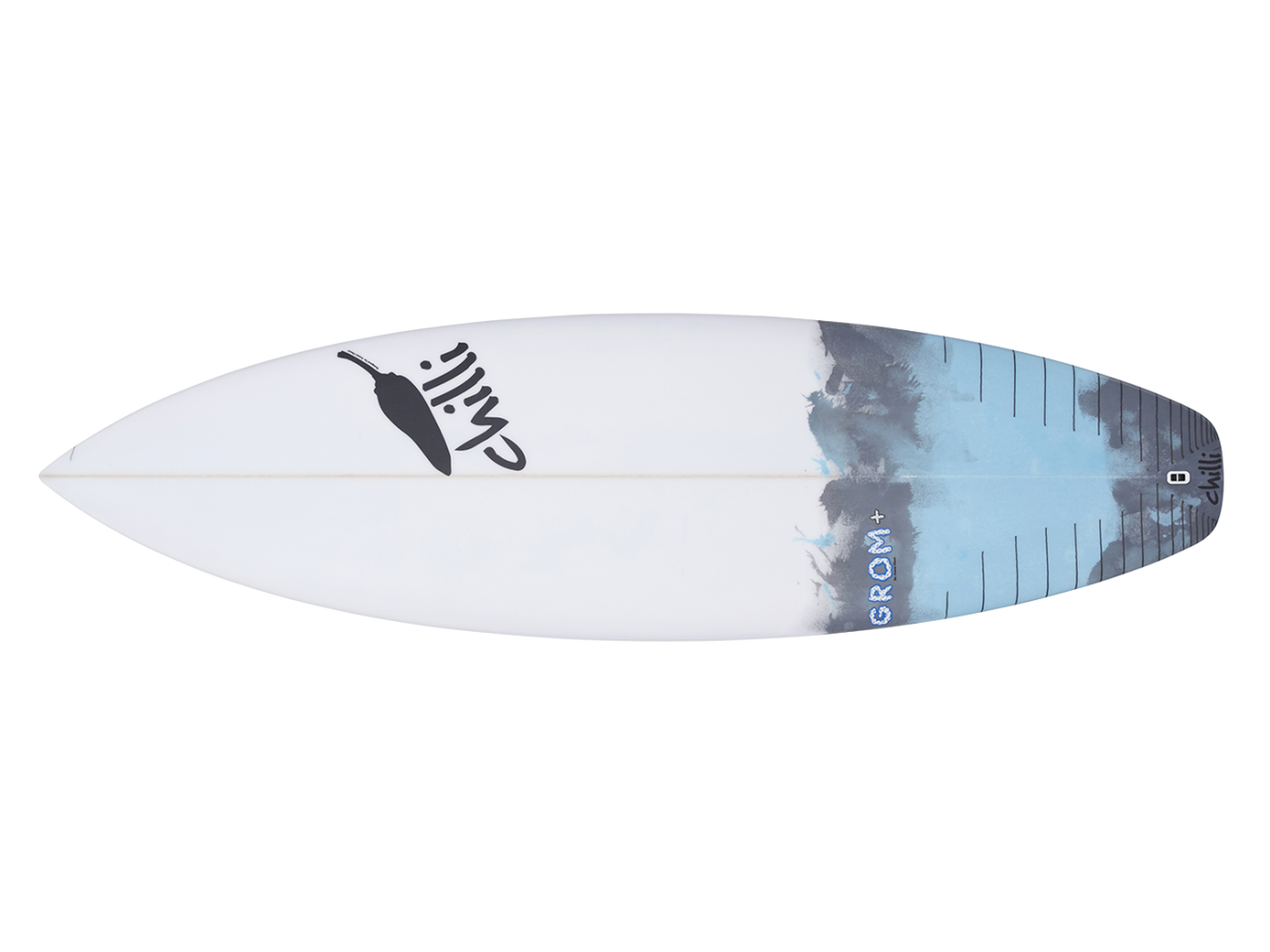 Chill is a big name in the surfboard business, and Grom Plus is a board that allows the young to perform on their top level. This is a kid's fiberglass surfboard originally designed for many young talents such as Kombi Klement (Every young surfer is familiar with), Matt King, and Laura Enever. FCS 2 thruster set-up, the outline of this board is built for the intermediate who'd like to a board that works well in 1-4 foot waves.
The boards start as short as 4'10 (@15.7L) up to 5'8″ (@23.5L liters), there are ten different sizes together.
4'10" x 17 3/4″ x 1 3/4″ @15.7L – Great for intermediate surfers weighing just 50lbs, and it rides on top-level under 80lbs surfer.
UP TO
5'8″ x 18 1/2″ x 2 3/16″ @23.5L – Great for intermediate surfers from 100lbs to advanced surfers weighing 140lbs
Available at – ChilliSurfboards.com
---
Grande Juguete – 36″
Great for total beginners, first-timers, and small children.
This is not truly a surfboard, but more of a funboard for very little kids to get the idea of riding the waves while proning on the board. It's great for parents who could assist the kids and push them to their very first small waves.
Ideal soft surfboard for toddlers!
---
Where is the best place to buy kids' surfboards?
Amazon and CatchSurf and evo.com are the best places to buy surfboards for kids.
Kids Surfboards Size Chart?
Check out our Surfboard Volume Calculator page, you'll see the size chart in the middle. If you are looking to buy a second-hand surfboard for kids – you can also use the volume calculator to see if you are going after the right board!
---
FAQ
What are kids and beginner surfers both
afraid of

?

Surfing might seem fun and safe sport around that liquid water, but there are some things you shouldn't forget. For example, many beginners are not confident in being in the surf with a board that is too large to handle. A loose surfboard is considered a watercraft, and it can be quite dangerous when it's loose in the breaking waves.
What
size surfboard

to choose for my kid?

When choosing a surfboard for kids – there are not too many restrictions. As you can see the volume and the recommendation are down below. If not, go check out our Surfboard Volume guide.
Do I need
wax

for the surfboard?

You only need to wax fiberglass or an epoxy surfboard. Soft-top surfboards don't require any wax.
---
Read next