It is 2021, and the inflatable paddleboard industry has successfully passed its first trial and error phase.
The good news is, that the paddleboard companies are working hard to provide the best value boards to consumers, and we, the customers – are given a wide variety of options to choose from. The only thing that makes it hard on which paddleboard to choose – is the excessive variety of different boards.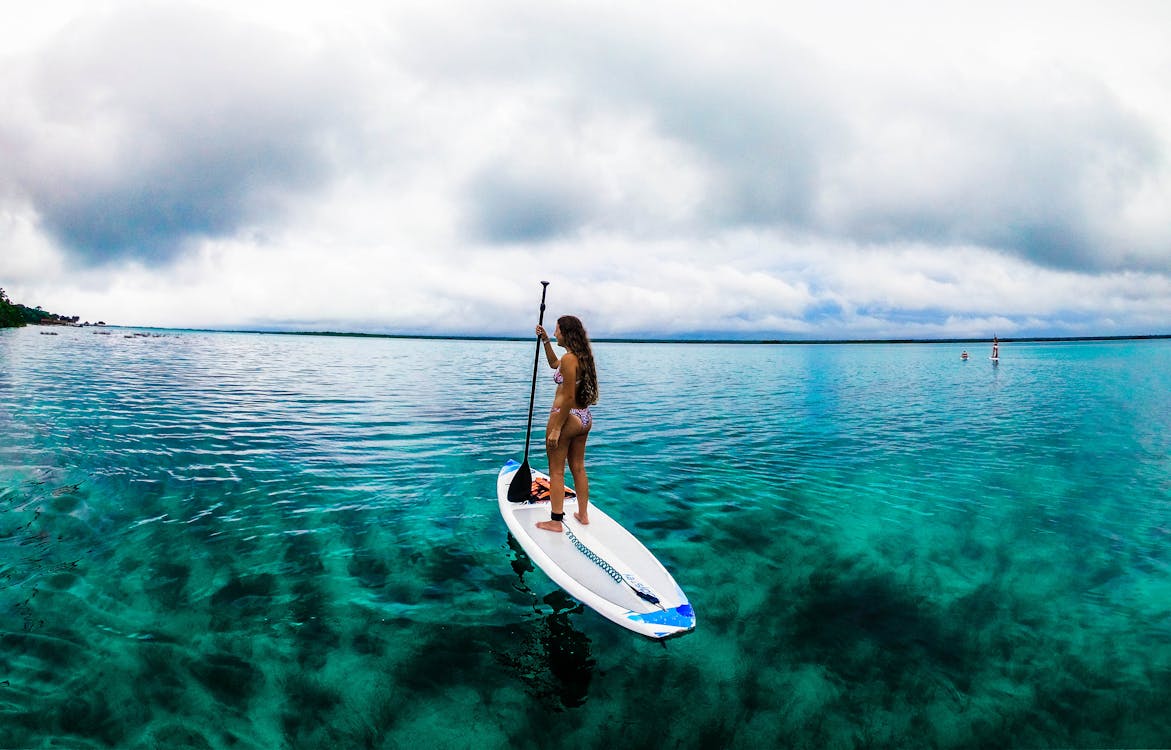 A Complete SUP Bundle Includes:
Inflatable

paddleboard

Paddle

– Adjustable, generally 3-piece

Hand pump

–  Generally, with a pressure gauge

Carry bag

– To store all the belongings

Repair kit

/

Valve wrench

A coil leash
✓
In this article, I'll be reviewing a bunch of paddleboards with the best ratings and value online!
---
Table of Contents
+ ELECTRIC PUMPS
---
Best Inflatable Paddle Boards
Under $300
Listed in no particular order!
What is the least amount of money to pay for an inflatable stand-up paddleboard, and what to expect?
Considering the fact that you are basically paying for a chunk of air-tight PVC plastic, a canvas bag and a stick made of plastic – 300 dollars sounds about enough, right? After all, cheap paddle boards are built for one thing only – and it's obviously for stand-up paddleboarding. You can go through some of the feedback to see what experience SUP owners have had – since all of the paddleboard reviews have good ratings!
🏄
Check out the latest and greatest of budget iSUP's
---
1

. XYLOVE CO

Best inflatable paddleboard for surfing!
This iSUP bundle has got everything to get you on the water at a reasonable price tag. XYLOVE claims that their boards share the same value as most other boards on the more expensive spectrum. A sharp nose and shallow tail make it a great iSUP for surfing some smaller whitewater waves as well!
The 33″ width is quite convenient to use as a Yoga Paddle Board.
SIZES
11′ x 33″ x 6″
Max Capacity: 350 lbs
INCLUDES
Inflatable paddleboard

Collapsible aluminum paddle
Safety leash
Hand pump
Upgraded backpack
FEATURES
Highest quality military-grade materials

Durable & lightweight
Non-slip deck
Carry handle in the middle
Removable fin
---
Best Inflatable Paddle Boards Under
$400
This is the most popular range where people buy their first paddleboard. 400 dollars for an inflatable SUP is right about enough to get an all-rounder board – whether you are a beginner or a seasoned paddler. Under 400 boards are entry/mid inflatable boards when it comes to the world of beginner's inflatable SUP's.
As you can see by the sheer number of reviews and ratings, this is the most popular price range to get an inflatable SUP online!
Also featured on: Best iSUP's Under $400
---
Bestseller!
2

. SereneLife
SereneLife iSup has the best value under the 400-dollar range. It's got a whole bunch of positive feedback on Amazon which is quite hard to beat! It has been by far the best inflatable paddleboard in 2019, and will most likely be also in 2020 and 2021.
SIZES
– Thunder Wave: 10' x 30" x 6″
– Free Flow: 10'5 x 30″ x 6″
– Rising Flow: 10'6 x 32″ x 6″
Weight: 19.6lbs / 9kg
Max Capacity: 275lbs / 125kg
INCLUDES
PVC inflatable paddleboard
3 bottom fins
Coiled ankle cuff safety leash
Foldable paddle
Valve wrench
Manual air pump
Patch repair accessory kit
Storage bag!
FEATURES
4x D rings and a bungee cord for storage
5x D rings on the bottom part of the deck
Carry handle
Removable fins
---
Best inflatable paddle board in 2021!
3

. ROC
With tens of thousands of boards sold across the world, you can trust ROC as the leader in quality and fun! This USA family-owned company has been the favorite for thousands of people by their awesome product!!
SIZE
10' x 32" x 6"
Weight: 17.5 pounds—that's 20% lighter than competitors'
Recommended: 15 PSI
Max recommended weight: 300 lbs
Inflation time: 5 mins
INCLUDES
Inflatable paddleboard
Adjustable paddle
Carry bag
Coil leash
Hand pump
Fins
Waterproof bag
FEATURES
Made of the highest quality military grade materials

Durable lightweight board on the market, using the same materials as boards costing $699.

The extra-wide design creates an incredible all-around board for people of all skill level

Our boards are an industry-leading weight of only

1-year manufacturer's warranty at no additional cost.
---
4

. Runway – Kohala
Number one in this list in no particular order, but the Kohala paddle board is something you'd want to come across when looking for a cheap iSUP. The length, width, and thickness of this board is something that's best for beginners and experienced paddleboarders, or why not go out with your kids or pets – this board can handle a ton. Sure, only when a ton is 350lbs in this context. There's quite a good feedback with plenty of reviews on it to no consider it as an awesome deal.
SIZES
11′ x 36″ x 6″
25 lbs
Max weight capacity: 352lbs (160kg)
INCLUDES
Paddleboard

Backpack

Foot leash

High-pressure pump

Three fins

Paddle

Repair accessories kit

Instruction
FEATURES
Made of high-quality PVC material, lightweight and high-intensity

Non-slip deck with a unique pattern
---
5

. Bote Flow Aero
MSRP $399 REI
This 8-feet kids paddleboard is designed for the young weighing up to 100lbs. With a planing hull and a weight of 17 pounds, it is a great first-time paddle board for kids to explore the world of paddleboarding.
REI
---
Best Inflatable Paddle Boards Under

$700
This is where the mid-range paddleboards come around. Here you can choose between different types and performance boards.
---
6

. Stand on Liquid
MSRP $699 Stand On Liquid
The Caspian Air is considered as a premium deal in the game. Comparing the 700-dollar paddle board to 3-400 dollar boards is obviously the build quality which makes a huge difference in long term use. As the board will be inflated and deflated for a numerous of times, it is obviosuly reasonable to invest more if you would want the product to last longer.
SIZE
 11′ x 32″ x 6″
Volume: 220L
Board weight: 22 pounds
The whole package: 30lbs
Max pressure: 20 PSI
Weight capacity: 320lbs
Inflation time: Less than 5 minutes
INCLUDES
Wheeled travel backpack
Triple-action dual-chambered hand pump
3-piece fiberglass adjustable paddle
2L Dry Bag
Coil ankle leash
Patch kit
8″ removable fin
1- year warranty
FEATURES
Multi-layer fusion lamination technology
Universal Standard fin box allows you to easily interchange with different fin styles
Soft croc-skin textured EVA foam deck pad
Two-built in side fins
Traction pad made of soft EVA foam
Four-point D rings for the bungee cord
Stand on Liquid
---
Best Under
$1000

Paddle Boards

In this section, you are going to explore quite noticeable upgrades in terms of materials, stitches, extras, and the overall increase in quality & technologies.
---
7

. Boardworks
MSRP $849 REI
SHUBU Solr – A high-quality board with the size you can't go wrong with! Rei's inflatable paddle boards and most of the other gear can be trusted for good!
SIZE: 10'6″ x 32″ x 6″
Volume: 240L
Weight Capacity 230lbs
Packed Dimensions 36 x 17 x 7 inches
Weight: 19 pounds
INCLUDES
Shuru paddleboard
3-piece adjustable fiberglass paddle
Pump
Removable 9″ fin
Patch kit
Carry bag
FEATURES
Neoprene carry-handles in the middle, on the nose and tail
High-density drop-stitch welded to PVC tarpaulin
DF high-density drop-stitch core
Internal fibers coated in liquid PVC with PVC tarpaulin top/bottom layers, and specialized sidewall material
Dual Fusion laminate construction makes the layers more durable and resilient, saves weight, and reduces the use of toxic adhesives
4 x tie-downs and a bungee cord on the nose
Comfortable non-slip deck pad
REI
---
8

. Naish 2020 ONE
MSRP $989 StandOnLiquid
Another lightweight iSUP for going fast by a brand that specializes in paddle-sports. A Racing inflatable SUP
SIZE
 12'6″ x 30″ x 6″
Max capacity: 230lbs/104kg
Recommended pressure: Up to 20PSI
INCLUDES
Slide-in fin
Dual flow pump
FEATURES
X-weave drop-stitch construction for durability on high pressure
Wide Single Stringer
Double Layer Rails
NISCO numbered pad
Stand on Liquid
---
9

.

Connelly
Tahoe – Larger than your average paddleboard which is great for heavier users, or going out with two people.
SIZE
 11′ 6″ 33.0″
Weight of the board: 23.4 lbs
Volume: 330l
Weight capacity: 300 lbs.
INCLUDES
Connely paddleboard
3 piece adjustable carbon paddle
Carrying bag
High-pressure 2-stage pump w/gauge
Patch & repair kit
Coil leash
One removable 9″ center fin
FEATURES
Deck cleats with bungee cord storage
2 piece soft sanded EVA pad
6" dual-layer high-pressure drop-stitch construction
Fusion wrapped rails for extra rigidity
Fixed side fins
---

101 & FAQ
iSUP = inflatable Stand Up Paddleboard
What is

an inflatable paddleboard?

Best use: paddling, yoga, cruising, exploring

Inflatable paddleboards are one of the cheapest and most convenient ways to get on the water and simply enjoy the peaceful nature around you. You don't need a fancy boat or a rigid kayak, instead – paddleboards offer a ton of variations to explore the sea life around you. When it comes to inflatable SUP's – there's hardly anything else that's so convenient to transport.

When deflated, iSUP's can be easily stored in any car, compared to rigid SUP's where you definitely need roof racks and a paddleboard carrier.
You don't have to have a special storing and hauling extras to make it happen!
What
PSI

– Pressure to use?

Each board has its own recommendations so make sure to check the owner's manual. Generally ranging from 15-20 PSI. The board has to be nearly rock hard and not have any wrinkles.
How do I
choose

an inflatable paddleboard?

The most average inflatable paddleboard is around 10'6″ in length, 30″ wide and 6″ thick with a maximum load capacity around 240lbs +. When you don't have too much sporting background and you tend to be a "slow learner" – wider than 30″ will be your best bet to have an easier transition into paddleboarding.

SUP Size Range:
Short – Under 10′
Average size – 10-12′
Long – 12-14′
What is the
best

inflatable paddleboard
Paddleboards with the best feedback on AMAZON: ROC, SereneLife
Best inflatable paddle board company: Kiola, StandonLiquid, ROC, Serenelife, etc.
What is the
difference between

the inflatable paddle boards?
Dimensions

– Generally the length and width of the board vary – which creates a different feel to the board

Materials

– More expensive iSUP's are made using better technologies and materials – making them more durable and lighter
Single

or

Triple fin

setup?

3 fins ( x 2 side fins) are for extra stability and tracking the board where needed

Store your board out of direct sunlight with the deck pad facing down. Sunlight over time will begin to slightly fade.
▪ Please pay attention to the pressure when using an electric pump to inflate; Pressure Measurement Principle: Only when the pressure reaches a certain level will the pressure level be detected and the pointer will move/rotate, normally at 5 PSI.
▪ Operating instructions of the pump: the side marked with "OUT" is to inflate, the other side marked with "IN" is to deflate, the air will release quickly.
Are Inflatable paddle boards
any good

after all?

ISUP's are not a new thing anymore, and when inflated to recommended pressure – there is very little difference between a rigid SUP and ISUP to a recreational user.
Why get a
iSUP instead of a RIGID

paddleboard?
Cheaper
Convenient to transport
Don't take much room at home
Why get a RIGID SUP instead of an inflatable one? Rigid SUP's are more durable, stable and they have a different "feel". Rigid paddle boards are also categorized as a watercraft, so you have to be careful around other beachgoers/swimmers!
How long do

inflatable paddle boards last?

If taken proper care of – paddle boards can hold up for quite a long time which might surprise an average/first time buyer. If you maintain your board properly, it can last for hundreds of hours easily. Try to avoid direct UV-rays for extended amounts of time, and rinse it with clean water after using it in salt-water.

Do iSUP's lose air? Over long periods of time – yes. After all, they are designed to hold 200+lbs weight on the water for hours – so if you notice deflating in that period of time – you should check for punctures.
Does the
paddle float

?

Some paddleboard companies reviewed here claim their paddle to float for a few minutes. It's best to test it out on shallow water to be sure!
How do
check for punctures

?
Inflate the board
Mix dishwasher/soap with water
Spray the board and look for bubbles coming up
How to
repair

an inflatable SUP?

Just like repairing a bicycle tube
Inflate the board
Locate the puncture
Clean the area – wipe it dry
Apply glue – patch it
Let it cure for a few hours
Can I keep my paddleboard
inflated when not in use

?

Yes, but it should be placed away from direct sunlight, and some pressure should be delated to so it wouldn't be rock-hard.
Pets

and inflatable paddleboards

When paddling in flat waters – it's an awesome idea to bring pets with you. Especially dogs who are more into the active lifestyle and into swimming.
---
Best Inflatable Paddle Board Electric Pumps & Adapters
To speed up the process and skip the 10-minute warm-up, check out these electric pumps.
Electric pumps come handy when you want to go camping and pump the mattress, inflatable fishing boat etc!
---
---
OutdoorMaster 20PSI High-Pressure SUP Air Pump The Shark – Check Price at Amazon.com
---
Safety
M

ake sure that your paddleboard is fully inflated
It should be nearly rock hard and when standing on the board in the water it should not bend
Your paddleboard will flex with your weight, but it should not bend to the point of creating a crease
Inflatable SUPs make awesome starter boards or perfect "second" boards for rigid board owners who are on-the-go
Inflatable paddleboard on roof racks?
It's a NO, as paddleboards don't like to be tied town and wrinkled when inflated.
Should I wear a life vest?
Paddle-boarders who can't swim should carry a life vest with them.
Avoid paddling on shallow waters!
Sharp rocks and dead branches underwater can end your awesome day at the water very quickly. Plan carefully your upcoming route to prevent any dangers that can puncture your ISUP
Do Inflatable paddle boards puncture easily?
Depending on the sharpness of the object, speed, and shallowness of the item – this is still considered one of the biggest downsides to inflatable boards.
Does paddle boarding hurt your back?
With proper paddling technique and using the paddle with suitable length will not hurt your back unless you have a previous/ongoing injury.
Paddleboarding is very beneficial to your inner/core muscles. When standing on a board, your body is always leveling and many muscle-groups get in tone.
---
RELATED
Best Beater Boards – Cheap small surfboards to have fun with
Best Inflatable SUP's Under $400
Best Inflatable Kayaks in 2021
Best Surf Wetsuits – A complete overview of the best suits available