One of the most versatile surfboard types around is the hybrid surfboard. Whether you are a beginner, intermediate, surf once a week or once a month – these boards can tackle a wide variety of conditions. We can't agree on the fact that a hybrid is no good in both sides of surfing as you can often use one in below or above average waves that it is designed for.
The best part about a hybrid surfboard is that there are a lot of variations to choose from – tail & nose shape, all available fin set-ups, etc.
Reasons to get a hybrid surfboard:
Great for various conditions.
Perfect all-rounder.
More float.
Many features to choose from – tail, nose, and overall board shape.
Easy paddling due to increased volume.
Can surf both big and small waves.
Downsides
Difficult to duck dive.
Not as maneuverable on hollow waves.
A hybrid surfboard is characterized by:
Flatter bottom curvature for early take-offs.
Above-average in size.
Swallow tail.
What size hybrid surfboard to choose?
The average size for a hybrid surfboard is roughly around 40L to 50L in volume and 6'0," to 7'0″ in length. To choose the right size, a hybrid surfboard should generally be at least a foot above your height. Mostly beginner and intermediate surfers ride a hybrid, and if you are not sure about the volume – pick by the "BEGINNER" tab.
---
Epoxy or Fiberglass?
Epoxy boards

– Light, fast, durable, won't damage as easily.
As a downside – EP boards are not as stable in messy or heavy conditions.

Fiberglass surfboards

– Better stability and hold in windy/messy conditions. Heavier, thus having a preferred 'feel' to the ride.
Downsides – More fragile therefore needs extra care.
Read more – Surfboard Materials
---
Mid-length – Generally ranging from 7′ to 9′ in length, best for mushy & fat conditions. Easy paddling & early take-offs.
Mini-mal – A smaller version of longboards – round shape all the way through. More volume and often preferred by female or beginner surfers.
Funboards – A mixture of various different types of boards that make up a great all-rounder board. Generally more round in shape.
---
Single, Twin, Thruster, Quad, or 5-fin hybrid?
Single fin –

Uncommon

among hybrid surfboards
Twin fin – Original Fish surfboard style – snappy yet light characteristics on smaller boards.

Uncommon

among EP or PU hybrids, more seen on soft-top hybrids.
Three fin – A.k.a thruster – the most used set on a funboard, hybrid, and shortboard. A traditional choice.
Quad – Super stable which allows a better cruise over carving.
Five fin – Performance set-up,

uncommon

on a hybrid board.
---
1

. Solid Surf Co – Pescador

Super fish hybrid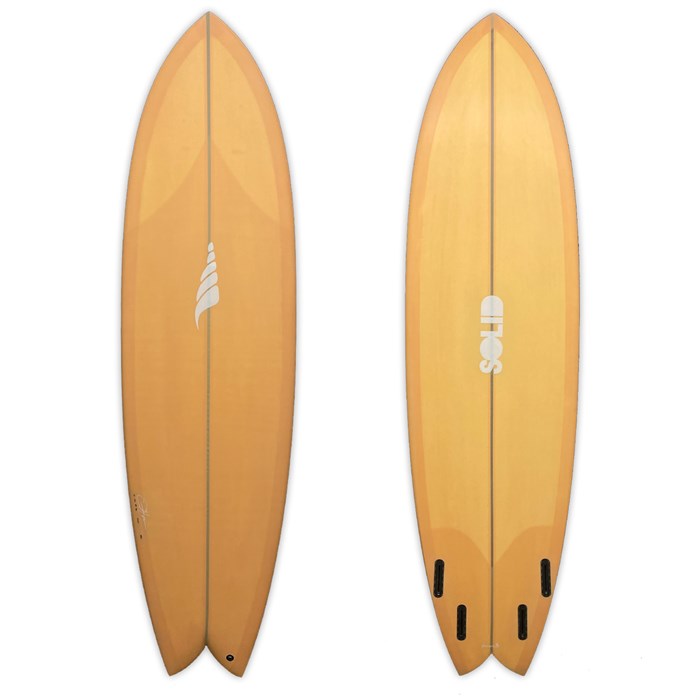 MSRP: $825
Quad-fin with a proper fish-tail – the Pescador can't get any better than an ideal hybrid surfboard. To be more exact – it is basically a super fish which is more of a hybrid than a retro fish (5'6″ is average). Designed to ride in a wide variety of conditions – there isn't anything we would add or remove about it, especially among beginner surfers. For intermediate and advanced surfers – they'd probably want it a little shorter and made of PU (fiberglass) to have better stability in messy conditions.
The recycled build makes it an interesting choice among other traditional EPS or PU boards. Our favorite thing about the combination of quad fin, sharp nose, and a nice wide mid-section – there are so many different riding styles you can practice!
EPS with a wooden stringer.
Eco-friendly BIOflex construction.
Fast and super-durable EPS
Quad futures fins.
Made in USA.
Made of:
Basalt
Organic hemp
Recycled poly
Organic cotton
Steam-blown EPS
Plant-based resin
---
2

. NSP Elements – Fish
MSRP: $389
Comes in three different designs, or colors – the NSP Fish is yet another popular surfboard you can buy online. There are more similar boards by the NSP you should look into, as they do perform well for that kind of money. NSP in general has a large variety of different boards to choose from.
Swallow tail and a round, pulled-in nose offers two of the different worlds when it comes to riding styles.
Availability – NSPsurfboards.com
---
Sorry, there are currently not many surfboards available online
---
Read next
Which type of surfboard should I buy?
I created Nulltuul to share my experience, research and analysis with other surf enthusiasts out there. If I'm not surfing on my travels - I like to photograph waves, surfers, and the surf lifestyle in general.