Hybrid surfboards are the corner-stone of every surfer's quiver. The mixture of both worlds allows us to enjoy the widest variety of conditions, that's why hybrid surfboards have been among the best-selling on the market or ages.
Why get a hybrid surfboard:
Great for various conditions
Perfect one-for-all surfboard
Different mixtures of types to suit your needs
Characterized by:
Flatter bottom curvature for early take-offs
Easy paddling, plenty of volume
Round shape for a relaxed ride
What Size Hybrid Surfboard?
Refer to the volume recommendations down below!
---
Epoxy or Fiberglass?
Epoxy boards

– Light, fast, durable, more prone to dings & dents.

Fiberglass surfboards

– Better stability and hold in windy/messy conditions. Heavier, thus having a preferred 'feel' to the ride. Traditional surfboard material.
---
Different types of hybrid surfing boards:
Fish-tail hybrid – Inspired by Fish surfboards. Great for early take-offs and can handle sharper turns. Semi-performance.
Mid-length – Generally ranging from 7′ to 9′ in length, best for mushy & fat conditions. Easy paddling.
Funboards – Mixture of various different types of boards that make up a great all-rounder board. Generally more round in shape.
---
Single, twin, thruster, quad or 5fin hybrid?
Single fin -Longboard style, groovy riding
Twin fin – Original Fish surfboard style – snappy yet light characteristics on smaller boards
Three fin – Thruster, the most used setting on funboards, hybrids and shortboard. Traditional choice.
Quad – Super stable and allows to carve and cruise.
Five fin – Performance-driven, hardly seen on hybrid boards.
---
Best Hybrid Surfboards of 2020
---
Kona – Bella
MSRP $600 KonaSurfCo
You can tell that this board makes a groovy ride on most conditions by simply looking at it. The "Vee-tail" starts from the 2/3s of the board making it an ideal choice to beginner and intermediate surfers who are looking for a board that works well on slow and small waves. The round shape is something that makes it forgivable for inexperienced surfers as well. although you can carve nicely with this board
Easy paddling, plenty of volume
This can be a great choice for those who are into longboarding while needing a board to perform on a wider spectrum of conditions. The thruster set-up makes it quite stable and allows you to customize its performance to a fine degree. What's great about this deal is that it comes all-included, with a leash and a fin!
| Length | Width | Thickness | Volume |
| --- | --- | --- | --- |
| 7ft | 21.8in | 2.9in | 48.5L |
| 7ft 2in | 22in | 2.8in | 48.59L |
| 7ft 6in | 22.4in | 3.03in | 55.67L |
| 8ft | 22.85in | 3.06in | 61.14L |
As you can see, there's quite a gap in volume. I'd say beginner surfers below 180lb would be a great choice between the 7′ and 7'2″ while intermediate surfers can hold really use it as every board.
---
SALTY GYPSY – Mid Tide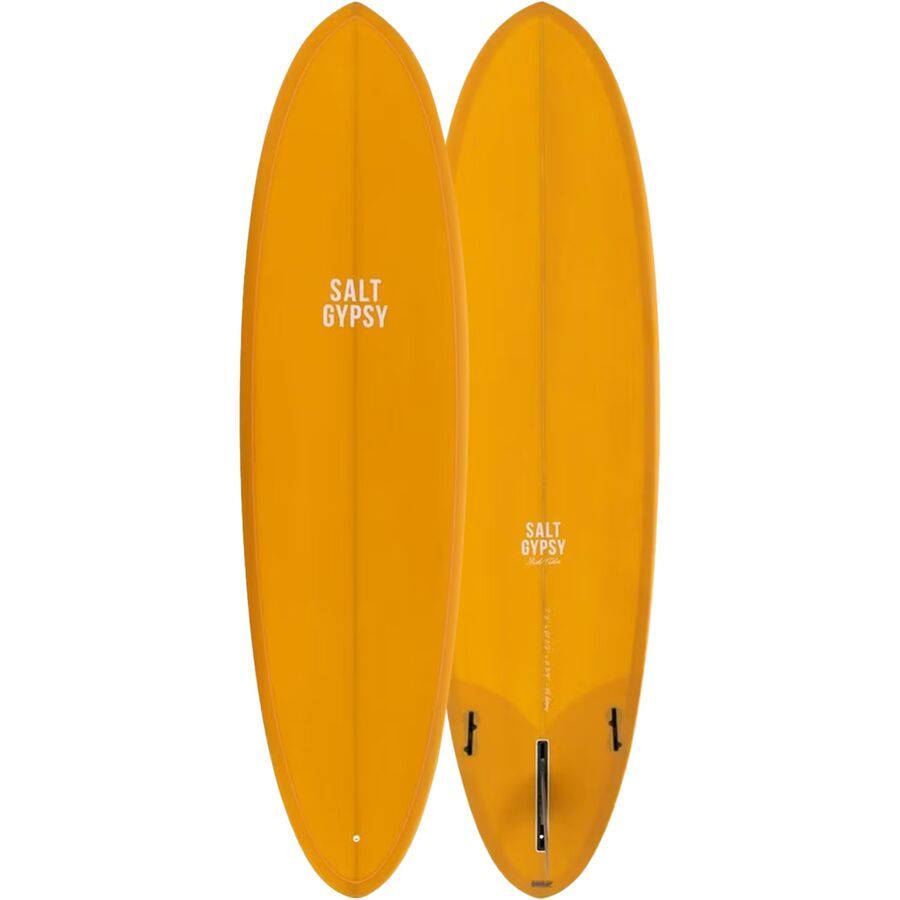 MSRP $625 – $665 BC
A mid-length cruiser that works on most conditions. With a pin tail, round nose, thruster set-up, and the size range (6'4″ to 7'4″) the Mid Tide is a surfboard designed for mainly female surfers. The board feels light and groovy, an ideal kick-back, chill-out for surfers who are not performance-orientated surfers. What's great that it comes with a 7″ single, and two FCS II performance fins.
Sizes
6'4″ x 21″ x 2 1/2 – @37L
6'8″ x 21.25″ x 2 5/8 – @ 41L
7′ x 21.5″ x 2 3/4 – @46L
7'4″ x 2 7/8 x 2 7/8 – @51L
---
KONA – Everyday
MSRP $600 KonaSurfCo
Another pearl by Kona, who keeps surprising by their super nice looking boards with a reasonable price tag. Especially when it comes with fins and a leash! For $600 there more than enough of a board for beginner to expert surfers. Look, if you are starting out – this is a super nice board to have on a quiver as there'll be days where you'd just like to take out that cruisy board and enjoy those more relaxed waves.
Midlength hybrid for mellower waves
Squash tail and mid-rocker make it a perfect tool for anyone who's into longboarding. There's plenty of features and technology in the board that gives enough confidence for surfers of all levels
Sizes: See the recommendations under the previous board size chart
7′
7'2
7'6
8′
---
Al Merrick – X Lite Pod Mod 5'10"
MSRP $520 Wnd'n'Wvs
This is a perfect hybrid for those who are looking for a relaxed everyday board with a twist of high-performance capabilities. This size of this board is generally chosen by taking 3-6″ six inches off your height for experienced surfers, and a little more for intermediate and beginner surfers.
Plenty of volume with high-performance capabilities
There's a wider tail for smaller waves and the classical single to double concave for the best carving experience. Great all-year board for the quiver!
---
Mod Fun 7'6″ TET-CS
MSRP $470 Wnd'n'Wvs
This is your typical hybrid for beginner surfers who are still 'learning the trade' and need a board that would allow them to catch plenty of waves. As it comes in one size only – it is better for bigger guys as it can hold up to 220lb surfer. But, it can be too much to handle for a total beginner weighing under 180 lb. Although this is a rather light board, there's still plenty of volume to work on super small waves, and paddle early for quite big waves when feeling confident.
Great for bigger surfers
Plenty of rocker and round design makes it a board you can't go wrong with. Great for beginners or for intermediate surfers who are looking board to go into a bit bigger and fatter waves where you can ride the wave 5-10 second before you'll notice shortboarders looking for their turn.
UD Carbon Strip on the base and deck for added strength while allowing the necessary torsional flex
Futures Fins Included
Length: 7'6″ Width: 21.5″ Thickness: 2 7/8 Volume: 52.4L
Suggested Maximum Rider Weight: 220lbs
---
Ron Jon – 7′ 6″ Veneer Surfboard – 001
MSRP – $449 Ron Jon Surf Shop
This board looks more like something you'd hang on a wall, not go surfing with. Although this board is shaped for nothing else but fun, I'd still put it on a wall – it just looks so good. Recommended for surfers up to 200lbs – it can be your one-for-all board if you are Around 190-200lb and looking for a cruisy board for slower and fat waves.
Piece of art
Although there are some elements borrowed from performance longboards, such as the pulled-in nose and thruster set-up, it's still a hybrid that works on most conditions out there.
It will deliver in almost all types of surf and conditions. Down railed for speed and a pulled-in nose for easy take-offs on strong offshore days. Great for travel.
FCS II removable tri-fin system with a "Performer Starter" fin set
7'6″ x 22-11/16″ x 2-15/16″
---
Ron Jon – 7′ Planet 9 Wide
MSRP $399 Ron Jon Surf Shop
This is a board that has to work on most conditions, if it doesn't – there must be something going on. Shortboard inspired midlength funboard for that cheap, and new, wow. It's got a funky design, again, looks like something you'd hang on a wall but hey – it can be a great hybrid for an occasional surfer who is into sports and is looking to step up their game in the future.
Great for anyone under 200 lb, it's another hard-to-miss all-inclusive deal by Ron Jon that could be delivered to your door.
FCS II Thruster set-up with fins included
7′ x 22-1/4 x 2-3/4 @ 48L
Check Availability – Ron Jon Surf Shop
---
Lib Tech – Pickup Stick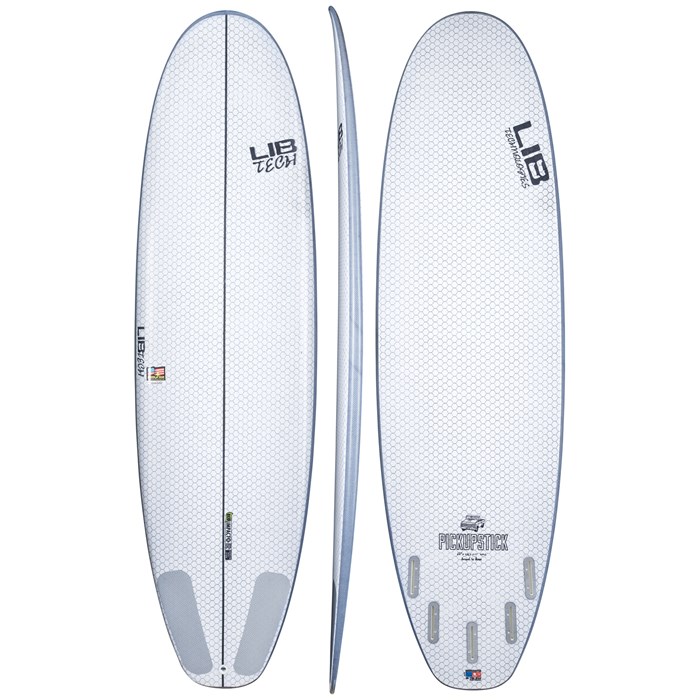 MSRP from $750 evo.com
Lib Tech is a snowboard brand that has also shown great dedication to surfing, especially through its elements of technology. It's got a 5-fin set-up, meaning that you can tune the performance up to a fine degree, and a pintail at a rather flat rocker – meaning you can paddle easy and early for those fat waves where you need that little bit of extra push.
Carbon composite stringer for a lively torsional flex
MBC – Magnesium Basalt Carbon Construction – Which blends the best characteristics of epoxy and magnesium with the carbon composite stringer give you the sum you'd really want to get hit within the water. It's a technological advancement compared to most other classical surfboards out there! It can ride fast and come up with a totally different style of riding. It should be pretty light and snappy with quite a durable construction!
---
Solid Surf Co – Pescador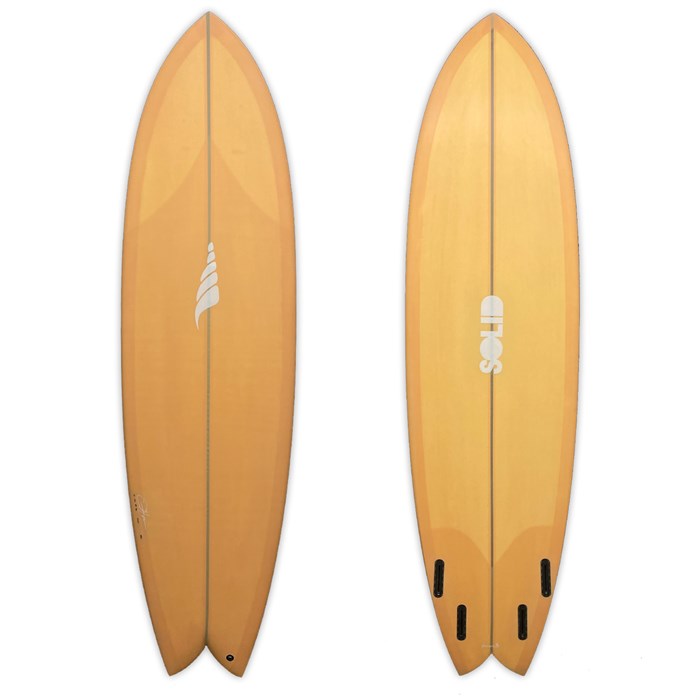 MSRP $750 evo.com
Considering the fact that the process of making an actual surfboard and wetsuit is actually really very unclean for the environment, this is a new-era approach to surfboards. The first quad-fin set-up surfboard in this list has exactly 50% of the world borrowed from longboards, and 50% from shortboards which means that the board works great with any level of surfer and any possible rideable condition out there.
Eco-friendly BIOflex Construction
Made of:
Basalt
Organic Hemp
Recycled Poly
Organic Cotton
Steam-Blown EPS
Plant-Based Resin
---
Solid Surf Co – EZ Street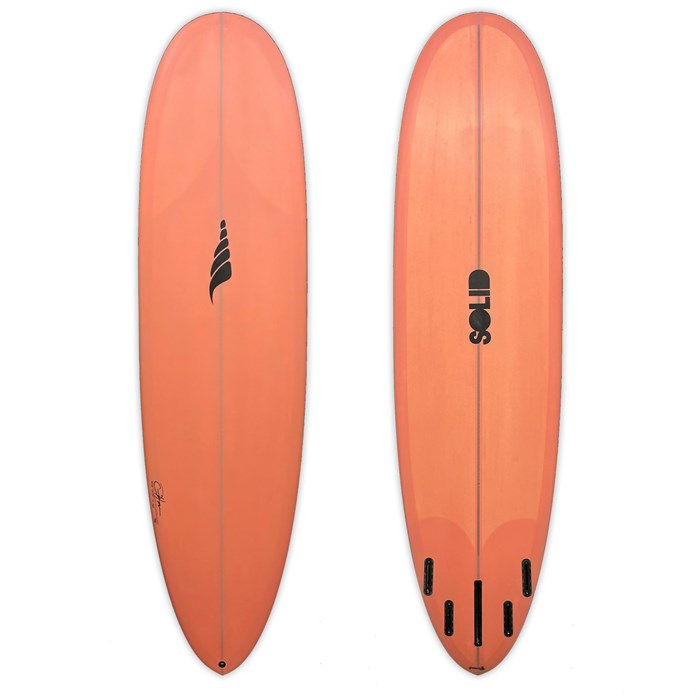 Another eco-friendly alternative to traditional surfboards – this time a longboard-focused surfboard with all the imaginable fun you can imagine. The board performs as nice as it looks on those high-tide fat waves where most shortboarders have given up.
7'6″ – Great all-rounder for under 180lb riders – female surfers
7'8″ – 180lb
7'10" – 190lb+ surfers
Choose either a single fin or a quad – there's plenty of customization to do regards performance. This is a great deal as even the packaging is 100% biodegradable.
---
NSP Elements – Fish
MSRP $389 NSP.com
Comes in three different designs, or colors – the NSP Fish is yet another popular surfboard you can buy online. There are more similar boards by the NSP you should look into, as they do perform well for that kind of money. NSP in general has a large variety of different boards to choose from.
Ideal for 1-6ft waves
Fishtail and a round pulled in nose offer two of the different worlds when it comes to riding styles.
---
Size Recommendation
↑
190lb surfer
Advanced = 30L (+/- 3L)
Intermediate  = 34L (+/- 5L)
Beginner = 52L (+/- 10L)
---
Related content: