In the past few years the inflatable industry has been literally inflating. Inflatable docks, paddle boards, kayaks – you name it, they offer a great alternative to what used to be unreal just 10 years ago.
Consumers didn't see the appeal of the first prototypes, but now we can see a ton of such great value products available for sale online. We don't know is it just the activity of paddling itself or is it the more affordable price tag that has made these products so appealing to many – but there's a large following to such activities.
Cheap inflatable paddle boards are one of the best options for those who want to get out on the water without sacrificing room in the car or at home.
You can easily toss the travel bag with paddles in the back of the car and head off, spend 10minutes inflating the board (which works as a warm-up) and off you go. Have a look at some of the best-rated SUPs available online down below.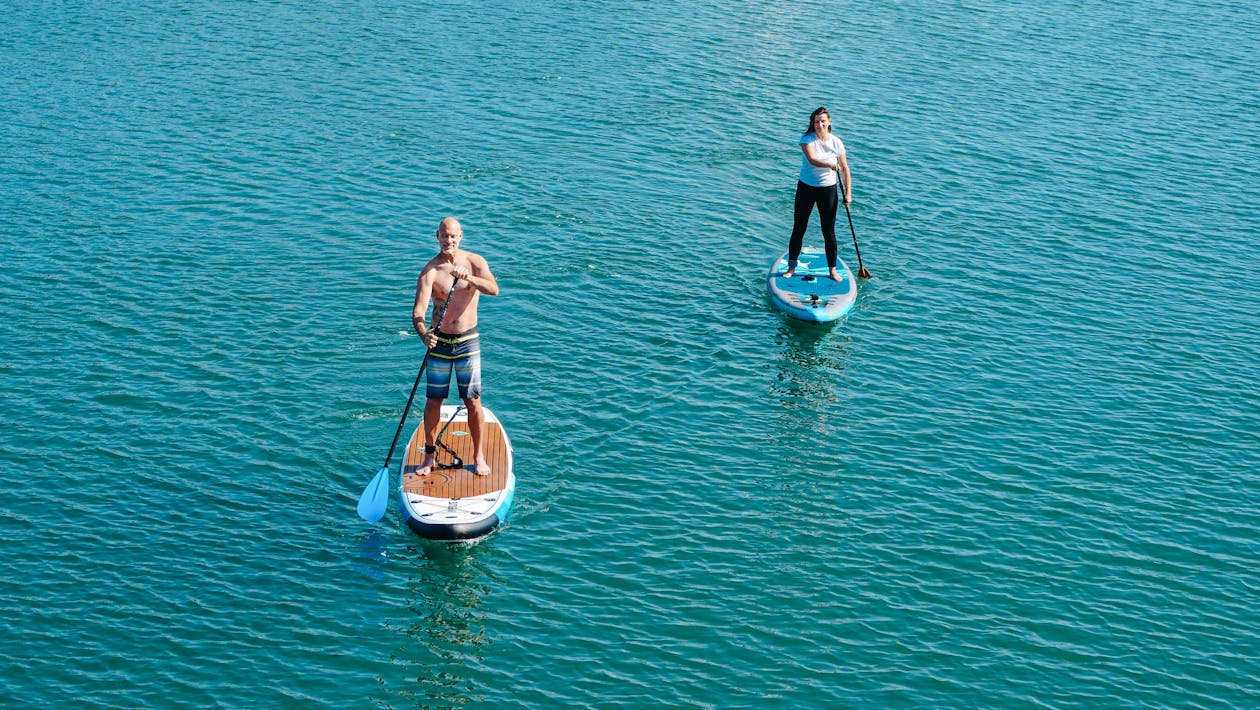 What to expect from a cheap inflatable paddle board?
What is considered cheap anyway?
On average, a good-quality inflatable paddle board set (board, pump, carry bag, etc) costs around $600 while the most popular price range is around $400. Down below we are going to feature a set of boards starting from $300 that have great feedback & rating ratio.
A cheap iSUP paddle board is designed to be inflated and paddled on the water regardless of its price tag, but mainly where these boards have lowered their price tag is from the quality of the paddle, and pump. The boards might not be as durable as well, but they can still be used for a long time if taken proper care of by not losing anything on the ride quality. After all – that's what they are designed for!
As long as you pick the right size board for you and inflate it to its recommended pressure – they are as good as their pricier counterparts.
What is the average stand-up paddle board size?
The average paddle board size is 10'6″ long, 33″ wide, and 6″ thick. Depending on your weight, height, gender, and riding preferences – you can either size up or down.
Average SUP size & load capacity
10'6″ x 32″ x 6″ – All-around, cruising
10'6″ x 34″ x 6″ – Yoga, fishing
11'6″ and over – Touring, Racing
Men & Grown-ups = 300lbs+
Women & Youth = 200-250lbs
Pressure & Inflation – How to check if it is got enough pressure?
Some cheaper pumps don't have the pressure gauge nor the recommended pressure marked so you can easily just press on the board and make sure it is fully inflated. It shouldn't wrinkle when pressed by hand since you are going to stand on it!
---
Best Cheap Paddle Boards of 2022
Listed by the no. of reviews & rating ratios
↓
1,500+ ratings
#1 SerenLife
#2 ROC
#3 Funwater
1,000+ ratings
#4 Aqua Plus
#5 Cooyes
#6 DRIFT
#7 Feather-A-Lite
↔
#1 SereneLife
13,000+ ratings – Score 4.6 / 5
---
Number one is this list is the SereneLife, a role model for other boards down below. It comes in the most popular size available in length, width, and thickness, and in many vibrant designs. Made of drop-stitch reinforced PVC, which has been the go-to choice for years due to its durability and lightweight, the board handles well and has a nice glide to it.
What many reviewers state is that after having been using one over 10 times, they simply can't seem to find any flaws to the paddling quality, some many users compared it to riding a solid board.
As most boards down below, the SereneLife SUP comes all equipped with everything you need. What makes it one of the best affordable paddleboards around is the wide variety of uses it is designed for. Although it is not as wide as 34″ like you'd expect a yoga board to be, it compensates for it through speed and maneuverability.
10'6 x 32″ x 6″
Board weight: 20lbs
Max inflation: 20PSI
Max capacity: 275lbs
Package includes:

board

,

pump

,

adjustable paddle

,

fins

,

hand-pump

,

leash
↔
ROC
Over 7,000 ratings! Score – 4.8 / 5
---
Also featured on our best inflatable paddle board under $400 review, the ROC is another best budget paddle board on the TOP 3. When compared to SereneLife, ROC is slightly shorter and wider, making it a more relaxed board for those who'd like to wander, do yoga, or simply stare at the glitter of the ocean.
Bring your dog or a kid with you, the 350 lbs capacity is enough to fit even two persons on it. Again, there's hardly anything customers weren't satisfied with – everything seems to work well together to get you on the water and enjoy the silence and beauty from the waterline.
10'6″ x 33″ x 6″ is a beginner-friendly size for everyone – men and women.
High-quality military-grade PVC
Board weight: 17.5lbs
10′ x 33″ x 6″
Max capacity – 350lbs
1-year manufacturer warranty
Includes –

board

,

pump

,

carry bag

,

adjustable paddle

,

waterproof bag

,

leg rope
↔
FunWater
Tiki
2,100+ ratings! Score – 4.6 /5
---
Going under the $300 limit might be something half of us have lost trust, but at nearly 2,000 happy customers, it's a proud yet cheap paddle board you can rely on.
Three fins and a sharp nose make it great to go through slightly choppier waters and why not try to paddle for those knee-high waves. There are three fins and a coil leash to help you catch some waves which a longboard surfer would go for. At $240, it's got a great bang for the buck sure.
As the name suggests, FunWater Tiki is designed to get you into stand-up paddleboarding, and maybe one day wander off for more expensive touring SUP. We have to warn you – paddleboarding is addictive, and this is one of the cheapest ways to get into it!
10'6″ x 33″ x 6″
Board weight: 17.6 lbs
Max capacity: 330lbs
Package includes:

board

,

pump

,

carry bag

,

adjustable paddle

,

waterproof bag

,

fins
↔
Aqua Plus
---
Here's probably as low as you can go on the cheap inflatable paddle board category and expect a solid experience.
The size of this board with coupled maximum load capacity is what makes it quite unique. It is longer than most boards in this list and the 33″ is quite uncommon but a great midway between 32″ and 34″ (Which actually make quite a difference). The longer the board – the more stable it is on faster speeds which means it is great to go for some longer routes or passages as well.
What's great about this deal is that the pump comes with a gauge to find the right pressure. Although at $200, we recommend taking it easy with the accessories and on the board.
11′ x 33″ x 6″
Board weight: 21 lbs
Max capacity: 350lbs
Package includes – board, pump, adjustable paddle, fins, leash, travel bag, waterproof bag
↔
Cooyes

Wave
Over 1,000 ratings – Score 4.4/5
---
The Cooyes Wave is a nice-looking board that fits right in the water. Sharp outlines back and forth mean that it cuts better through waves, therefore it's more suitable for touring rather than yoga.
A single fin and two side biters allow the board to keep a better line so might as well try to catch some waves with it. We'd give it the best blow-up paddleboard for surfing under the $250 title if there would be one!
10'6″ x 32″ x 6″
Max capacity – 330lbs
12-15PSI
Board weight: 19.5lbs
Package includes:

Everything
↔
DRIFT
1,000 ratings – Score 4.7/5
---
Slightly over the average range here is the drift paddle board which has also crossed the 1,000 rating line. Made out of military-grade PVC, the board comes in slightly above average size, yet a smaller load capacity.
We'd say it's great for female paddlers who need a board for fitness and why not for yoga. Drift paddleboards are quite popular and you can benefit of the improved quality of materials used on the whole set here. It is one of the best affordable inflatable paddle boards under the $500 range that has ranked a solid score of 4.7/5 which shows great value.
10'8″ x 33″ x 6″
Board weight: 19lbs
250lb max capacity
↔
Feather-A-Lite
1,100+ ratings | Score 4.5/5
---
Finally, here's the best inflatable paddle board for beginners or lighter paddlers. The size and outline of this board make it a great choice for relaxed activities on the water. What's great is that the pump is equipped with a pressure gauge, and the board has a 'forgiving' outline.
Available in a color scheme you simply can't go wrong with! Who said paddle boarding has to be expensive while you can get such a nice watercraft for the price of crossbars and board racks? Make sure to read some of the reviews to get a rough idea of what to expect.
10′ x 30″ x 6″
Max – 280lbs
12-15PSI
Includes – Everything
---
Safety & Precautions
It is not recommended to leave the inflated board out on the sun for extended periods of time
If its super hot and sunny outside, avoid inflating the board to the maximum pressure as the air inside of the board will swell a little anyway
Check the weather – Avoid going out when there are offshore winds or currents nearby
Let others know when and where are going to paddle if going alone
When paddling further away from the shore – make sure to leave some energy to paddle back to the shore in case winds start to blow out of the blue
Make sure to wear the leash in case you drop off the board – it can be difficult to swim to the board with a paddle
Some paddles don't float – so make sure to check that on shallow waters
When going in the water – make sure to walk into atleast knee-deep water to avoid collision with rocks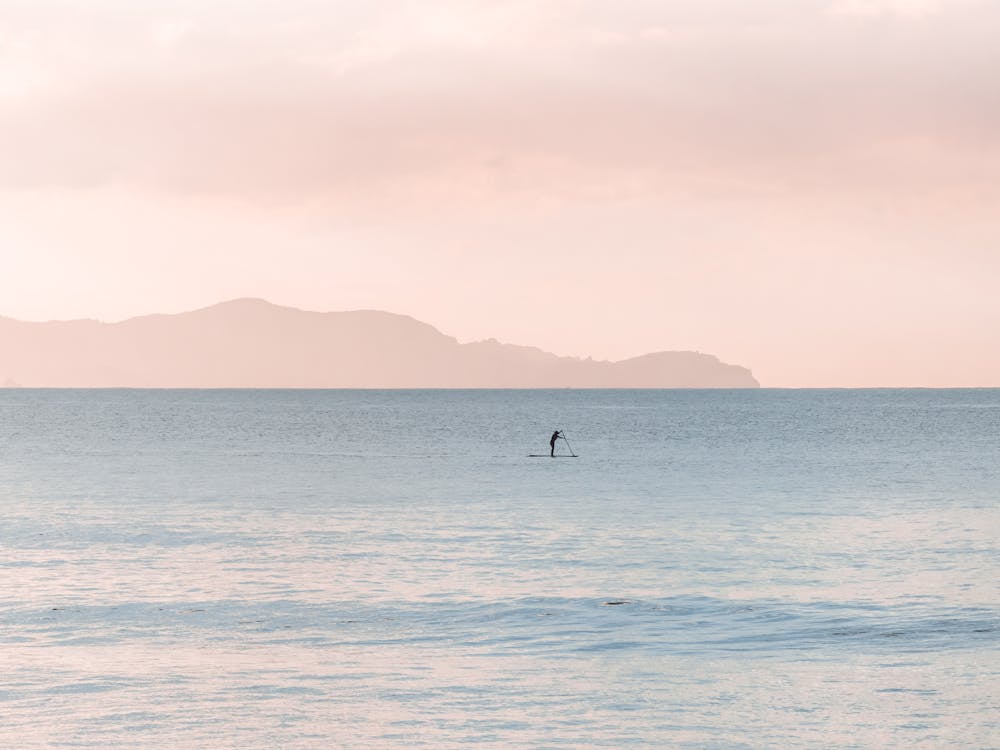 Are inflatable paddle boards good?
What's there not to like about a lightweight paddle board that costs 1/3 of a hard SUP without a paddle? As this article has proven – you can get a super cheap deal with literally tons of happy customers to back it up.
Inflatable paddle boards offer a great value alternative to rigid SUPs, especially for recreational users.
How much does a paddle board cost?
On average, cheap SUPs cost from as low as $200 to $500, while their mid-range counterparts are priced around $500-$700. An average rigid paddle board costs from $900 to $1,500 without the paddle.
---
Read next
13 Different Types of Paddle Boards
I created Nulltuul to share my experience, research and analysis with other surf enthusiasts out there. If I'm not surfing on my travels - I like to photograph waves, surfers, and the surf lifestyle in general.