Each year the summer has a tendency to appear all of a sudden without much notice about its arrival. Well, the good part about warm summer days is that it attracts a bunch of beginner surfers – the water is warm, and the waves aren't as hectic as they are during the winter months.
The goal of this article is to give the necessary knowledge to beginner surfers when choosing their very first surfboard. The good thing about soft-top surfboards is that they can be used for years later once you've progressed.
Surfboard recommendations for beginner surfers
7'0″ to 9'0″ in length
Volume over 60L
A soft-top surfboard that doesn't ding and hurt anybody as easily as a fiberglass or epoxy board would.
One that allows to surf the largest number of waves.
Plenty of volume to improve your balance and touch.
Why is a bigger surfboard better for beginners?
Although larger surfboards are more difficult to carry around – they offer the best balance on the wave.
Surf safety basics
Protect your skin from the sun.
Use zinc for the face, lip balm for lips, and sunscreen on the back of your legs, etc
Right of way.
Whoever is closest to the peak of the wave gets to ride the wave – respect others around you.
Do not surf on really shallow waters.
Running onshore will break your board or fins easily. Try catching waves on 3ft+ depths.
Keep distance from others.
Read our full guide – 7 Dangers to Surfing
Rips, bomber waves, sharks, etc
Or read more from – Surf Safety
Basic knowledge of how to stay safe when surfing.
---
5 Best Beginner Surfboards of 2022
1. Wavestorm 8'0″
2. Buell 8'0″ Softboard
3. Catch Surf Odysea 9'0″ Log
4. Catch Surf 7'0″ Log
5. NSP Protech Epoxy Funboard
---
1

.

Wavestorm 8′ Surfboard

The legendary beginner's board for a decade by now
Hands down one of the best longboard style foamboards for beginner surfers. Number one in this list for a reason – it has been one of the best-selling foamboards in the market for ages. It suits most riders, doesn't matter the age, weight, and sex – everybody can try out surfing on a Wavestorm. There's plenty of positive feedback to rely on this deal so take closer look.
Size – 8′ x 22 1/2″ x 3 1/4″ @86L
Weight – 11.5 lbs
Score – 4.6/5 out of 200+ ratings on Amazon.com

Comes with fins and a leash

One of the cheapest beginner surfboards
---
2

. Buell – 8'0 Softboard

Best beginners foam surfboard available at Jack's Surfboards
MSRP: $350
Jack's Surfboards
Available in 7'0″, 8'0″, and 9'0″ – these might be the best bang for the buck online. At nearly the length of a longboard, you can use these in small to medium waves with ease.
Buell is a known name in the surf business since 2009 and although they are more known by their surf wetsuits – you can count your hard-earned bucks on the brand. Since soft-top surfboards have become more popular during the invention of the beater board, the quality standards today are quite high.
Multi stringer in the middle
for added durability
Available in 4'10" / 5'6″ / 6'0″ / 7'0″ / 8'0″
As a downside
The board comes without a set of fins nor a leash. Although this is an extra $40 – there isn't any guarantee about the presence at Jack's Surfboards page.
Available at – JacksSurfboards.com
---
3

. Catch Surf – Odyssa 9'0″ Log

Great first surfboard for a heavy surfer (200lbs+)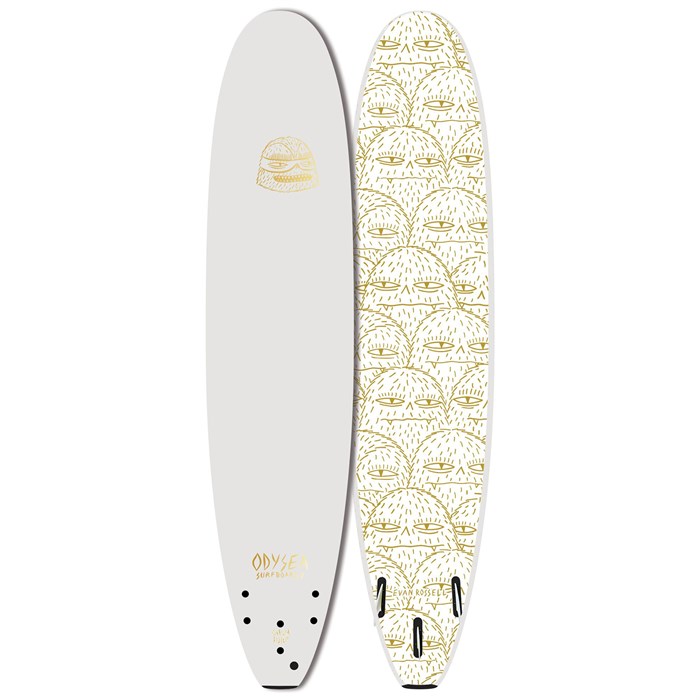 MSRP: $525
evo.com
The Odysea log is another perfect example of what good quality beginner's soft-top surfboard should be like. This board is more durable due to its stiff, dual-composite core, and the triple wood stringers in the middle.
The board comes with three fins and a leash plug. In the selection there's the 7'0″, 8'0 and 9'0″. For heavier surfers it is obviously the 9′, mid-weight surfers (around 180-200lbs) it is the 8′, and the 7′ is ideal for the youth or for lighter surfers! Check out for more colors and models in store!
Size – 9'0″ x 24″ x 3.5″
Volume – @98L
Bumper rail
Dual-composite core
Triple wooden stringer in the middle of the core
As a downside – there's no information if there's a leash included or not.
---
4

. Catch Surf – Log Series 7'0″

Good beginner board made by a well known foam-board brand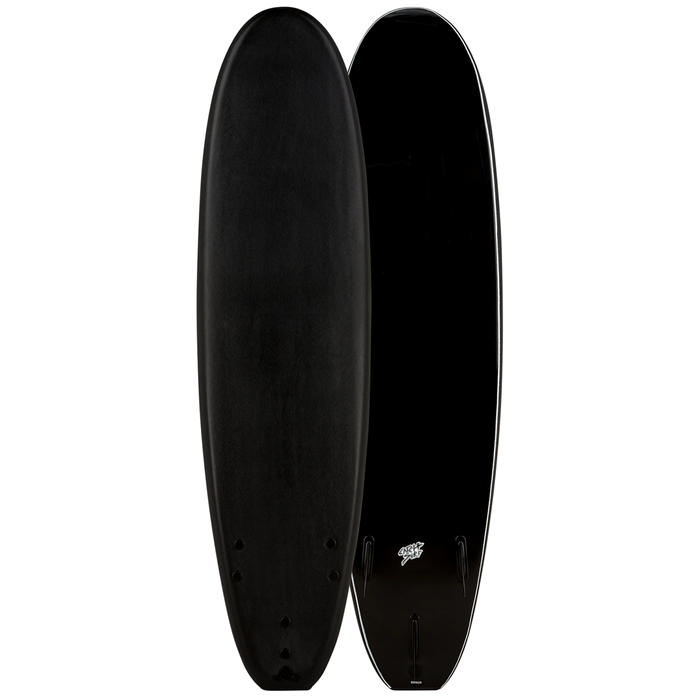 MSRP: $375
evo.com
Catch Surf is a popular surfboard brand that specializes in making beginner soft-top surfboards. The 7'0″ is slightly below the average in length but fits a wide variety of users – and can easily be used as a hybrid surfboard in below-average conditions. Best suited for lighter or slightly more advanced beginner surfers.
SIZE – 7'0″ x 23.0″ x 3.375″ (86 Liters)
INCLUDES – Three 4.5inch fins (Requires wax for grip)
Dual composite core
Available in black & white
3x stringers for added strength
---
5

. NSP – Protech Epoxy Funboard

The best option for advanced beginner
MSRP: $525 NSP
This is a perfect board for somebody who has already learned the very basics of surfing and planning to take surfing to the next level. The Epoxy Protech Funboard is a perfect all-rounder that works well in small waves and medium waves (Up to 6ft).
Due to its round shape, it is quite forgiving to beginner mistakes. The Funboard is a better choice over the hybrid fish and a longboard since it is not too big or not too small for a beginner who is learning the basics. Not to forget the fact that this is an epoxy surfboard that has a better glide and a stronger build.
SIZE 7'2″ x 21 1/2″ x 2 3/4″ @ 49L
7'6″ x 21 3/4″ x 2 7/8″ @ 54.4L
COLORS: Light Blue / Cyan
INCLUDES: 3 Fin FCS Set Up (Includes 3 x M7 Nylon Fins)
NSP – New Surf Project has been making good quality boards at a reasonable price since 2001. NSP surfboards are also widely used by surf schools all around the world. NSP surfboards use a ton of different technologies, so innovation in your surfboard will be guaranteed!
---
Didnt' quite find what you were looking for?
---
FAQ
What is the best surfboard for beginners?
The best surfboard type for a beginner is a soft-top surfboard that's 7′ to 9′ long. Beginner surfboard size depends on the weight of the rider:
Under 160lb – 7′
170-190lb – 8′
200lb and over – 9′
What are the best surfboard brands for beginners?
Catch Surf
NSP
Wave Bandit
Rock It
Kona Surf Co
What are the beginner surfboards made of?
Most surfboards have a foam core, but the main difference is that EP (Epoxy) and PU (Fiberglass) surfboards have a fiberglass cloth between the outer glassing. This is what makes the EP and PU boards so rigid. All fiberglass surfboards have a wooden stringer in the middle for added durability and flex, while only a few EP boards have that.
Why are beginner surfer surfboards made of soft foam?
Many beginners are not aware of what the 8feet + watercraft is capable of in the surf. A soft-top surfboard is convenient to carry around as it won't ding as easily, it is also a safer alternative to epoxy and fiberglass boards.
Which board not to choose as a beginner surfer?
Many beginners starting out surfing are eager to choose a surfboard that's too small for their skill and knowledge. The easiest way to improve your surfing and advance in surfing is to catch more waves. The larger the board – the easier it is to catch one.
Is a 6′ surfboard good for beginners?
We wouldn't recommend anything below 7′ to a beginner surfer weighing less than 180lbs. The act of standing up on a 6′ surfboard takes a lot of practice and this might slow down the process. Once you go for a 7′ to 8′ – you can use it on small and messy days when you have already bought a shorter board.
Beginner surfboard length & weight ratio recommendations
140-160lbs – Best beginner surfboard size is 7′
160-180lbs – Best beginner surfboard size is 8′
180-200lbs – Best beginner surfboard size is 9′
---
What SIZE beginner surfboard is best for me?
Best Beginners surfboard size is from 7′ to 9′ in length
Choosing a surfboard for a beginner surfer is more about the weight, than the length ratio. Most of the time, beginner surfer surfboards vary from 8-12 feet in length
7'-8' surfboard for beginner surfers 140 pounds or less
8'-9' surfboard for beginner surfers 140 – 180 pounds
9'-10' surfboard for beginner surfers weighing over 180 pounds
What to consider when choosing a beginner surfboard?
If you are a slow learner or going to learn surfing on your own: Get a foam board.
If you have already learned the basics with your friend or at a surf camp, and consider surfing – we recommend getting an epoxy/fiberglass funboard. Why? Because a funboard in a decent size can be used on small days as a perfect all-rounder, while as an intermediate surfer – you will "grow out" out of the large soft foam board rather quickly. Another reason to get a foam-board is that you can use it later to invite your friends to surf as well.
---
How to take care of your surfboard?
If you want to get the most out of your gear, then proper gear maintenance habits are a must. Make sure you rinse the board after every session and place the surfboard out of the sun.
Also, rinsing your wetsuit will keep your gear healthy for a long time!
Where is the best selection of beginner surfboard for sale?
Wavebandit.com
Catchsurf.com
Amazon.com
evo.com
---
Read next
Best Inflatable Stand-Up Paddle Boards
A great alternative to beginner surfers.
Surfboard Materials Guide
Epoxy vs Fiberglass vs Foam
16 Different Types of Surfboards